With an increasing amount video content being watched by the modern-day consumer, video advertising has become a very popular marketing medium over the past few years.
In a self-report issued this year, YouTube has more than 1 billion users watching hundreds of millions of hours of video every single day. It's no great surprise then that YouTube is the most popular place to leverage video advertising.
According to research published by CMO.com, people are 27 times more likely to click-through a video ad than a standard display banner. If you know anything from the generally dismal click-through rate of display advertising, that's a number surely to increase your marketing heart rate.
YouTube ad campaigns are primarily managed through your AdWords dashboard where you have lots of different targeting options available.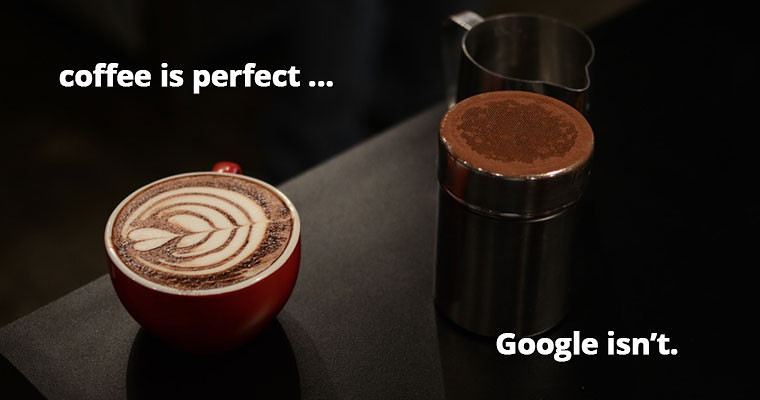 This post is not meant to give you an overview of YouTube ad best practices or a breakdown of the different targeting methods available to you.
I want to show you an experience AdVenture Media (my company) had while promoting our Udemy course with a YouTube ad campaign and show you that while there is a lot to be gained from a properly managed ad campaign, it is not a perfect system…yet.
Native Advertising
Successful advertisers package their ads in a way that is useful and relevant to their target audience. The less an ad appears like an ad, the greater impact that ad will tend to have. That's the basic concept of native advertising; promote content in the same form and with the same function the user is experiencing at the time you reach them.
YouTube video advertising is an ideal way to leverage the concept of native advertising. As an advertiser, you have the opportunity to access relevant traffic in a way that is essentially non-interruptive to their browsing experience. A cosmetics company may promote a video reviewing a new line of fragrances to a YouTube audience browsing for perfume reviews.
The video is very much in line with what the customer was looking for, and the company has the opportunity to promote their specific brand by linking to relevant pages on their website with video annotations and links in the video description. It's a win for the customer, who found a video they wanted to watch, and a win for the advertiser, who reached their target consumer.
Our Campaign
In an effort to promote our Up and Running With Google AdWords Training Course on Udemy, we decided to launch a YouTube ad campaign. The video we were going to promote was one of our shorter AdWords tutorials that covers some of the fundamental concepts of advertising successfully with AdWords.
The ideal funnel looked something like this:
Someone searches for a tutorial on YouTube related in some way to the content in our video (online advertising, conversion rate optimization, internet marketing etc.).
We promote our shorter AdWords tutorial at the top of the YouTube search results.
Our ad receives a click because the content of our video is relevant to the type of content the user was searching for.
They watch some or all of our shorter video, learning some valuable information that will help them enhance their own campaigns.
Using annotation links and a link in the video description, we link to our full course on Udemy with a special coupon code that includes a discount off the original price.
The traffic lands on the Udemy course page and they either purchase the course then or they'll be added to our remarketing list which we can use to remarket to them over the next few weeks.
In-Stream Versus In-Display
There are two primary ad formats you can use for your YouTube ad campaigns: In-stream and In-display. With in-stream ad campaigns, your ad is eligible to show as an overlay above a playing video or as a video introduction to another video. With the in-display ad format, your ad will primarily show in the YouTube search results, very much like a text ad in a traditional AdWords campaign.
We've found greater success with in-display campaigns, since we weren't competing with a user's attention while they were already watching another video.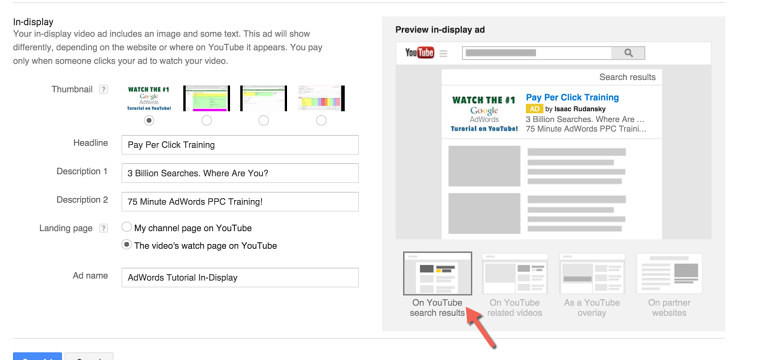 There's a lot more to know about both the in-stream and in-display ad formats, but that's a tale for another time. Once you write your copy and choose your ad format, you need to figure out how you want to target your audience. Like the Google Display Network (GDN), there's a variety of ways you can target your ads on YouTube.
The primary methods of targeting are:
Demographics
Interests
Remarketing audiences
Topics
Placements
Keywords
Based on data from client video campaigns, keyword targeting provided the best results. Moreover, keyword targeting would give us a lot of control over when our ads would be eligible to show. Since we were looking to target a very specific type of audience (remember native advertising), we wanted our ad to show only when users were looking for videos highly related to the video our ad was promoting.
Here are a few of the keywords we used to target our video ads:
online marketing help
pay-per-click advertising
internet marketing
adwords tutorials
increasing website traffic
conversion optimization
adwords for beginners
remarketing with adwords
small business advertising
what is pay per click
We launched the campaign with about 250 active keywords. Our daily budget was set to $100 per day with a max cost per view (CPV) of $0.05.
Here's a snapshot of the results from the first week:

Our campaign spent $820 in the first week. We noticed that the majority of our clicks were watching less than 25% of our promoted video. The lack of engagement could mean one of two things. Either our video was really boring or the clicks we were getting were from people not all that interested in the topics our video covered.
We knew that our video usually generated a lot of positive feedback from its organic views and we knew that our keywords were highly related to the topics our video covered. So something else must have been going on here.
The Culprit Revealed
As you most likely are familiar with from traditional search campaigns, AdWords allows you to see the queries that trigger your ads by way of a nifty tool called the search query report. You can also access a search query report for your YouTube ad campaigns (even if you weren't using keyword targeting).
Here's a list of the search terms that cost us the most money in the first week of our campaign.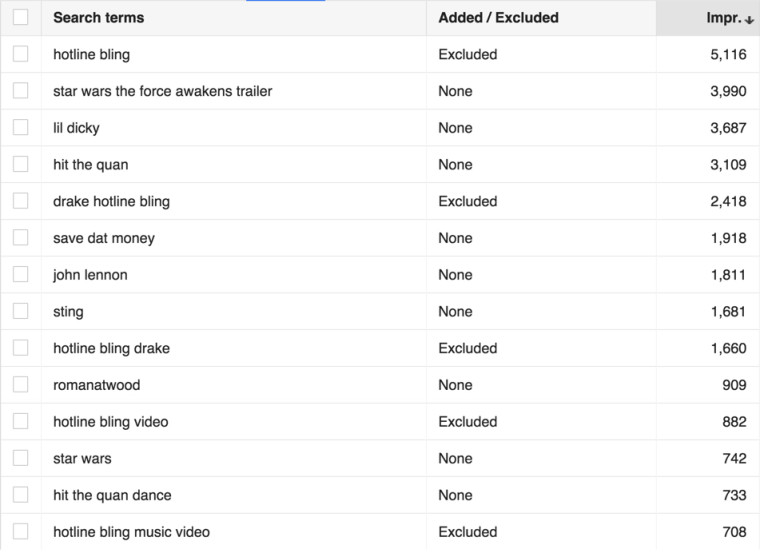 While lil dicky is certainly a fine gentleman, I don't think someone looking for his videos would be all that interested in an AdWords tutorial for boutiques on a budget.
Same argument for John Lennon and hotline bling. Clearly, the search terms triggering our ad had decidedly little to do with the keywords we chose to target our ads with.
Now you may be thinking, if someone is searching for lil dicky or hit the quan, why would they actively choose to click on my ad anyway? After all, the text of the ad clearly states that they'd be brought to an AdWords tutorial and not a chart-topping music video.
I hear you. It's a great question.
It's an issue that pervades a lot of accounts in many different ways. The short answer is that people click on ads that aren't relevant to them for a variety of reasons. Sometimes it's an instinctual first-result click and sometimes something ultimately irrelevant to them may catch their eye and divert their attention for a couple of seconds. Either way, they aren't clicks you want to pay for.
In our case, something was amiss. Our ads were being triggered by wacky search terms that bore not even a fleeting resemblance to our keywords. After seeing our search terms report, it was no surprise why our ad clicks led to such a low amount of engagement on our video.
Google's Response
The first thing I did was pause the campaign. The second thing I did was give our Google rep a call.
After explaining the situation, our rep told us she was going to escalate the case to the product team.
"Sure…thanks," I said.
Later that day I received an email back from our rep. The product team had looked into the situation, she wrote, and the problem was that I didn't use phrase match as my keyword match type in the keyword targeting for the video ads.
If I would just change my targeting to phrase match for my keywords, the search terms would be able to be more controlled. By using broad match, I was leaving my keywords open to Google's own interpretation.
The last line of the email went something like this:
"Google tries very hard to create excellent advertising products for their advertisers. While we generally match keywords and queries very well, the platform doesn't always do a perfect job."
So, I replied back letting her know that:
There's no way to change keywords from broad match to phrase match in video campaigns.
There's really no excuse to spend $800 on searches for "Drake", "Lil Dicky" and "Hit The Quan" when my keywords were things like "pay per click courses" and "AdWords tutorials". Unless we were using Ludicrous Match Type, which of course we weren't.
I asked that someone from the product team give me a call back to discuss the matter in further detail. A short while later our Google rep emailed me back apologizing for the confusion.
What I needed to do was type my keywords in with quotation marks as I added them…that would make them act like phrase match keywords. She was also very sorry that I felt the match types were not working for me, and she encouraged that I try a new type of targeting.
As a courtesy, she said, Google would be able to offer me a $200 refund to compensate me for my frustration.
I replied again letting her know that I'd still like to speak with someone on the product team about this. I also added that returning 25% of the money you took from someone isn't exactly a courtesy.
A few hours later, I got a call from someone on the Google product team. We reviewed all the data in the account. Again.
He's seen this before, he said, but not to this extent. There was definitely something wrong with the keyword targeting mechanism here. He said he was happy he got a chance to see the account. He wanted to know if he could use the data to bring back to the rest of the product team. Maybe it would help them diagnose and fix the issue.
"Sure," I said. "It would be my pleasure. But what about a refund?"
They refunded the full $820. No questions asked.
Conclusion
Shortly thereafter, we relaunched the campaign using only phrase match keyword match types. All the keywords were identical to the first campaign.
Here's the search term report after the first couple days.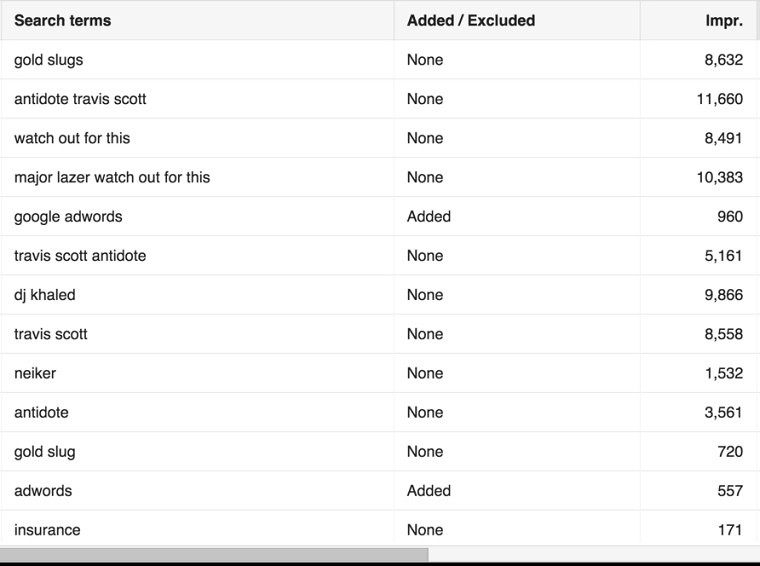 I'm not making this stuff up folks.
Changing to phrase match didn't seem to really do the trick…unless the Travis Scott Antidote was a new and improved alternative to enhanced CPC.
However, we did find more success with other targeting parameters since then. I'm not trying to dissuade you from video advertising with YouTube. On the contrary, we've had tremendous success for ourselves and for many of our clients spending considerable portions of their marketing dollars on YouTube campaigns.
Just beware of keyword targeting. There's been something very screwy with it lately. And if you see something like this in your own campaigns, don't hesitate to give Google a call.
Image Credits
Feature Image: photo credit: Bino Storyteller, unsplash.com (modified by author)
In-post Photos #1: photo credit: Karl Chor, unsplash.com (modified by author)
All screenshots by Isaac Rudansky. Taken November 2015.