Author Note: Ford covered my travel and accommodations for this event, but didn't ask or require me to cover it for SEJ in any way.
I recently attended the Go Further With Ford event in Detroit, which covered innovation not just within Ford, but also the current trends in fashion, design, data, and technology. One session, titled, What's The Big Deal With Big Data?, covered how big data is being used at companies like IBM and Mastercard (and even the government). This was a really interesting session which could have pretty big implications for the marketing field.
The official description was:
In 2005, there were 2.5 billion connected devices, mainly PCs, smartphones and tablets. By 2020, there will be over 30 billion connected devices, including cars, watches, refrigerators and even toothbrushes. All of these connected devices are leading to an explosion in Big Data – information about what people want, who they want it from and their likes/dislikes. Consumers are quickly learning that data can improve their lives, and they're willing to exchange it for value such as convenience or personalized service or products. From theme parks to service providers, some companies are early adopters taking advantage of this shift. Explore just what is the big deal with Big Data and how might it influence the technology of tomorrow.
The session included several speakers who discussed how some of the biggest companies in the United States are using big data and how it to make our lives safer, more efficient, and more convenient.
Dan Wagner
Wagner was the Chief Analytics Officer for Obama 2012 campaign, and is now the founder and CEO of CIVIS Analytics.
Wagner believes we are shifting from a world of provided answers to a world of science and analytics. Experts now provide questions and data answers them. He provided an example from the Obama 2012 campaign where they used poll data to determine who won the election before the results were in. When it comes to voting, Wagner claimed that "people who use scarce resources like budget and time are more likely to get 51% of the vote or over."
While big data is certainly important to look at from a top-level, he also reminded the crowd that "we are a nation of combined individuals" and in order to create something that appeals to a large number of people, it's important to build from the bottom up instead of the top down.
Cause and Effect
When it comes to determining success, Wagner recommended testing the causal effect of your work to see if it actually produces results. Even though big data has a lot of scale, he says work volumes don't matter, but rather, the outcome is what matters.
[pullquote]"This message of social pressure and validation [is] more effective at driving behavior than pushing rational turnout." -Dan Wagner[/pullquote]
Circling back to the ideal of the individual in big data, Wagner stated that everything is becoming personal with data as the conduit.
Don Butler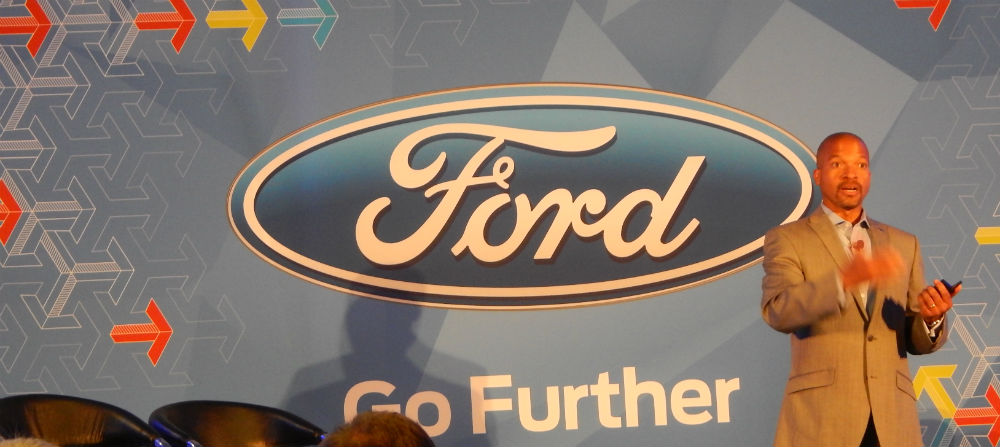 Don Butler is the Executive Director of Connected Vehicles and Services at Ford and formerly worked for GM. Butler discussed big data from a consumer perspective and how Ford is using it to create real products and new features in Ford vehicles. When it comes to big data, Butler said it's important to leverage outside (consumer opinion) AND internal data in order to be effective.
[pullquote]"Big Data= Customer Winning" -Don Butler[/pullquote]
Butler then spoke about a new system Ford is working on with Intel called Mobii. This system will eventually allow Ford vehicles to recognize drivers, allow owners to approve new drivers via an app on the phone, and allows the driver (and passengers) to use gestures instead of buttons for GPS, sunroof, etc.
Sarah Quinlan
Sarah Quinlan is the Senior Vice President and Group Head of Market Insights for MasterCard Advisors, the analytics and insights consulting unit of MasterCard. She spoke about the main focus of her job, which includes providing data analysis of credit card purchasing behavior to large companies and even the U.S. Government.
[pullquote]"Our behavior reflects what our circumstances are." -Sarah Quinlan[/pullquote]
A few examples she gave of trends Mastercard was able to extrapolate from their customers' data were:
Total retail growth recently improved as the weather got warmer.
The number of cars sold increased 40% from 2010.
Auto part sales is negatively affected by acceleration in new car sales.
When people fly on vacation, they double what they spend than when driving for vacation.
Quinlan emphasized that businesses must minimize economic guesswork to make better decisions and maximize returns. It's not enough to have ones and zeros. You need to interpret the data to make it useful.
Chuck Holland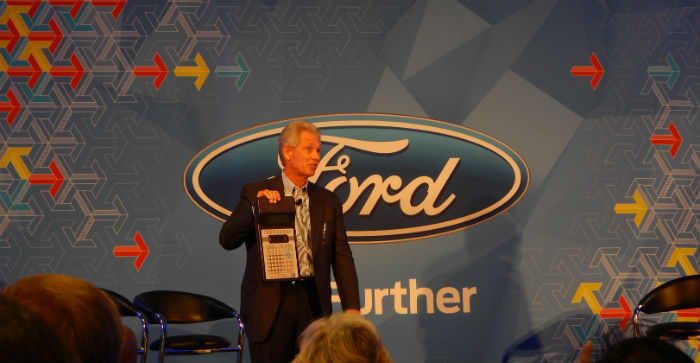 Chuck Holland is the Vice President of Industrial Engineering at UPS. He not only spoke about how UPS is using big data to create more efficient driver routes, but also the other positive consequences that come from making changes to such a significant vehicle fleet in the United States.
In order to make decisions, Holland says UPS merges multiple data sources: auto, safety, dispatch planning, on-road performance, and work measurement. Integrated data in UPS vehicles allows them to track seat-belts, idling, and when their trucks are in reverse. These data points can help UPS develop safer drivers and vehicles by using data to promote changed behavior.
[pullquote]"At UPS we do not do technology for technology's sake. There has to be an ROI behind it." -Chuck Holland[/pullquote]
This provides several benefits of big data, including:
Drive fewer miles
Enriched map data adds to robust data infrastructure
Fewer traffic jams
Smarter cars that self-diagnose
Holland also spoke about UPS' ORION algorithm, which stands for on-road integrated optimized navigation. This algorithm takes 250m data points UPS gets from GPS data, then accounts for business rules, customer needs, and service commitments, and finally presents drivers with the most optimized route for their deliveries each day.
So, what do you think? Does big data have big implications for the future of marketing? How do you think business's could use (or even abuse) data like this?
Thanks to Ford and the speakers for such a great session and event.
All photos taken by author