Have you ever wanted to really see your link profile, beyond a list of links, without having to export them into Excel to create a series of charts? If you have been waiting for a visual link-profiling tool, then you're in luck. cognitiveSEO recently released the new Visual Link Explorer that allows you to see your link profile as a whole and visually dig into it. The following are things you can do with your visual link data.
Who This Tool is Useful For (and Why)
First off, let's look at who can benefit from using the Visual Link Explorer tool.
SEO consultants who need a visual way to explain a client's link profile to the client.
Client's who want to understand their link profile without having to sort through a huge list of links.
Webmasters trying to understand why their website has been penalized by Google based on their link profile.
People looking to quickly analyze the backlinks of their competitors.
Basically, anyone who has an interest in his or her backlink profile (or someone else's) can benefit form this tool.
What You Can Learn from the Visual Link Explorer
Next, let's take a look at all of the things you can learn about a website's link profile at a glance with just a couple of clicks.
See the balance (and value) of homepage vs. deep links.
If you have ever had trouble explaining to a client (or yourself) the value of building deep links to your website instead of building them all to the homepage, the Visual Link Explorer can quickly show why deep links are important and how they help boost the overall authority of a website.
As you hover over the clusters on the right side, you will see that they are backlinks to internal pages on a website.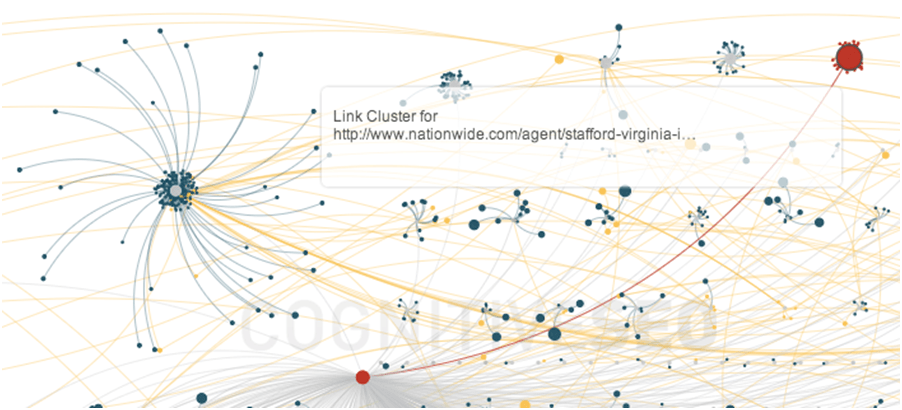 The connections between the deep link clusters and the main homepage allow you to see the strengthening of the link profile for the domain as a whole through deep link building. You can also use these connections to see domains that link to both the homepage and internal pages of your website.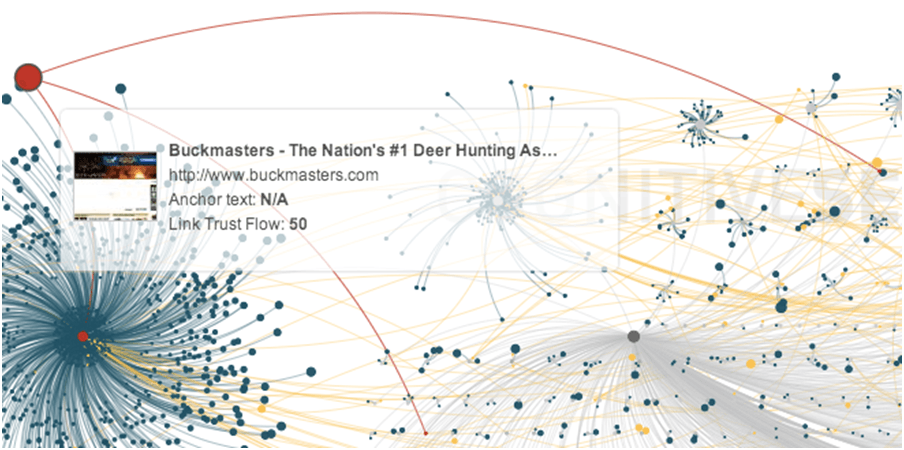 Quickly determine if you have enough high-quality links.
In the Visual Link Explorer, the lowest-quality links are represented by the smallest dots closest to the center of a cluster whereas the highest-quality links are represented by the largest dots furthest from the center of a cluster.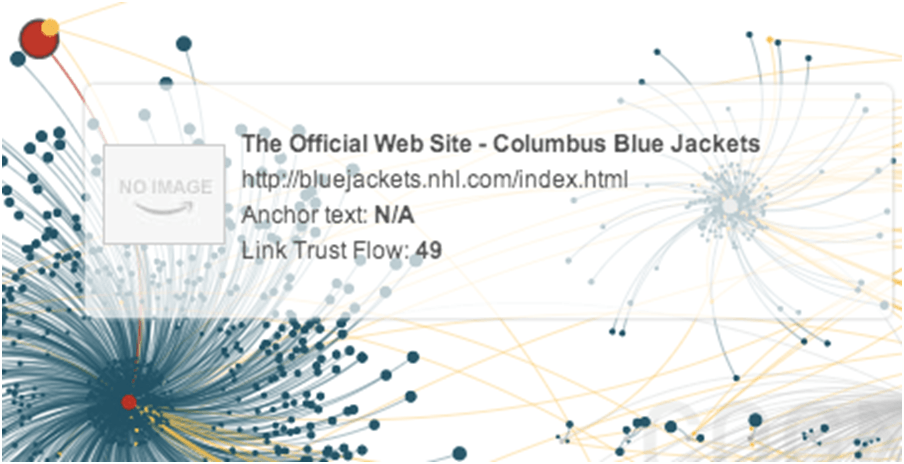 This can also help you easily find the strongest internal pages you have based on high-quality backlinks.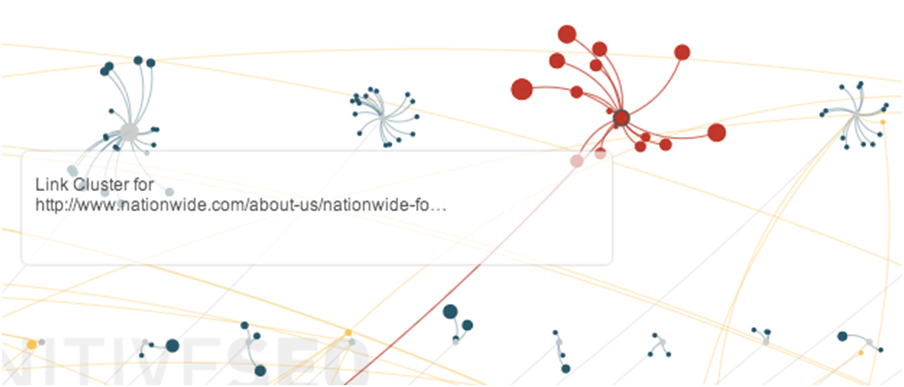 At the bottom of the Visual Link Explorer, you can change the metrics being used to scale the quality of the links from Link Trust Flow to Domain Trust Flow, Link Citation Flow, Domain Citation Flow, and Link Rating. This will allow you to see the quality based on the number of sites linking to a particular backlink (Citation Flow) and the quality based on a backlink's proximity to other trustworthy domains (Trust Flow).
Look at your number of dofollow vs. nofollow links.
A natural backlink profile should have a mix of dofollow and nofollow links. You can use this tool to see your distribution of both types between links to your homepage and internal pages, plus hover each to see what sites have nofollow links to yours.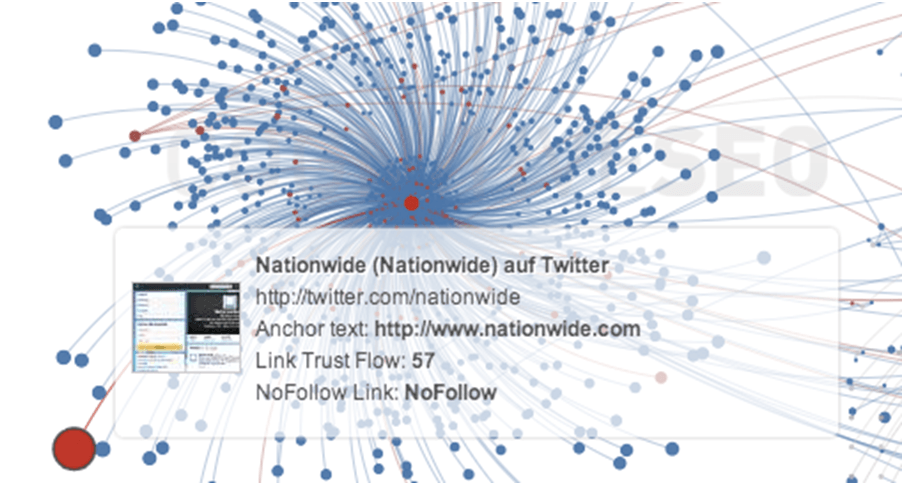 While you don't have to seek out nofollow link opportunities to balance out your profile, you should not avoid an opportunity just because it's nofollow.
Find out how people are linking to your website.
The Visual Link Explorer can help you identify three important things about the way people are linking to your website. You can see how often a particular anchor text keyword or phrase is used in links to your site using the search box and changing the setting to Link Anchor Text.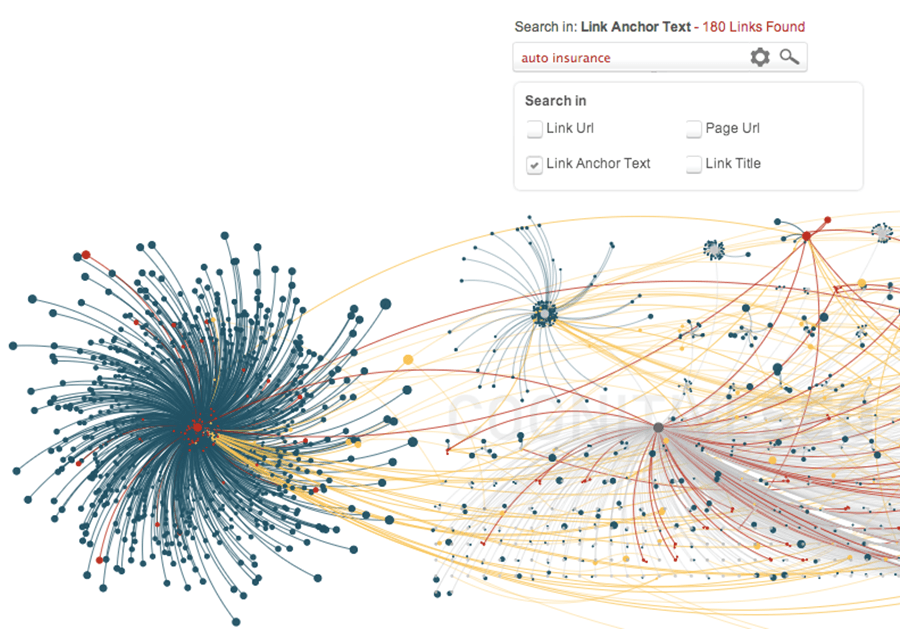 You can see where your links are placed using the Link Positioning dropdown. This can be especially helpful for competitive research to see where competitors are getting links and for SEOs looking to learn more about a client's current link profile so they don't pursue certain types of links that are in over abundance.
You can also see whether your links are text or image based and whether they are redirects.
Analyze the types of links that make up your link profile.
Are links to your website balanced in terms of different link building strategies and free of links from bad neighborhoods? Find out using the Website Type dropdown.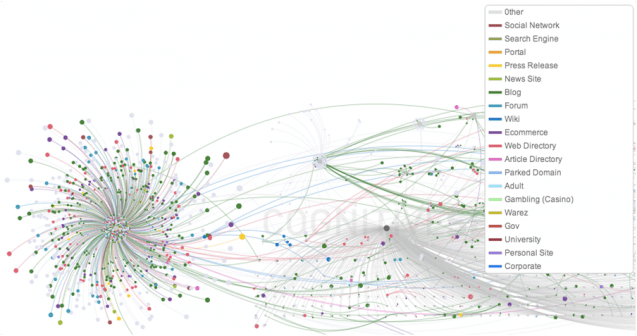 Here, you can see your distribution of links from different tactics like social media, press releases, blogs, directories, and wikis. You can see whether you have links from authoritative .edu and .gov domains.
Using Website Type, you can also see bad links from adult, gambling, and warez sites. This can be helpful for SEOs and webmasters trying to diagnose the source of a Google penalization.
View the overall categorization of websites linking back to yours.
Want to find out if your link profile is full of relevant links? Choose Website Category from the dropdown to see the topical categories of your backlinks.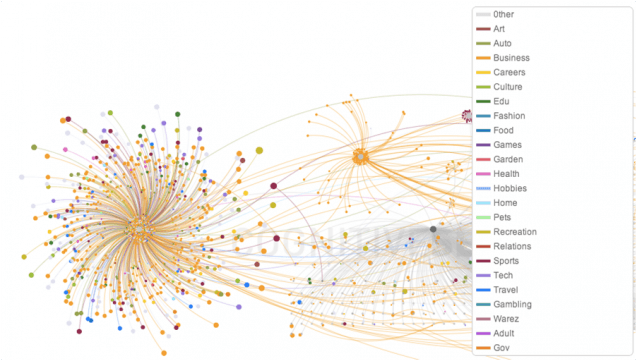 This allows you to see if your backlink profile is mostly relevant to your industry. If, for example, you have a fashion site with a ton of links from the games industry, you might be in trouble.
Website Type also shows you potential links from authoritative sites (.edu and .gov) along with potentially harmful links from bad neighborhoods (adult, gambling, and warez).
Spot broken links you need to fix.
Don't lose your link juice to missing pages. Select Live / Lost links from the dropdown to see how many links you have pointing to broken pages on your website.

Get details about individual links.
What is the best part about this tool? You can click on links throughout the Visual Link Explorer to get more details about them.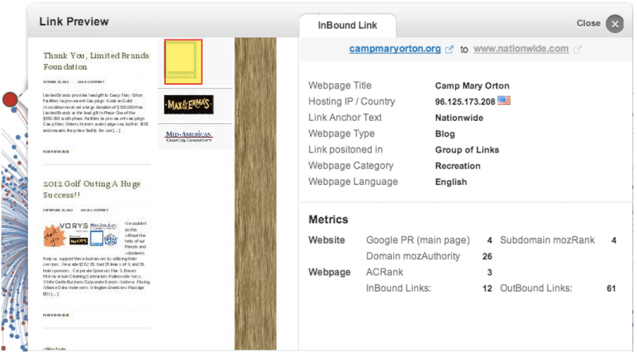 This way you can learn more about any of your links as your looking at dofollows vs. nofollows, link types, link categories, or any other view of your link profile or your competitor's.
Using This Tool for Creative Client Reporting
If you are an SEO consultant that isn't a fan of huge lists of links, your clients probably are not either. Instead of just sending them their monthly links acquired, you can use the Visual Link Explorer to send them a monthly snapshot of their backlink profile.
Clients will probably be excited to see the growth of their links, not only from link building, but from other services your agency may offer including content marketing. It might be especially helpful if you send a snapshot of their link profile from the start of a client's campaign right next to a snapshot of their current link profile so they can see a visual difference instead of just a numerical one.
For those who enjoy designing and really want to impress their clients, these graphs can be used to create an infographic-based report for your clients. Sending this to clients can be a quick way to sell them on your infographic design and marketing services too!
Can you see more potential benefits for using the Visual Link Explorer tool? Please share in the comments!