What could be a better way of starting the new year but with a new Google Phone?Well, Google surely knows how to create the hype and the buzz to build the excitement over the Google Phone, which up to know is tentatively called Nexus One. What started out as a rumor, has been blown out of proportion.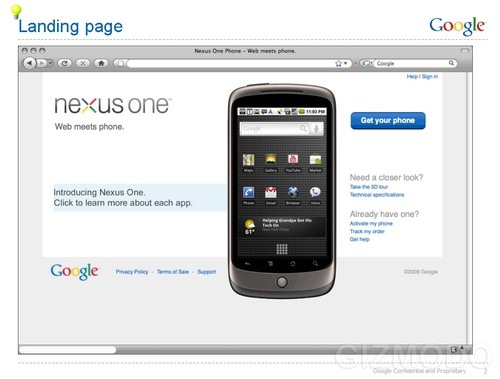 So, are you excited about the Google Phone or Nexus One? I was telling Loren over IM that it's one thing that's making me excited about the new year simply because words on the street say that Google might actually ship the Nexus One outside the U.S. If that is true, I'll make sure to be the first to have it here in Manila.
Anyway, in case you have missed the headlines, here are the major things that we know about the Google Phone aka Nexus One. These are all based on rumors and leaked information, so nothing is sure yet.
Technical Specs
Of course we already told you before that the Google phone will run Android 2.1 and that the device itself will be produced by HTC. It will have Qualcomm Snapdragon chip, high-resolution display and will have full-touch control.
The "Unofficial" Official Carrier
Earlier this week, TmoNews reported that T-Mobile sort of will be getting an Android device but their involvement would be on "billing, coverage, features and rate plans." T-Mobile won't be involved with technical support and troubleshooting as this will be handled by Google and HTC.
The Launch Date
Almost at the same time that TmoNews was reportedly getting the Nexus One, some media people have started receiving invites from Google for an upcoming big "Android" event on January 5. The supposed event happens to be a week earlier than another important tech event in January – the CES 2010. Now, how sure are we that this Google event has something to do with the Nexus One? The invitation gave a hint about it by referring to the first Android phone released a year ago, saying that it was just the beginning of what is possible.
T-Mobile Pricing and Availability of Unlocked Nexus One
And this just came in via leaked documents as reported by Gizmodo. The Nexus One will be available through T-Mobile for $180 with two-year service plan. But the biggest surprise of all is that the Nexus One will be available unlocked and unsubsidized for $530. That price is of course a little cheaper than the unlocked, non-AT&T iPhone. Those who don't want to be tied up with T-Mobile contract for two years can get the Nexus One from Google. A Google account holder can buy as many as five units of the Nexus One.
So, aren't we all excited now? Are you getting the Nexus One unlocked or through T-Mobile? Or you're not planning to get it at all?