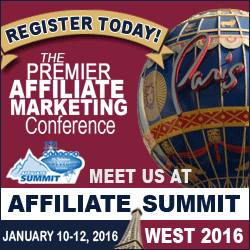 I have some excellent webinars coming up for you this week. So make sure to register. Even though I'm always on the lookout for webinars, be sure to send them my way as well. Enjoy and send me some feedback!
Last Minute Video Strategies
Nov. 15th, 2:00 p.m. EST
Presenter: Dr. Melody King
Cost: Free
Description: Maximize holiday sales and traffic by Cyber Monday with product videos. Automated videos can be produced, added to your site, and indexed by Google just in time for the holiday season. Join us on Thursday, where we will cover all the fundamentals for producing, implementing, and managing an e-commerce video strategy.
Register
10 Lessons from 10 Years of Paid Search Experience
Nov. 15th , 2 p.m. EST
Presenter: LogMyCalls
Cost: Free
Description: – The "search continuum" and what it means for SEM success
– "Humanology" and how it impacts day-to-day strategy and analysis
– Understanding the impact of media on search
– The "product consideration cycle" and SEM success
– The EN/DIS method of search copywriting
Register
How to Use Pinterest for Your Business to Get Traffic and Customers
Nov. 15th , 8 p.m. EST
Presenter: Melanie Duncan
Cost: Free
Description:
• Get MASSIVE AMOUNTS OF EXPOSURE for your business quickly, easily and for free.
• Learn SURPRISING STRATEGIES for driving tons of traffic to your site each day.
• Ways to improve your SEO by using Pinterest.
• How to MAKE MONEY PINNING!
Register
Maxing Holiday ROI With Deal-Oriented Tools
Nov. 16th, 11 a.m. MST
Presenter: AvantLink
Cost: Free
Description: The presentation will help you get familiar with the most effective holiday marketing tools available to you, as well as a total understanding of how these tools work from both a merchant and affiliate perspective and how best to deploy them on your site. It should be immensely informative and incredibly helpful to those trying to ramp up their final affiliate marketing efforts for the busiest shopping season of 2012. We hope you'll be able to join us!
Register
Worst Landing Page mistakes:
most common vs. most costly
Nov. 21st, 3:00 p.m. CST
Presenter: Dustin Sparks
Cost: Free
Description: ● Discover proven-effective landing page optimization tips.
● Learn how to properly run A/B Tests.
● Understand what visitor behavior means.
● Take advantage of user centered design to improve conversions.
● Skyrocket your online persuasion skills!
Register
The Top 10 MUST-Do's in the Ever-Changing World of SEO
Nov. 22, 10:00 am GMT
Presenter: Promodo
Cost: Free
Description: The webinar will be focused on basic principles aiming to build an appropriate webpage with SEO-restricted structure and valuable content and to help it in its initial and post promotion.
How to build the basis of a strong SEO-oriented strategy, and the must-do's should be implemented immediately to achieve success
How to expand the areas of a vigorous SEO-based promotion using most common techniques
What tricks should be correctly followed and never overused in order to build a reasonably optimized site.
How to read minds and give people what they want right away
Register
Upcoming Events
SMX Social Media Marketing
Dec. 5-6, 2012
Las Vegas, NV
More Info
Search Insider Summit
Dec. 12-15, 2012
Park City, UT
More Info
Affiliate Summit – West
Jan. 13-15, 2012
Las Vegas, NV
More Info