No doubt you have heard the story about Walter Palmer, "The Lion Killer" by now. On July 1st, 2015, Walter Palmer is said to have engaged in an illegal hunt targeting and killing a beloved lion from Hwange National Park in Zimbabwe.
Walter Palmer's life is undeniably different now. Not just because of the immediate scandal that he set off in killing Cecil the Lion, but in the fallout that has yet to come. The case of Walter Palmer should cause us all to stop and think about what it means to launch a social media crusade against someone.
Of course, there was bound to be some backlash if the information went public. Simply put, Walter Palmer will likely never hold a job again. His dental practice has been closed since the news went public, and his business phone and website have also been shut down. He may never be able to clean his online reputation, even by hiring the best of the best reputation management consultants.
In fact, some PR professionals are already putting distance between themselves and Palmer after helping to distribute his initial messages during the early days of this event. He is nearly unemployable with a reputation that will overshadow him and his family for many years to come.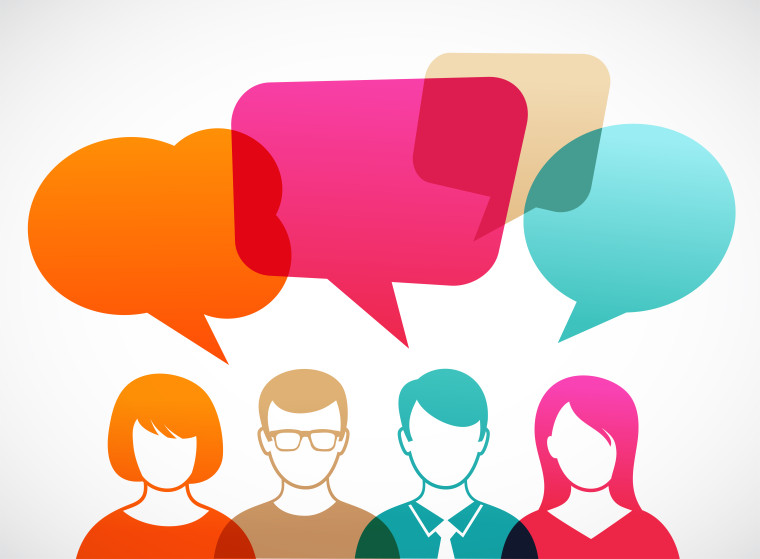 Dismembering a Reputation
As conscious as we in the reputation industry are about web properties, in the case of Palmer, it appears that the public is also conscious of where to cause the most damage. The prime source of attack has been Palmer's Yelp page and Google+ accounts.
When the story first broke, I counted some 3,200+ reviews (mostly negative) on Yelp and 3700+ reviews on Google+. Yelp and Google have both been deleting many of these reviews, as they do not comply with their guidelines of someone who as actually engaged with the business. As of the writing of this story, I checked the Yelp page a few times and the reviews were between 27 and 65. Google+ reviews are down to about half.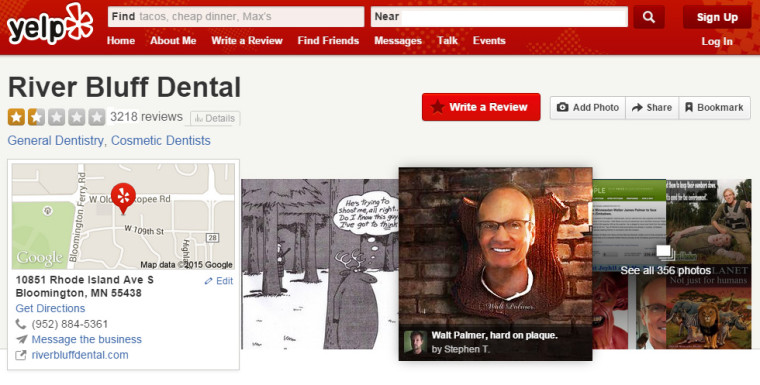 One reviewer posted an alleged message from Yelp stating that the team was aware "there is no shortage of strong opinions about this dentist as a result of recent media attention," but the message goes on to say that users are being directed to the Talk Page for River Bluff Dental. At the time of this writing, the top review on Yelp stated: "This is the 9th time yelp removes (sic) my review. It doesn't matter how many times your staff removes my comments, I will repost like many people are. This horrible individual needs to take accountability for his actions and face the consequences of such." The review went on to provide links to sign a petition.
Another reviewer claims that Yelp took down his posts on three separate occasions and goes on to say they had witnessed Yelp delete over 6000 reviews for the dentist!
Aside from the obvious reviews that do not comply with Yelp and Google guidelines, I did notice many reviews that appear to comply with the guidelines and detail a negative experience with the dentist. They seem to be from legit patients, but I suspect these authentic-looking reviews are fakes designed to further ruin the dentist's reputation. This is an interesting tactic, as it makes it quite difficult for the staff of Yelp and Google to tell if these are real or not, so some have not been removed!
Palmer's name is all over social media, and not in a good way. Every grizzly detail has been painted vividly and shared endlessly across the Web. His Yelp page has become a memorial for Cecil, a meme depository, and a billboard for hate speech all at once.
Irreparable
It's one thing for the mob to dispense justice, as they have so many times before. Mob justice, while horrible in its own wrath, tends to fade. Justine Sacco, who made one inconsiderate Tweet back in 2013, knows this all too well. When the tweet first broke, she was fired from her job and widely considered an embarrassment to the PR field.
Today, she can claim several retrospective pieces from the likes of New York Times and Gawker (the latter having actually lambasted her), among other blogs of some notability. Some of that day remains on page one for Google, but she's largely managed to move on with her life after this incident. Time heals some wounds, it seems.
The same probably cannot be said for Walter Palmer. In today's age, the web can act like a memorial wall. This news coverage all comes from high-profile websites that aren't likely to lose rank or relevance anytime soon. BBC, Forbes and Reuters all ran stories and they are just some of the biggest names. Others include CNN and the Washington Post, the latter having done an in-depth piece covering every aspect of this story. These stories aren't going away anytime soon, carry a massive amount of authority in Google and cannot be easily pushed down to the second page using reputation management and SEO tactics.
At this point even if Mr. Palmer were to hire a reputation management firm, any work that gets done for him, will soon be noticed by the internet marketing community and reported to Google as spam.
The attacks have also had unintended consequences. Walter J Palmer, an 80 year-old insurance salesman from Minneapolis, has had to tell angry callers that he is not the man they want hung out to dry. Most callers politely realize their mistake while others would actually argue with Palmer about who he was.
Key Takeaways
Aside from don't go big game hunting, we can take away some key points as professionals. First and foremost, the amount of coverage plays a role in how much assistance reputation management can provide for you. If you try to make big name coverage go away, someone will notice. Perhaps the best strategy is lying low and waiting for circumstances to change before making your move.
In Palmer's case, this may not ever be possible. As long as he attempts to run a business for himself, this incident will hound his reputation. He may be able to find work privately, or under a different brand, but it's likely that the long memory of the web will haunt him for years to come.
Image Credits
Featured Image: tovovan/Shutterstock.com
In-post Photo: Marish/Shutterstock.com