It appears as though MySpace made a small comeback with the Google Knowledge Graph update. In January of this year, Google added social media markup to companies' knowledge graph boxes. Alongside Google+, now sits Facebook, Twitter, YouTube, Instagram, LinkedIn, and MySpace. Many marketers question why Google left out Pinterest, but I have seen little to no content questioning why Google added MySpace.
I believe this is a BIG deal. Pinterest (the third largest social network in the world) did not receive a place inside the knowledge graph box, but MySpace did. Why? Let's take a look at the facts.
The History of MySpace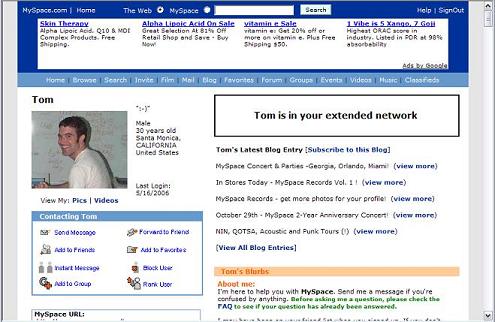 MySpace was purchased by News Corp in July of 2005 for $580 million and then sold again six-years later in June of 2011 for a mere $35 million to Justin Timberlake and Interactive Media Holdings (now rebranded as Viant). Back in 2011, Justin Timberlake told the world that he wanted to rebrand Myspace as "the place to go for music". MySpace rebranded, created a new web design, increased their traffic by 36%, and then once again fell off of the map.
In December 2012 Business Insider released a leaked confidential investor presentation created by IMH in an article titled, "Leaked: Myspace's Master Plan To Raise $50 Million And Relaunch As A Spotify Killer." The slides included company milestones, core company growth opportunities, competitive positioning, and their plan to position themselves as a competitor among Spotify and Pandora.
Flash Forward to January 2015
The Timeline:
Interactive Media Holdings rebrands as Viant and launches the "first advertising cloud"
Google+ adds Social Media markup to knowledge graph for brands (includes MySpace and excludes Pinterest)
OpenSocial Foundation (created by Google, Yahoo and MySpace) moves standard work to W3C Social Web Working Group
What is the advertising cloud? Essentially, what Viant claims they can do with MySpace and other unnamed partners and properties, is to start tracking online ad exposures to sales inside physical stores. As of today, Viant owns MySpace, the Vindico video ad management platform, the Specific Media ad network and the Xumo TV/Multiscreen platform.
"For 15 years, we've been chasing a giant vision," CEO and cofounder Tim Vanderhook told VentureBeat. In the interview, VentureBeat also notes that although e-commerce is booming, Viant has shown us that 94 percent of retail transactions still take place inside actual walls. Vanderhook says that in-store transactions can be matched to ads viewed online and believes that this demonstrates a third shift in the evolution of digital advertising.
What Does This Have to do With Google?
Google has a pre-existing relationship with MySpace that dates back to 2007 when they signed a 3-year, $900 million exclusive deal with the social media platform. The original agreement was that Google would be the exclusive search and ad provider on all of Fox online sites, including MySpace. The original deal ended in 2010, however, MySpace and Google came to an agreement and signed another multi-year deal. The details of the agreement were limited.
Flash-forward again to September 2014 and we see that Google's DoubleClick ad exchange and Vindico (owned by Viant) have (together) struck a deal with Fox TV Stations to monetize web videos across their O&O group. In an article written in ClickZ back in September of last year, they quote Mark Yackanich, chief executive (CEO) of video ad-tech company Genesis Media, "The fact that Fox is striking a deal with Google and Vindico demonstrates that it is willing to go to the open market."
What Makes the Advertising Cloud Unique
Programmatic marketing campaigns are campaigns that are automatically triggered by certain types of actions or events and then ads are deployed automatically. The ads are deployed according to a set of rules applied to software and algorithms. A typical programmatic campaign would have a data management platform and media buying capabilities (demand-side platform).
What Viant's advertising cloud is doing differently, is that they are adding an "identity management platform" which will use registration information from MySpace and other third parties to increase personalized targeting. In addition to the increased personalized targeting, advertisers will be able to connect digital ad exposure to sales in a physical store.
Final Thoughts
Will Viant be able to leverage MySpace's registration data to pave the road for a new dimension of digital marketing? How much will Google's advertising benefit from this? When will we see the results or more importantly, when will advertisers begin to benefit from it?
Image Credits
Featured Image: Graphics Vibe via Softicons
Image #1: Myspace Tom Profile via Pixgood