I am a big believer that the term "link building" should be abolished and forever re-branded as "relationship building."
Successfully creating and managing relationships is what will get you links, not sending out mass impersonal emails asking for links. Think of link building as networking – people are more likely to link to people they know. Simple as that.
However, how do you transition your contacts, partners, and customers into link opportunities? Sure, you could simply ask. But there are other ways that you could utilize these existing relationships to score easy linking wins. Here are some ideas and examples of organizations that have used them.

Co-branded Linkbait
Creating linkbait is a drain on resources, particularly for linkable assets like infographics that can take months to complete. However, the amount of time, money, and energy dedicated to linkbait can be significantly reduced if you utilize the information and resources available to you through your partners.
For example, do you do business with other industry leaders that could provide expert advice? If so, you could turn that into an expert series on your website, creating unique content that not only benefits readers but also improves your site's content and provides additional link opportunities. This can take the shape in surveys, an article, videos, infographics, and more.
To put this in perspective, Salesforce recently created a social success portal in which they interviewed industry experts on various social media strategies and trends.
The potential results? Links both from the experts and people interested in the information they provided, tweets, social shares, and more. Plus, any of these social and SEO benefits could also result in conversions, directly affecting your business's sales funnel.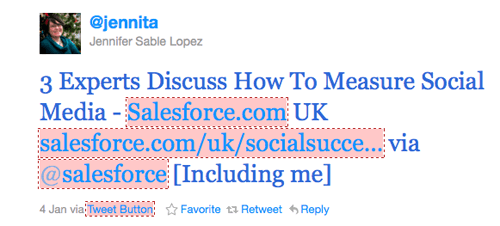 Your partners might have more to offer than just expertise. Some of them might have the resources and manpower to help with other aspects of the content creation process. For example, maybe you have a killer idea for an infographic, but you lack the resources and/or internal support to move forward with the project. A partner might be interested in developing the infographic with the data and ideas your business provides. The opportunity? A co-branded infographic that shares both the work load and the successes.
SEOmoz recently released a SEO agency pricing survey infographic that surveyed the 600+ agencies to determine what international SEO costs looked like. Conducting the survey was a huge undertaking, and designing the associated infographic would be more so. However, SEOmoz partnered with AYTM market research, who took SEOmoz's data and created the image. Click to expand size.



Badge Program
Never underestimate the value of visible badges and awards. Particularly when a visual "stamp of approval" can improve the brand and/or conversions of another business, badges can be a great way to score easy links. By simply utilizing your community and adding another sharing element you can attract adoption with very little effort.
For example, do your customers and/or readers typically have websites of their own? If so, they are a prime target for a badge and/or award. Since you are already doing business with them, the rate of adoption will be higher than if you were cold-presenting a badge to them.
eLocal hosts an expert series in which they provide badges and awards to its contributors. If you look at its expert panel list, you'll see that it has over 65 site owners participating. That's 65 badge opportunities. When you click through to some of the sites, you'll see that a lot of them either host the badge or an award, in a lot of cases directly on the home page.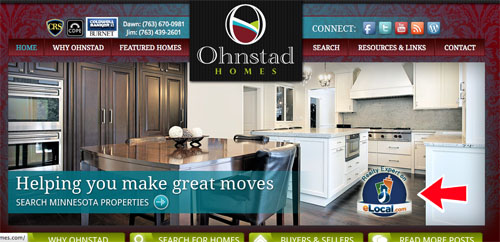 Surveys that Introduce New Sales Funnel
Surveys are a great way to get customer feedback on your business processes. For example, you might be asking your readers their thoughts on your newsletter or shopping cart. That information can then go on to help you improve your offerings in these specific areas.
However, utilizing a survey to also introduce secondary sales and/or conversion funnels is an easy way to reach a lot of people and plant a seed with little to no effort.
If you happen to have a badge program in place, this could be a good way to make sure all your survey recipients know about it. By simply adding a question like, "were you aware of our badge program for our customers that can help improve conversions and your brand," (yes/no) and then another question, "insert your email if you'd like to learn more about our badge program", you've not only planted the seed of a badge but also received permission to contact these people about it.
This is something that eLocal did to help promote their badge program. For the time it took to add these questions, they easily generated over 50 new badge placement targets.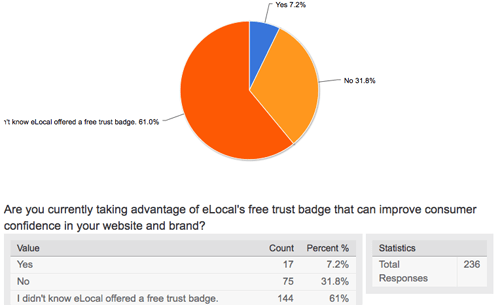 Facilitated Networking Events
Old school networking tactics can definitely work for link building and other SEO wins – it doesn't all need to be manual outreach and a gift of words to get people to link to your business. Remember, this is relationship building – when you are at the forefront of people's mind, they are more likely to link to you than some random person asking for a link via email.
Thus, look for any opportunity to engage with your existing partners and customers because chances are, it will open doors to new partnerships and customers via a networking channel. Besides keeping up with contacts via email, phone, and meetings, consider facilitating a more direct way of meeting up with new and existing contacts. By doing this, it is clearly a networking opportunity for everyone involved, meaning the likelihood of conversion (strengthened relationships) is greater.
For example, you could host a tweetup or offline meetup that encourages everyone attending to invite at least one person the majority of the group won't know. Boom. Now you have people you know and new networking targets present.
This is something that Practically Green hosts frequently. Industry leaders and customers alike come together to discuss relevant topics, and in the process everyone meets a slew of new contacts that could go on to be long-term partners. By strengthening these relationships, they can later go on to utilize these connections in any of the above-mentioned ways to gain links, exposure, and conversions.
Adria Saracino is the Head of Outreach at Distilled. When not connecting with interesting people on the web, you can find her writing about style on her personal fashion blog, The Emerald Closet.