Google is the central force for online tools and services, but the fact of the matter is, even with good tools you are bound to have questions or need further support. The Partner Gallery Feature, which incorporates both Google Partners and Apps, was created with this in mind. Ultimately, the Google Analytics Partner Gallery makes it easier to search for solutions to everyday problems.
If you're looking for something new in 2015 to improve your online strategy, it's a great place to start.
How Google Analytics Partner Gallery Works
Initially, Google created a search tool called the "App Gallery" and the Partner Gallery was designed as a re-launch of this (different name, but similar concept). While it isn't talked about a lot in the online community, it can be a very useful tool to get the technical support you need, especially as a small business.
In different situations you need different kinds of support. Sometimes this may be an app or another type of service assistance. The main difference between the "App Gallery" (as well as other past systems) and the Partner Gallery is the ability to search for different types of support in one place.
The screen shot above is the initial search screen on the home page for the Google Analytics Partner Gallery. Note that you can now search for both partners and solutions in one place. Consider how the two main features work below.
The Partner Gallery Features
Services by Google Analytics Certified Partners
The search to find an answer to your question about website testing, conversion optimization, or analytics starts with a GA certified partner. The Partner Gallery utilizes certified partners who go through a rigorous application process to offer support for these areas of expertise. The Google Partners Badge (and certification badges alike such as the The Adwords Certification + Analytics certification) is a great trust symbol that reputable SEO providers use to help build confidence in their website visitors and prospects. GA uses both individual experts or an entire companies who earn their partner verified badge after completing the application and being deemed useful for the Partner Gallery Feature. What this means is that your questions are guaranteed to get the best of the best to respond. Below is a screenshot that shows how you can scroll through some possible Partners: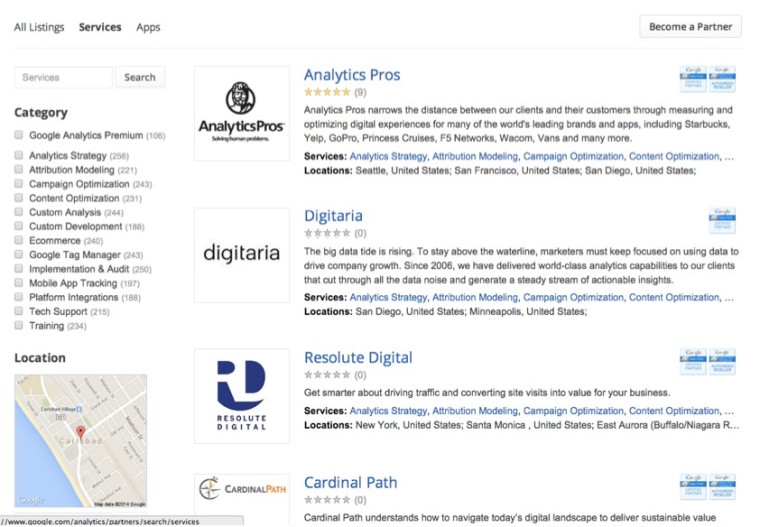 As you can see in the screen shot above, you are able to search by category and location (to make visiting an office more convenient) when you are searching for a specific service such as "web design" or "ppc management services." As with searching for other businesses on Google, you can also see how they are rated on a 5-star scale.
Apps by Google Analytics Technology Partners
This is the "app" component. The Partner Gallery uses a list of applications that work directly with analytics by either extending the features of Google Analytics or to help support Analytics by complimenting some of the features. These apps are generally made by third-party companies who again, go through a rigorous approval process, as opposed to being developed by Google.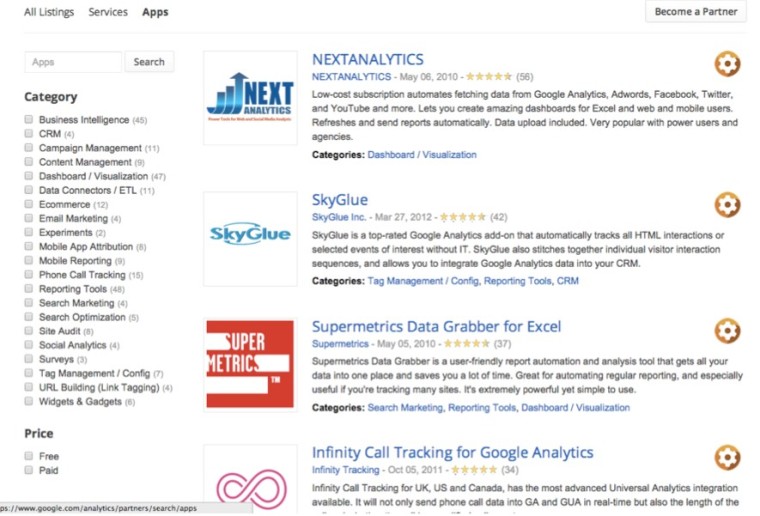 Once you are at the Partner Gallery you have the option of choosing between services (i.e. certified partner support) or add-on technology (i.e. Google Analytics technology partners). Similar to the services search page, you are able to search by category to refine the options that come up on the results page. Additionally, you are able to search by both 'paid' and 'free' apps. There are several really great free applications, and of course, some that are definitely worth paying for.
Summer 2014 Features Update to the Google Analytics Partner Gallery
The newest update took place in June 2014 and combined the Apps and Services in one platform. The whole goal of this was to make it easier for companies to find what they need and the exact kind of support they are looking for faster than before. Google Analytics did a lot with the features available, some of which you can see in the screenshots presented above.
In the most recent summer update, the most notable new features were:
A new look and layout that is clean and easy to navigate
New category selection
Partners are now sorted based on your location, making it easier to find service offices near you
There were also other features incorporated in the new update, such as:
Screenshots and videos in order to better understand how certain apps work
Comments and ratings to review user experiences and show feedback
The new features and layout makes it a lot easier to sort through different partners and find what you need. One of the best features of the new update is definitely the incorporation of searching by location. If you have the desire to visit the office of the support expert you are speaking with, or you feel it may be beneficial to meet in person, than you are able to do so with this feature.
Do You Have What it Takes to be Part of the Actual Gallery?
The Google Analytics Partner Gallery is always looking for new consultants and businesses to participate, especially since it's not well-known by many people. You can visit their page here to learn more about the requirements and the benefits.
To become a Google Analytics Certified Partner, you must be qualified and have expertise with Google Analytics. As I said earlier, Google takes this component seriously and their Partners go through a significant application process. Additionally, if you think you may qualify to be a Technology Partner, they look for partners that offer applications that integrate with and/or complement Google Analytics.
This is a great addition to your business plan and involvement with Google Analytics, so definitely consider this if you think you may be a good fit.
The Takeaway
You likely already have a pretty solid involvement or understanding of how Google Analytics works and why it is important to small businesses. However, if you are still developing your site or need to work on your SEO standing, than you could also probably use some additional tools or advice from experts that have a clue of how to be successful.
The Partner Gallery, especially with the new and updated features, is one of the best options for consulting about analytics (and its features) for businesses. While it is not a hot topic of online conversation just yet, its new developments and features make it a rising tool for success, and it will likely keep developing to give users the additional support they need.
Do you have experience with App Gallery or the new Partner Gallery Feature? Has your business found it useful? Please let us know your favorite aspects of this platform in the comments section below!
Image Credits
Featured Image: EDHAR via Shutterstock
All screenshots taken January 2015