Despite claims that marketing on Facebook is not worth the effort, this social network still serves as a valuable channel for marketers and a vibrant place to run promotions. Many businesses are also seeing the value of running their promotions on a variety of channels so more of their online followers can participate.
If you've wanted to expand your reach but aren't 100% convinced it's worth the effort or you're not sure how to do it, it's always helpful to take a look at what other businesses are doing.
This case study looks at a travel company, Tusker Trail, that successfully ran a multi-channel campaign, and outlines the steps they took to make it successful. The company hired the marketing firm Out and About Marketing to build this social campaign and they used ShortStack (my company) to do so.
The Challenge
Tusker Trail is an adventure travel company that leads treks in countries all around the world. When it came time to add a new destination to their line-up, Tusker Trail crowdsourced by asking their audience which location they would most like to visit.
The Campaign
The easiest way to crowdsource on social media is to set up a simple vote promotion. Tusker Trail used their Facebook page, website, blog, email marketing, and other social networks to poll their followers.
"We decided to see where people would want to go on a trek rather than creating a destination they may not be interested in," said Milena Regos, a digital marketing strategist for Out and About Marketing. "We wanted to save ourselves a potential headache down the road with trying to sell a destination that people may not want."
Tusker Trail asked people which country they would most like to visit: Patagonia, Machu Picchu, New Zealand, Myanmar, Italy, Greenland, India, or Australia.
The Tusker Trek campaign leveraged multiple marketing channels, and had a strategy for driving traffic from each outlet. They topped off their campaign by letting voters provide an email address for a chance to win a free trek to one of four destinations.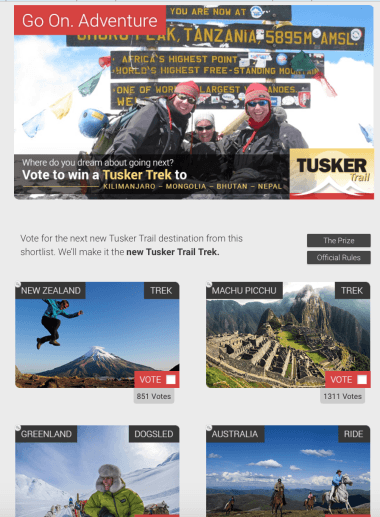 Marketing in the Proper Channels
Tusker Trail placed their Trek Campaign in a variety of places, including their Facebook page (as an app) and on their website.
"If you only put your promotion on Facebook you're not reaching all of the people that are coming to your website," said Regos. "If someone is looking to book a trip with Tusker Trail and they go to the website they can see the potential to win a free trip, so why not give them that opportunity?"
More businesses realize the benefit of multi-channel marketing because it increases the campaign's reach.
Promoting Campaigns on Multiple Channels
When you place your campaign on multiple channels, keep two things in mind. One, you need to drive traffic to those channels and, two, each area needs its own promotion strategy.
Tusker Trail drove Facebook traffic to their app and relied on organic reach from status updates. They also invested in Facebook ads to expand reach.
Tusker Trail also ran banner and display ads, plus a Google AdWords campaign that led visitors back to their homepage where the Trek Campaign was prominently displayed. Tusker Trail also blogged about the campaign, sent an email newsletter to past customers in their database, and posted organic social media posts on Twitter and Google+ (that directed traffic to Tusker.com).
Finally, Tusker Trail implemented traditional PR efforts that included reaching out to industry and local media.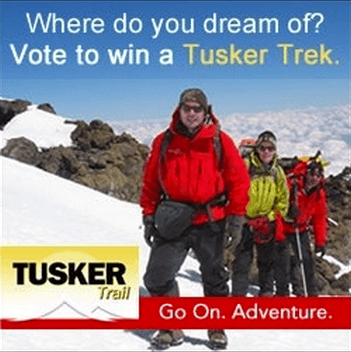 Looking at the Results
It's important to look at the results of a campaign so you can adjust your strategy for your next promotion. Tusker Trail received 16,174 views to their campaign and rounded up 4,622 votes. Although they did not require Facebook Likes, the contest resulted in 353 new Likes. They even amassed 1,817 new email addresses!
From Sept. 12 through Oct. 31, 2014, the Facebook ads that ran for this campaign garnered 298,255 impressions and 12,848 clicks at $0.26 per click.
When it comes to promoting a campaign, traditional efforts are still valuable. This held true for the Trek Campaign. Tusker Trail's local PR efforts landed them stories in a variety of travel outlets including About.com, Adventure Travel News, and The Adventure Travel. These placements extended the reach of the campaign immensely.
Ultimately Tusker Trail's audience voted (in a landslide) for the company to add Patagonia to its lineup.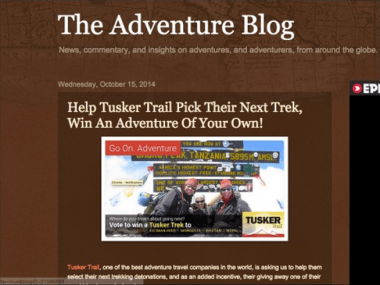 Using the Data
A significant part of a promotion's success is using the information you've gathered after your promotion ends. Tusker Trail prepared five email newsletters based on the information they collected from their entrants. These newsletters were sent out over a period of several months after the promotion ended. The emails included travel tips, guides, and information about new treks.
"The purpose of the emails was to maintain engagement within our database," said Regos. "We have continuing the conversation with our entrants and provided them value at the same time. The emails are not salesy, they're just informative. Because of this we're seeing really good open and click-through rates."
If you're ready to try running a multi-channel marketing campaign, there are a variety of marketing platforms offering the ability to run Facebook and web-based campaigns. Options include ShortStack (my company), Antavo, ViralSweeps, and Rafflecopter.
All images used with permission from OutAndAboutMarketing.com.