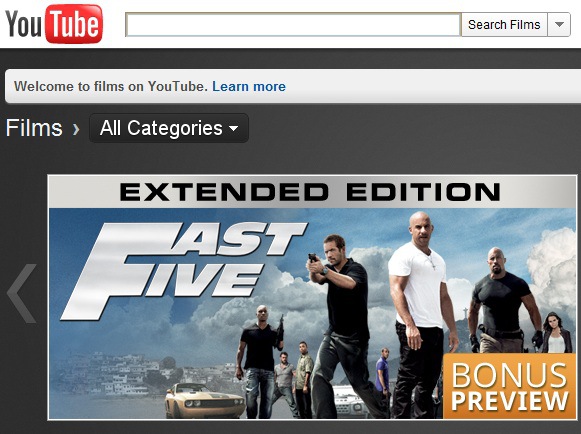 YouTube's rental service, which was initially launched in the US last May, allows YouTube users to rent feature films with their online video service. Last month, YouTube rolled out the service for Canada and today they added their third market – the UK.
Matteo Vallone, the YouTube Business Product Manager, announced the rental service's expansion in a blog post today:
"Britain has a long history of cinema, starting from the first moving pictures being developed on celluloid film in the UK. Now British film buffs can be part of the digital revolution too, at https://www.youtube.com/movies."
The YouTube movie rental service features over a thousand feature films including: The Dark Knight, Red Riding Hood, and many other blockbusters and new releases. The UK users may especially enjoy the British classics such as Monty Python's The Meaning of Life or Lock, Stock, and Two Smoking Barrels. Some of the companies that have entered an agreement with YouTube include: Sony, Universal, Warner Bros, Lionsgate, and Revolver Enertainment.
To rent a movie from YouTube, users should navigate to the Movies page. On this page, the user can browse available films, read a summary of the movie and movie reviews from Rotten Tomatoes, and view the cast. Once a user purchases a film, they have 30 days to begin watching the film. After they have begun viewing the film, they must finish the film within 48 hours or extend the rental.
For UK residents, the price of a YouTube rental is between £2.49 and £3.49 depending on release date and popularity. The service, which is available immediately, will directly compete with Amazon's LoveFilm, which has 1.6 million European customers. The price point for LoveFilm is also £2.49 to £3.49 (non-members).
[Sources Include: YouTube, The Guardian, & CNET]