A couple of weeks ago Twitter has began rolling out some enhancements which consisted of an integrated search box and a Twitter zeitgeist sort of thing called Twitter trends. These new features have been under beta testing on selected subsets of Twitter users and the Twitter blog just announced that it was definitely coming soon for all users.
Previously the search box or Twitter's search facility was a subdomain on Twitter. I first saw the search box appeared on my Twitter account located at the upper right navigation tab. And I didn't quite noticed when it was relocated at the right sidebar just below the "Favorites" link.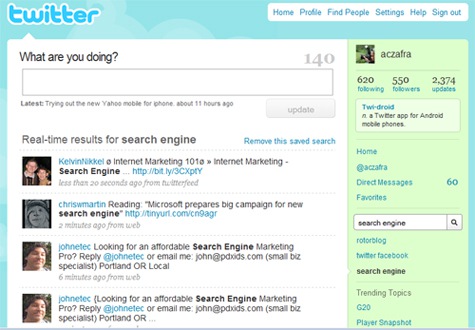 Additionally whereas before, the search results are displayed on a new page, the new Twitter search engine now displays them right on your Twitter home page. And if you use a particular search keywords from time to time, Twitter is implementing a new feature that will let you save that search. It will appear on the right sidebar just below the search box. You can then check on this search and it will display the current related Tweets.
The other feature that is being tested is the Twitter trends. This is similar to Google Zeitgeist which is a list of popular words being referenced on the whole Twitter-sphere.
These new features will be rolled out to the public in the coming days.