Yesterday Twitter sneakily unveiled a new user interface for both the "followers" and "following". While I personally believe that their efforts could have been better spent on stabilizing their servers and working out those infamous "overcapacity" issues, the change is a good one.
First of all, let's go over the changes that they made. On your list of "Followers" and those that you are "Following", Twitter used to display the person's avatar and username, and the option to follow. Little other identifiable information was presented, so if you wanted to find out more about the person you'd have to click on their name and check out their page.
Now, when you view "Followers" or "Following", you're presented with a lot more information, almost eliminating the need to click over to the person's page to get the full scoop on them. Now you'll see not only their avatar and username, but also their real name, latest tweet and location. On the righthand side where the "Follow" button used to be, there's now a new button. Click on it and you're presented with several action options: @ Mention xxxx, Direct Message xxxx, Follow xxxx, and Unfollow xxxx. So it's nice in that there's a lot more information available in one place and there's less clicking involved.
Here's a quick peek at my "Followers" page so you can see the changes (click to view full size):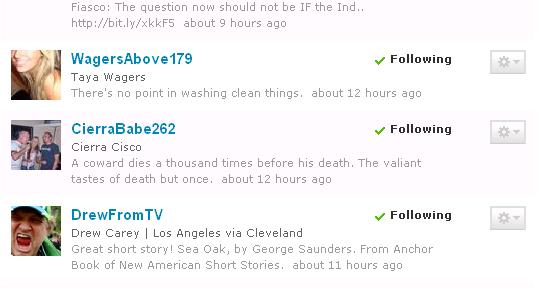 What's this mean for search engine optimization? Well, we all know by now that SEO is far more than just link building. It's also a lot of marketing, and if you're on Twitter it's an excellent way to market your website. I was a little late in the game getting my site involved with Twitter, but not too late, and it is definitely paying off in terms of gaining new traffic, new loyal readers, new readers, and even some advertisers. It also helps us to connect with our readers in a way that's just not possible through comment forms on our site alone. This UI update really helps to save time in checking out potential followers, or people you want to follow, especially if you're constantly bombarded with new followers or manually hunt for new ones to follow yourself.