UPDATE: Twitter officially announced May 24 that @names will also not be included in the character count. You also don't have to add a period before usernames for them to be seen in followers' feeds.
The days of forcing abbreviations so you can fit your text and a photo under Twitter's 140-character limit will soon be history. According to a report from Bloomberg Today, in as few as two weeks, Twitter will no longer count images and URLs in its character limit.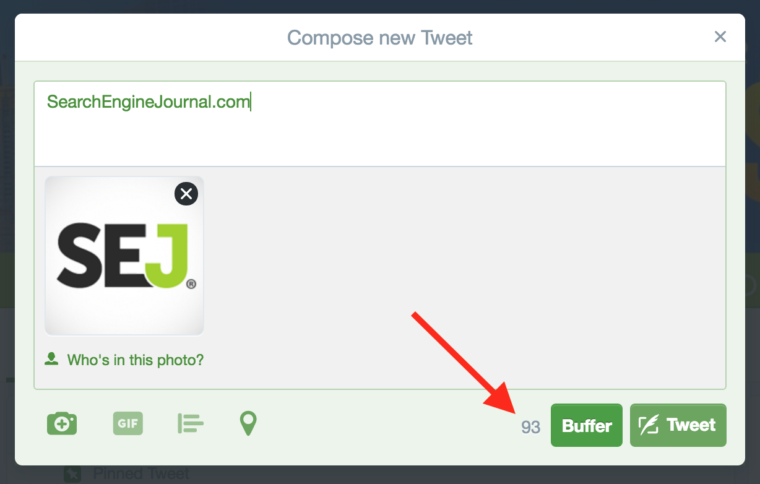 Attaching photos and inserting URLs into tweets currently use as many as 24 characters each—a precious 17% of Twitter's total maximum character limit—understandably creating hurdles for those who hope to include multiple types of media in a single tweet.
Considering tweets with images increase engagement by 313%, juggling character count with images (and often a URL on top of that) has become almost a necessity.
Twitter CEO Jack Dorsey's interest in new ways to adapt Twitter's character count was first seen earlier this year when the microblogging site added the option to add image captions that did not count against the character limit. Rumors that Twitter would be increasing their character limit from 140 to 10,000 characters also surfaced earlier this year. Dorsey aptly responded by tweeting a large screenshot of text. He announced that, after observing many users using screenshots to share longer text, Twitter would be rethinking current rules and looking for alternatives to add more characters to tweets.
— Jack (@jack) January 5, 2016
Today's announcement seems to reflect that when Dorsey wrote, "We're not going to be shy about building more utility and power into Twitter for people. As long as it's consistent with what people want to do, we're going to explore it," he meant it.
Image Credits
Featured Image: Shutterstock
Screenshot by Caitlin Rulien. Taken May 2016.