Now you can share Amazon affiliate links on Twitter! Amazon is releasing a new feature for Amazon Associates that is available today. The purpose of the feature is to facilitate the affiliate marketing efforts of their associates.
If you visit Amazon.com while logged in using your Amazon Associate credentials, you will see a new bar available at the top of your screen.
The "Share on Twitter" button located on this toolbar will allow you to quickly share the product on Twitter. When you click this link, a new window will open with the Twitter home page and it will populate the tweet box with the title of the page and a link to the product. You can edit the text of the tweet if you like, but I would not recommend modifying the link unless you are an advanced user. You will run the risk of removing your affiliate ID from the already shortened URL.
If you have multiple Twitter accounts, you should double check which account you are logged into before submitting the Tweet. When sent to Twitter after clicking the button, it will use the account that you are currently signed into. If you need to switch accounts, or are unsure which account you are signed into, do not worry. You can sign out of Twitter and then sign back in under the proper account before posting the new tweet. If you are not signed in, it will ask you to sign into Twitter.
Currently the way you share an affiliate link on Amazon is to find the product page, make sure your affiliate ID is present in the URL, shorten the URL, and then use your favorite Twitter client to post the Tweet.
That represents 6 actions to tweet your affiliate link.
With this new feature, it takes just 2 actions to tweet your affiliate link.
You can also rest assure that your affiliate ID is properly inserted into the URL with this new Amazon Associates feature. With the old methods, you had to manually verify the value was there and worry about whether or not the URL shortener would remove your affiliate tag.
Here is an image that shows what happens when you click the Share on Twitter link (click to enlarge):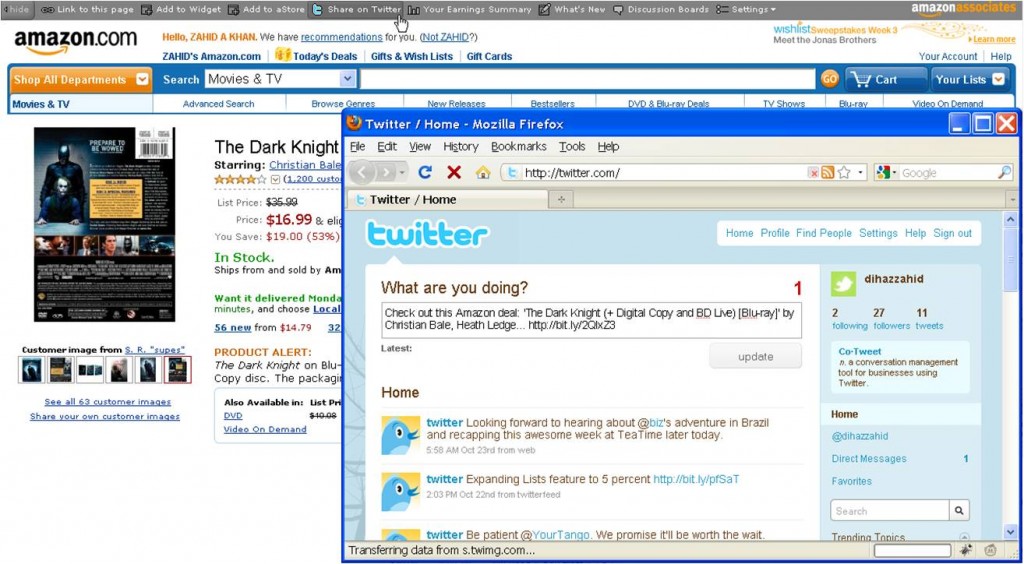 If you have any questions about this feature, please feel free to leave a comment here. Checkout http://twitter.com/amazonassociate for more information.
Joshua Odmark is a Senior Search Specialist at Admax Media Inc. and also blogs for Performance Marketing Blog. Follow him on Twitter or connect with him on LinkedIn.