TweetROI is a newly launched project aiming to monetizing Twitter with the utopia idea behind it:
TweetROI unites influencers with marketers and protects the authentic personality that makes Twitter great. Twitterers recommend, in their own words, stuff they like. Marketers and PR professionals get valuable, previously unavailable Social Media exposure.
The service is aimed at overcoming social marketing main obstacles:
by providing a sleek "everyone-loves-it" scheme:
Advertisers provide a product;
Twitter users choose if they want to Tweet it and even choose the words to do that.
The described benefits for advertisers:
Campaign tracking and analytics;
Full control: messenger quality, number of messengers, tweet scheduling, etc
Some details and innovations:
Twitter users/ publishers are ranked based on their UserRank consisting of:

TalkRank (built depending on how often the account is updated)
ConversionRank (based on the number of replies)
ViralRank (based on the number of retweets)

Pay-per-Tweet model: Tweets are worth "$0.25 – $75.00"
Twitter users may remain authentic (e.g. recommend the product in your own words)
Transparency: tweet only undisclosed campaigns
Affiliate program for attracting more marketers.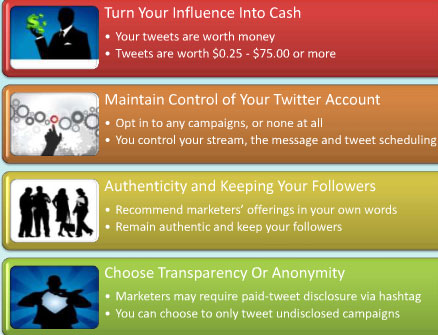 There's not much revealed so far and we will definitely have to see it in action but I recommend checking their FAQ:
Will people unfollow me for doing this? A small portion may. There are always people with extreme viewpoints. Some people believe that no one can get paid and remain honest.