Tnooz THack initiative promotes innovation, momentum, and maybe the "edge" the next great travel giant wants. Tnooz Co-founder Kevin May explores what's next.
Technology touches every area of our lives these days and nowhere more significantly than in the travel and mobility spaces. Online travel business is rapidly outdistancing traditional travel, and nowhere in the digital world is there more dynamic change than between service providers and purveyors. Google, Expedia, American Airlines, mergers and acquisitions nearly daily – you get the point. And everyone is looking for the edge.
In keeping with the quest for this edge, we visited the Travel Technology Europe show (digitally at least), to investigate the coming attractions for travelers in the coming months. As it turns out, the creativity spurred by the THack (Tnooz) competition there, uncovered some extraordinary innovations with broad implications.
By way of background, THack is an initiative by Tnooz, the world's leading travel technology publication. And, besides a look under the prototypical travel hood, we also had the chance to speak with Kevin May, co-founder and editor of Tnooz, about his take on THack and the upcoming innovation and creativity.
The Travel Technology Europe event culminated with awards for the winners of THack's creativity competition, and we list these below with brief intros into their innovation.
The winner of the THack Gold Prize for this event was a cutting edge entry from Kevin O'Sullivan of SITA Lab. The "hack" combined APIs made available exclusively for the event from flight search startup Everbread, tours and activity reservation system TourCMS and social planning service TripBod, along with the Android mobile voice recognition software, HTML5 code and finally Google Maps.
The resultant app allows users to search for flights or even vacations on a mobile simply by speaking into the handset. The reader can extend the possibility here obviously, but the video below shows the application's utility well.
http://www.tnooz.com/2011/02/10/news/creativity-everywhere-results-from-tnooz-thack-london/
The THack Silver Prize went to James Addison of Skyscanner for his hack, Advent. This fantastic ad serving system uses Expedia and Everbread API's for flight comparisons within ad units. Its developer in the video below best describes the app.
The Bronze Prize winners, James Dunford Wood and Alastair James of Worldreviewer, took home their prize and the adoration of judges for their innovative (somewhat extraordinary even) combining of a great number of API's from Expedia and others in creating Spin, a mashup of flight search, tours, and rich content from key online players. For those of you unfamiliar with Worldreviewer (terrible brand), their development is one of the most visually striking and useful this writer has ever seen (landing below).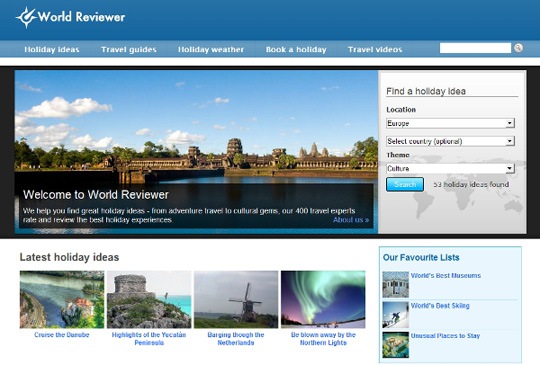 I asked Kevin May pointedly about his opinion on these hacks, and on other travel technology issues. That interview follows in abbreviated form.
SEJ – Can you envision a new travel platform utilizing the hacks of the three winners here Kevin? I mean, this is the first thing that came to my mind, from a developer's standpoint – the features value there?
Kevin May – Hack events are often about collaboration and sharing of ideas – a process which was fascinating to see over the course of the ten days. However, I am unsure if a formal platform would emerge encompassing some of the hacks we highlighted. However, I suspect many of the hacks will be taken to other levels or integrated elsewhere.
SEJ – I actually see Bronze winner, James Dunford Wood and Alastair James at Worldreviewer – as having developed the more valuable hack here – given the idea that an "all in one" travel booking/search experience could use massive cross API integration – what are your thoughts?
Kevin May – I'm not going to argue with the judging panel's decision here. In fact, all of the six hacks presented have great potential, each in their own way. Some would need more work, and possibly partnerships on the commercial side, while others just need a bit of coding and imagination in getting the product out there in front of customers.
SEJ – You are obviously inundated with such technology creativity all the time (your brain has to be full) Is there a hack in the clouds that you did not see at the Thack event, which you would like to?
Kevin May – There is huge potential in the social and local deals space at the moment. I suspect there is something interesting to be had in creating a mobile-led, deal finder which allows people within a person's network to view and arrange payment. The service would also allow point-to-point travel search, including air, taxi, rail, plus the accommodation.
So, for those of you not tied into the travel technology sphere, it is easy to extrapolate other values here as well. I must admit I was baiting Kevin a bit to answer that last question for me, the service suggested being within my "wishful dreams" bag for an online travel platform.
Kevin affirmed with this answer, one a race that is probably going on behind the news – the quest for mobile integrated "whatever." And then "whatever" appears on the horizon, it will affect all business – just my view. We applaud Tnooz and THack for added stimuli and incentive.