The travel industry has always been big on content and press since the modern era of travel began in the mid 19th century.
Fast forward to the 21st century, and a huge driver of eyeballs to travel companies has been organic traffic via search engines. Links are the new press, and they're important as ever for travel brands.
In our last post, I wrote about some of the SEO basics that huge travel brands were employing – with great success – but that's only one part of the puzzle.
The flipside – roughly 50% of the equation – is getting solid inbound links from relevant and authoritative sites.
We're going to look at some of the main ways to earn links as a travel brand that you can bake into your strategy for the next year.
1. Press Trips
Press trips are really unique to the travel sector – as there are not many other industries where it truly makes sense.
To put it simply, a travel brand connects with a travel journalist to offer them a free trip in exchange for expected coverage. It's also one of the most common ways to get coverage, as it's somewhat of a no-brainer for both parties.
This definitely toes the line between sponsorship and an organic exchange of value, and there's no clear answer here. The line can be drawn at how the agreement is set up.
If the brand demands positive coverage in exchange for the trip, then it's definitely in sponsorship and advertising territory. If the free trip is given, regardless of the outcome, then it's more in the clear for an organic exchange.
This can be quite an expensive way for a travel company to build links.
It makes sense for a hotel to offer a few free rooms during their off-season to a group of journalists and bloggers – they'll get some press coverage and the rooms would have gone empty.
Where the ROI doesn't make sense is when the travel brand, such as a niche tour operator, has to fly out the writer, comp them a full tour package with food and transportation, and ensure their experience is top-notch.
There's also a huge dependency on who the journalist is.
If it's a writer for The New York Times, go for it, as that will pay dividends for years. If it's a handful of travel bloggers that just started out recently, you'll want to really consider that arrangement.
2. Product Stunts
In a product stunt, the travel brand creates a temporary or outlandish offering to get the attention of the press and a lot of links.
Best example? Airbnb just announced the Barbie Malibu Dreamhouse that you can stay in for $60 a night.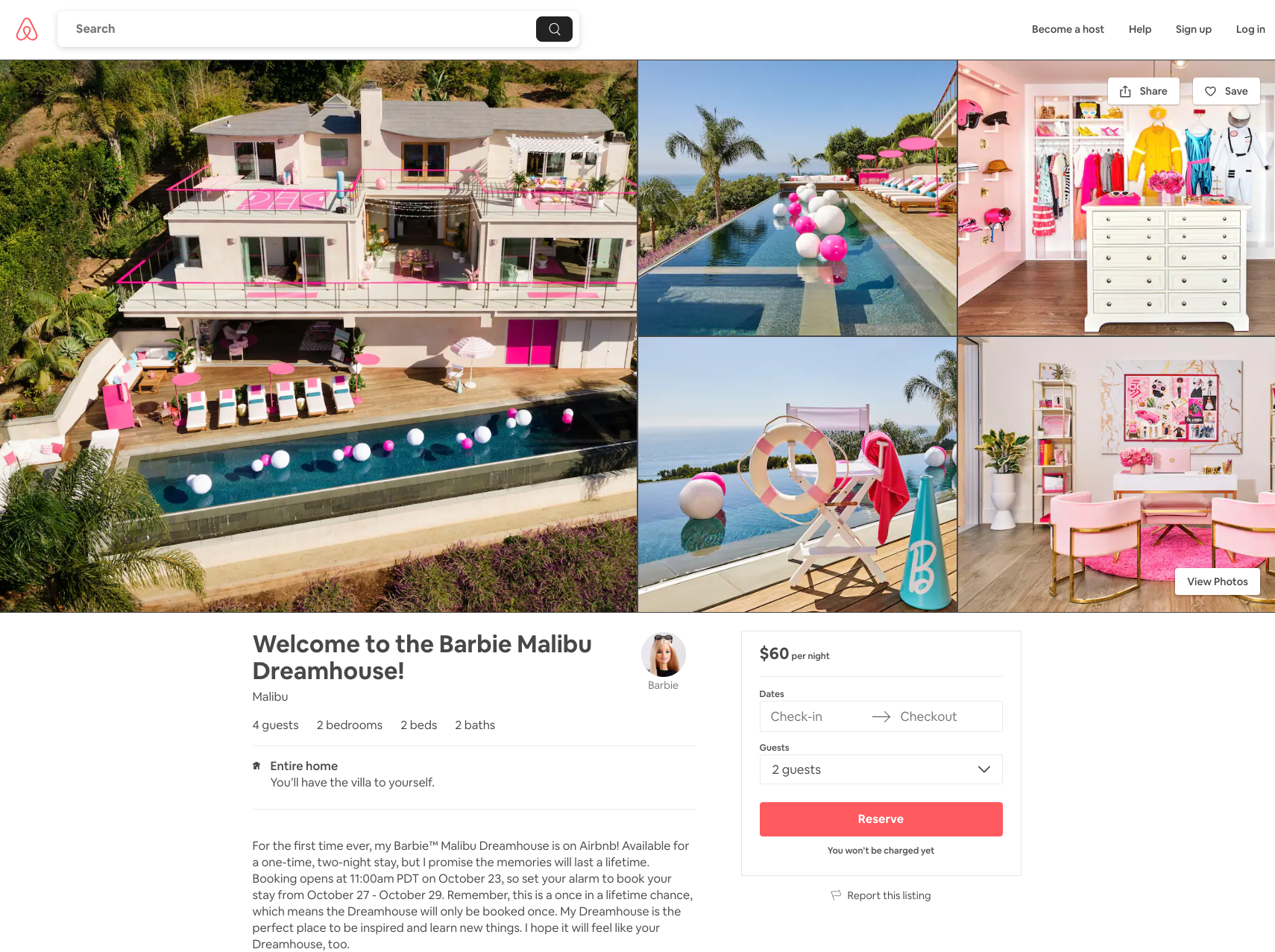 This is clearly a stunt as it's only available for two nights and is in partnership with Mattel for the 60th anniversary of Barbie.
While overall silly and entertaining, it's just the thing the press wants to write about.
If you're not as big of a brand as Airbnb or Barbie, you'll have to get extra creative to get attention.
You can either partner with a larger name brand, or go even wackier with your offering.
3. Dream Job Stunt
Dream job stunts seem to have a lifecycle. They'll get super hot for a bit, then a lot of copycats come out, and they'll get ignored by the press again, and the cycle continues.
Recently, dream job stunts from Guinness tasting to Furrfluencing have been making the rounds, with great success.
In this scenario, you create a fun and eye-catching job that you're offering, usually for a short amount of time. It's typically paired with a contest and with a hard-deadline.
If done well, it can get a ton of attention, but there are some things to look out for.
I once worked for a coupon company that offered a $100,000 a year job as part of this contest – and let's just say that they didn't get $100,000 of link or press value at the end of the day.
Offer a fun, temporary job that makes everyone happy and doesn't risk your annual marketing budget.
4. Guest Posts
Guest posts are extremely hard to place in the travel industry. There's something about travel bloggers that makes them demand money for any guest post on their blog from brands.
Perhaps the boho-chic Tulum vibes they project in their posts don't jive well with your infographic about packing light for a trip to the Bahamas. I suppose you can't blame them to some degree.
When a travel brand first thinks of starting a link building campaign, the obvious conclusion is pitching travel blogs, which makes sense on the surface. The reality is that they're a tough cartel to crack.
Most of your outreach will be met with demands of payment of a few hundred dollars, regardless of the traffic quality of the site.
The workaround? You want to find lateral industries that are actually accepting of guest posts.
Business, tech, productivity, parenting, and health blogs tend to be much more receptive to your contribution of free content.
Find overlapping angles that address both markets, such as facial recognition in the travel industry, where you're pitching security blogs but also still on topic with travel.
5. Resource Pages
Resource pages link building involves researching resource pages and link pages that already exist on other sites and pitching your content to get a link on their page.
There are a few different types of resource page links that typically work in the travel industry.
Local resource links work well if your travel brand has a presence in a local region.
If you're a hotel or tour operator this is a good fit and partnership. You can connect with other local businesses or government entities to get listed on their resource pages.
The other method is providing a helpful resource yourself and getting listed on a resource page about that topic.
For instance, if you created a wine map of South America, you could pitch that to wine blogs or university department pages that talk about agriculture and wineries.
6. Paid Links
Paid links are a touchy subject in the SEO world, but they do exist in reality.
More often than not, if you dig deep you'll find well-known cruise lines and hotel chains paying for placement on travel blogs and other websites, which perpetuates the cycle of demanding payment for links.
According to Ahrefs, there's actually no other industry that demands paid links more than the travel industry:
For those who have built links in the industry, you can't be too shocked, yet it's still insane that it's 3-5x more common than in most other industries.
There's clearly a problem in travel with paid links, but it's likely fueled by the demand from travel brands and the dream of travel bloggers to travel the world and live off their blog. A potent combination that leads to this chart.
Should you buy paid links as a travel brand? I'd recommend against it unless you're experienced in the field.
In the short run it may work – even for a few years – but as those blogs accept more and more paid links that may deteriorate the value of your link over time.
There are plenty of other ways to earn links with a bit more creativity and thoughtfulness.
7. Visual Content
Visual content for travel link building typically comes in the form of creative maps, infographics, or custom smaller visuals. The nuanced approach here is it really comes down to designing the visual to target the right market.
If you create an infographic about "traveling light" you have to really think about who's going to be receptive to this.
Travel bloggers will ignore you and 99.5% won't post without payment, so you have to creatively think of lateral markets that would be interested in engaging with your idea.
You also can't focus too much on your own product or service, or it will look too self-serving.
The proof?
My team and I once pitched a travel service-oriented infographic to 3,000+ bloggers and got only a handful of placements. So there's a lot of weight to choosing the audience and content well in order for it to be a success.
The solution once again is to find linkable markets open to sharing third-party content, or if you are targeting high-end travel magazines, to go above and beyond and create premium visual content campaigns that will stand out against the deluge of mediocracy.
8. Surveys & Unique Data
Surveys can work really well, depending on the audience and the content.
They can be subject to similar nuances as mentioned above in the visual content section, but there's a little more leeway as you're actually providing original data, and not just mashing up some old content with a new design.
Surveys work particularly well with actual journalists and national press if they have a broad appeal. Find an interesting angle and present new information, and journalists may be highly receptive to this.
Another angle is to find a niche industry – such as cybersecurity – and craft your survey toward those bloggers and journalists.
Choosing the Best Link Mix
The reality is there's no one perfect link building method to use 100% of the time for the lifespan of your travel site. You want to mix it up and align it with your larger marketing and SEO strategy.
If you're looking for pure branding and exposure, you'll want to go for more of the stunts that will get you higher-end press and allow you to go viral.
If you're trying to promote a specific set of products, you'll want to look at press trips or guest posts, where you can control the outcome a little bit more and get more product-oriented.
If you're looking to generate top-of-funnel organic traffic, visual content and surveys can support those goals.
While researching link building tactics may have you ending up on posts detailing 100+ options, these eight here really highlight the top few tactics that will bring you 80%+ of the links you're looking for.
More Resources:
---
Image Credits
All screenshots taken by author, October 2019