Many people don't like using Facebook as a marketing tool, because they don't see the value or ROI. It turns out you can track conversion through Facebook using their Facebook Conversion Tracking tool. Use with Power Editor, which helps you to use this lovely feature.
Facebook Conversion Tracking
This feature allows you to track whether your Facebook ad led to a conversion towards your website. It is valuable because provides the ability to measure the ROI (Return On Investment) of cost per conversion campaign. It also allows you to optimize your ads as per conversion and targeted audience.
For now it allows to track four types of conversions:
Registrations
Leads
Key Page Views
Other Website Conversions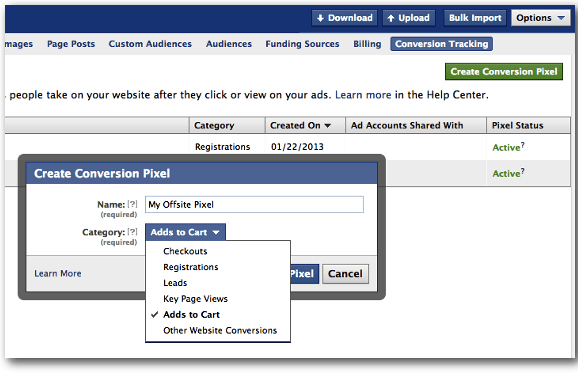 How can you do it?
Get the code from Facebook which is also called Offsite Pixel.
Put the code between the <HEAD></HEAD> of conversion success page of the website ( It is your Thank you page where user will reach after purchasing or doing other action as per your requirement).
Take care while you put the code, do not put it on the page where you collect information, remember only on the "Thank You Page".
The code will be shown like this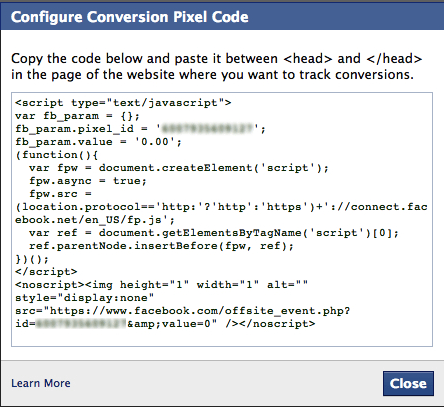 Other Useful Information:
If you do not have a website, just create a Facebook post (or unpublished post) as per your targeted Fans. Then turn it into an ad with Power Editor. I have used this method it works well!
This tool also helps you to track Email list subscriptions, but make sure the code is placed on the page instantly following the form completion, not the email confirmation.
Tips: Make an email list through any third party tool but make sure that you have those tools redirect to a page within your control when the conversion is complete.
End Notes..
For me, the Conversion Tracking Tool it is one of the best features on Facebook to find a true figure on ROI. So, let's try it today and share your feedback in the comments!