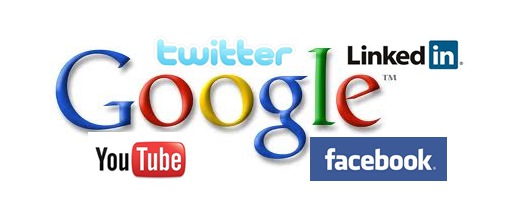 First, I'm sure you are wondering where you can find this metric. Let's start by drilling into Google Analytics to find the report. Access the Goals tab in Google Analytics and then click the Social Assisted Conversion Link. This will take you to the Social module within GA. OK… I just made that up. You can't actually do this yet, although I wish you could.
Two weeks ago I presented "Understanding the True Return on Investment (ROI) of Social Media Marketing" on behalf of the Princeton Chamber of Commerce. The core point of my presentation was that it's extremely difficult to run a standard ROI calculation when it comes to Social Media. That's because Social Media Marketing (SMM) impacts so many other channels and efforts that it would be hard to simply add numbers to a formula.
That said, if you have the right strategy in place, along with the right tracking (both on-site and off-site), you could still make a compelling argument for Social ROI. As part of my presentation, I have a slide dedicated to what I call The Social Assisted Search Conversion. It's something I've seen more and more of recently, and it can be very powerful for businesses (although it's hard to track). By the way, to see what a potential Social ROI case could look like (if you do the right things and have a strong analytics strategy), you should check out my latest post about Presenting Social ROI in the Boardroom.
Defining The Social Assisted Search Conversion
The trend I'm seeing across clients (and across my own efforts) includes several jumps and communications across channels that ultimately ends up in a conversion. Note, conversion can mean several things depending on your own business, such as a sale, a lead, a form submission, a download, etc.
It starts when a Social connection is made between a company and a prospective customer. That person might end up connecting with a company via Social efforts (blogging, Twitter, Facebook, LinkedIn, YouTube, etc.) At this point in the process, the company needs to build credibility, engage users, and provide valuable content. As this happens, the company could start forming a stronger connection with the person in question. But, that doesn't mean the prospective customer will go running to that company when they need a solution. As many of you already know, the knee jerk reaction for many people looking for a solution is to hit a search engine like Google, Yahoo, and Bing (and mostly Google).
When the person starts searching for a solution, she will probably end up on several websites via both organic and paid search. She will compare products, prices, features, read reviews, etc. But, there's another factor that I've seen occur during this stage. This is where the Social Assisted Search Conversion sparks. If this person hits a website and realizes that she is currently connected with the company via Social Media, she might end up reaching out the people managing those accounts before she decides to move forward and convert. She might seek more information, ask for recommendations, etc. Once this "reconnection" occurs via Social, the person might go back and convert (based on the assistance she received from the company's Social Media Manager or team).
To quickly recap, a person connects with a company via Social Media. The company builds credibility by engaging followers and providing high quality content. At some point in the future, the person ends up searching for a solution and ends up browsing several websites to find a product or service that meets her needs. While browsing each website, the person realizes that she has already connected with a company via Social, and she reaches out to that company via those connections for more information, recommendations, etc. Based on the assistance she received via Social, she ends up going back to the site and converting.
Here's a Visual Representation of The Social Assisted Search Conversion: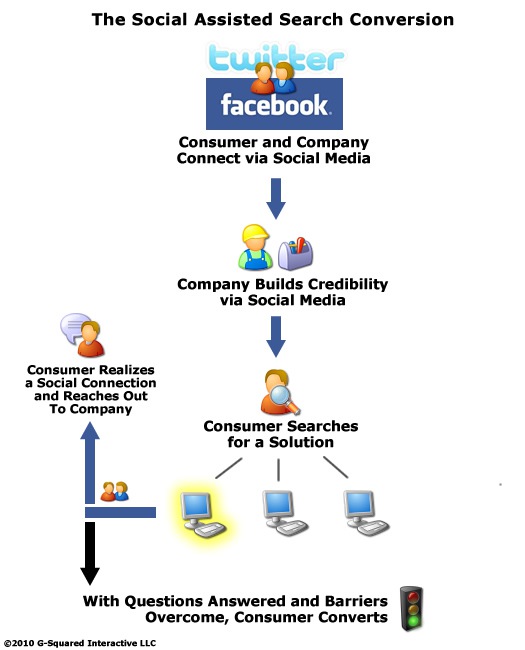 The Full Picture – Tracking Qualitative and Quantitative Data
This behavior is extremely powerful and something that you should be tracking as much as possible. You won't find this metric in your analytics reporting (yet), but you can track the qualitative data associated with this behavior as much as possible. For example, your Social Media Marketing Manager or team should be tracking correspondence with followers and fans, whether that's email, tweets, direct messages, blog comments, etc. Then, when you need to walk into the boardroom to present the ROI of your Social efforts (like I explained in my post about presenting Social ROI), you'll be armed with even more data to help make your case.
And during that presentation, you'll probably realize very quickly that many executives are data-focused (understatement of the year). They won't necessarily care about how many tweets or retweets you have. They will care about revenue, cost, and profit, and the Social Assisted Search Conversion impacts revenue, customer base, and the profitability of your efforts. Those are all good things when faced with a skeptical CEO. 🙂
Although you won't know the exact number of Social Assisted Search Conversions or the exact amount of revenue, presenting the qualitative data for this "metric" can be extremely powerful. In a nutshell, it shows how your connections with customers and prospective customers manifested itself in a unique relationship between Social and Search, which ended up as a conversion (AKA money).
Sure, it's not as powerful as direct revenue from Social sites, but as anyone tracking large-scale marketing efforts will tell you, that metric doesn't necessarily add up or tell the full story. The hard ROI numbers from your Social efforts might only be a fraction of what it really is. And, if you present the ROI of Social in a silo (without taking other factors into account like the Social Assisted Search Conversion), then it could make your case look anemic.
A Note About Attribution
In case you are thinking that multi-touch attribution will solve your problem, it probably won't. The core reason is that the communication between company and consumer during the latter stages of this process cannot be captured by an analytics package (yet). You might see the first touch as Search and the second as Direct or Referring Traffic, but you would be missing valuable, qualitative data. You know, the "Social" part of Social Media. 🙂
Quick Example
About six months ago, I was looking to buy wine glasses as a gift for my wife. I hit Google and ended up visiting a number of websites via both organic and paid search. As I was reviewing my options across several sites, I noticed that I already had been connected to one company via Twitter. And, I had really enjoyed their updates, the information they were providing, etc. I remembered them, based on their work in Social Media. So, I left the site and jumped on Twitter to message them (via Tweetdeck and not Twitter.com).
I explained that I was searching for wine glasses, that I had just visited their website, and that I needed a few pointers. After the exchange, I ended up going back to the site and converting (just a few minutes later.) Then, after buying the glasses, I messaged them again to let them know that I just placed the order. They thanked me (almost immediately) and proceeded to send along a discount code for my next purchase. That's awesome and shows the power of combining Social with Search.

Here are some closing tips for what you can do in order have the Social Assisted Search Conversion impact your business:
Develop a solid Social strategy and continually engage your followers and fans. Build credibility so they remember you.
Provide value over the long term. Don't just set up a presence on Social sites. Make sure your Social Media efforts are an important part of your overall online marketing strategy.
Develop a strong analytics strategy and track both quantitative and qualitative data. Make sure your team is documenting correspondence with users across Social connections (so you can build a case for Social ROI).
Incorporate The Social Assisted Search Conversion when building your case for Social ROI. Although Search is still one of the most important online marketing channels, that doesn't mean Social isn't helping business-wise.
Quick Summary
The key takeaway from this post is that Social may be impacting your business in several ways beyond just visits and revenue from Social websites. It's not always easy to identify the hard ROI of Social Media by plugging numbers into a formula, which is why tracking both qualitative and quantitative data is critically important. The Social Assisted Search Conversion is one example of how Social Media can impact other channels and end up generating more business for you. You just need to identify the best way to track it for your own company. Remember, it's hard to track, but harder to ignore. 🙂