Viewdle technology is nothing new – in fact it was founded in 2006 but the real buzz started in 2007 after the company presentation at TechCrunch40 Conference.
What's so exciting about the new emerging technology? What we've mostly seen until recently was video search based on keywords in titles, the content around the video, and on pages linking to the video (just the same as we see in text and image search algorithms).
Viewdle is a startup that's pioneering a completely new approach – actually seeing what's in the video.
Simply put, Viewdle technology "sees" the person, "remembers" him/her and "recognizes" the person throughout all new videos: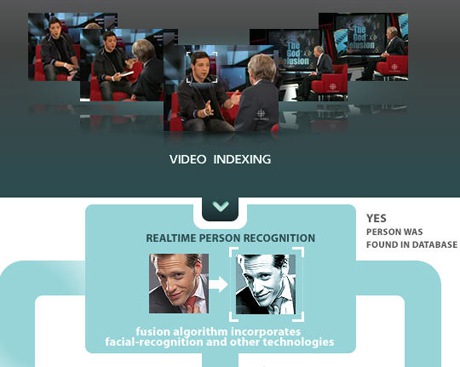 That also means video search gets really relevant – the technology makes sure the video will include an actual appearance of the person searched.

What's more, Viewdle facial recognition technology combined with speech recognition analysis enhances the surfer's experience by showing the exact person saying the exact words at the exact moment when he was saying this.
You can test the relevance at Reuters that's partnering with Viewdle; example: Laura Bush search.
What it claims to be doing:
accurate real-time identification;
possessing thousands of content streams simultaneously;
What it still can't do:
recognizing a person by a half of his face (when only one eye can be seen);
detecting too small faces (they should be at least of medium-shot size);
identifying faces on low-resolution videos ("We typically work with videos of NTSC (720×576 pixels), Pal (640×480) or higher quality streams")