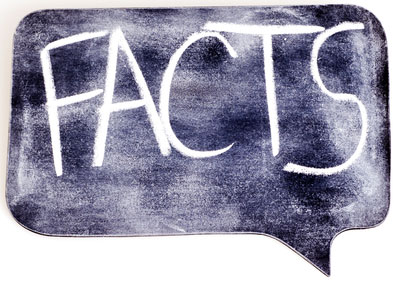 Sure, no one has a clear crystal ball that can predict what the search engines will and won't do in the future. However, it is possible to extrapolate from their activities over the past few years and identify the trends that are pretty much guaranteed to continue going forward, and that's what we're bringing you today – five clear facts about the future of SEO that we believe will heavily influence which sites that succeed in the long run.
Fact #1 – Content is king
When the Google Panda algorithm updates first rolled out, plenty of people cried foul. After all, if the intent of the changes was to clean up the SERPs by ridding the search engines of the type of spammy articles found on content farm sites, then why did it seem like so many low quality sites jumped in to take their places?
While you could see this as indication that it simply isn't important to provide high-quality content, smart marketers know that content is now – and always will be – king to the search engines. Here's why…
The primary goal of the search engines is to make money, and they can't do that if people avoid their services because their results are perceived as being low-quality. For this reason, the search engines will always be engaged in the process of refining their algorithms to provide the best possible results. And – newsflash – low-value, spam content is never going to win out over well-written, authoritative content in a battle over which text should be served up in the SERPs.
So while Google and the other search engines might not have definitively cracked the code on how to weed spam pages from the SERPs yet, rest assured that they're working hard on it. And when that day comes, it will be the site owners who focused on providing good quality content that succeed in the long run.
Fact #2 – Natural backlinks will always win
Yes, I know you think you're so clever with your "10,000 backlinks for $10" package that's guaranteed to fool Google into ranking your site higher. But here's the thing – Google is now, and will always be, smarter than you. Google and the other search engines employ some of the top PhDs and technical minds in the country, whose sole purpose is to weed out link schemes like these and devalue them.
So while you might temporarily succeed in earning a high ranking despite a link profile that's stuffed full of profile links and paid links from spam sites, keep in mind that your progress is likely to be short lived. In the long run, it's a far better strategy to focus on obtaining the good-quality, relevant backlinks that will stand the test of time.
But how do you get these prized links? Well, the solution actually goes hand-in-hand with Fact #1 listed above, as publishing great content is one of the best ways to build natural backlinks from authoritative sites. Guest blogging on other popular sites in your niche, encouraging your readers to share your content on social sites and deploying legitimate press releases are also good ways to keep your link profile squeaky clean and appealing to the search engines.
Fact #3 – Personalized search will be a reality
Plenty of traditional SEOs have been up in arms over the integration of personalized search features, which adjust the standard SERPs to reflect the viewer's personal interests and connections.
For example, if you've subscribed to several popular SEO blogs through the Google Reader program, you might find that results from these sites appear in your SERPs with a note that the content was recommended for you because of your subscription to the originating site. These personalized results bump sites that would have appeared in the natural SERPs if you weren't logged into your Google Profile – a fact that's pretty frustrating for the marketers who have invested time and money into achieving high traditional rankings.
But despite these frustrations, what we've seen so far in terms of the integration of social profiles into search results is only the beginning. In fact, personalized search results are anticipated to expand in scope, as creating unique SERPs based on your preferences provides the most relevant results (at least, in theory) that will keep you coming back and using the search engine's services (consequently, making the company more money).
The result is that these changes make building your professional network critically important. In fact, this shift may even represent a powerful opportunity to jump in to some highly competitive SERPs, but only if you take the time to build a large network on popular social networking sites (as this will increase the number of people that are exposed to your content).
Fact #4 – Optimization for multiple platforms is key
Although the traditional search engines have long been the default access point for people looking for information online, the number and scope of methods we use to navigate the web and parse results has increased dramatically in the past few years.
For example, while you're certainly still likely to conduct standard Google searches from your desktop or laptop computer, you might also browse for information on your tablet computer or smartphone – or even make use of voice command technology programs like Apple's "Siri" system. Given the rapid growth that we've seen in these alternative platforms recently, there's no reason not to assume that this trend of expanding internet information access won't continue in the future.
As a website owner, you need to be aware that people might be looking for information about your business on any of these platforms, making it crucial that you optimize your site for as many of them as possible. Key action steps at this point include launching a mobile-ready version of your website and maintaining profiles on sites like Google Places and Yelp, which are likely to be used as information sources by third-party programs like Siri.
Fact #5 – Social activity will increase in importance
Late 2010 brought the unprecedented announcement by Google that social signals were being used as a ranking factor, and as the web shows no signs of slowing down in terms of activity on popular social networking sites, it's likely that the relative importance of social signals will continue to increase for web businesses.
Need more proof that there's a good reason to invest time in building up your site's social media presence? Consider that the 132-person panel of SEO experts that contributed to the 2011 SEOMoz Search Engine Ranking Factors study rated "Social signals at a page level" and "Social signals at a domain level" as two of the top three factors that are most likely to increase in importance as a ranking factor in the future (behind only "Analysis of a site's/page's perceived value to users"). If these industry experts anticipate social signals playing a bigger role in the search engine algorithms, you'd better believe that now's the time to get on the bandwagon!
So how can you build up a social profile that the search engines will reward? Start by making an effort to spend time on the social networking sites you're active with every day and reach out personally to your followers. By providing consistent, helpful information, you'll build a following and begin to see an increase in the number of social shares of your work, making any investment here worthwhile in protecting your site against future changes in the world of SEO.