We all know that the Internet has become the lifeline of any business. The simplest definition of Business is – Any activity or transaction which involves the exchange of goods and services with an objective of earning an income by making a profit. If this very transaction is executed over the internet it is called E-commerce.
The current trends show that the use of the Internet, smart phones and the confidence of the people in using their credit cards online is growing exponentially. Hence, ecommerce is here to stay, and we have to adapt ourselves to becom smarter online buyers and sellers and web entrepreneurs – because all the basic principles of the real world business apply to ecommerce also.
The e-commerce spending and online buyers and penentration of e-commerce will surely grow but the growth will vary from country to country and affect the online market at various time periods, but eventually when all the continent markets mature, the global market will shrink the geographic boundaries further – giving rise to further impetus for a favorable online scenario.
According to emarketer, the e-commerce scene in the coming years in various geographic zones will be as follows: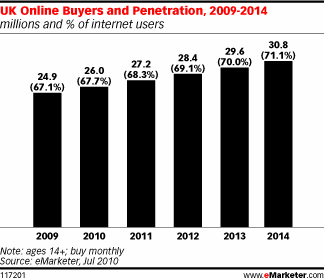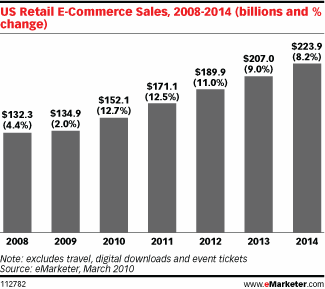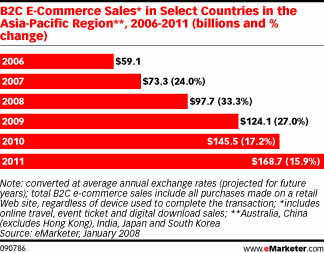 It has been noted that the sale of mobile phones has also increased recently . According to a blogpost on smartphones sales between July and September in 2010 amounted to 4.7 million units, which is a plus of 270% when compared to the same between April and June in 2010.
Hence, the next shift from ecommerce to m-commerce is inevitable.
Mobile commerce is still an emerging channel, however, with less than four in 10, UK consumers having tried it in September 2009, according to ATG.
This dimension of e transactions for any business offers global opportunities and challenges. With the sophistication in the softwares and CMS used to develop online stores and integrate secure mode of payments developing an ecommerce site is becoming simpler day by day and cost effective.
But, like any real time business, e-business also needs the attention, focus and hard work to establish goodwill, reputation and profitability, the online business also needs the same energies, strategies and focus to become a success on the WWW. The business challenges of competition, marketing, offering online customer support, attending to potential customers, settling payments, refunds, executing orders, integrating accounts, etc. are applicable to any online business too. Of course, once all these are put in place your business has a global platform with a faster and wider reach and the potential of running your business tapping the local and global market even when you are in your deepest slumber.
This increase in the online ecommerce market is sure to generate new job and business opportunities for people having the skills to market online, co-ordinate online with the potential customers and offer customer support and for people who can help in the trouble shooting of such infra-structures. Hence, the search engines PPC programs, SEO Services, social media co-ordination, secure online payments, handling the integration of online accounts are some of the services which surely be in demand to support this e-commerce trend in the coming years.
Ecommerce makes us shop using our computers , Mcommerce makes us shop using our smartphones but apart from that the gap between e-commerce and m-commerce is going on decreasing as the convergence of technologies take place and online buyers become more smart and net-savvy proving that online business is here to stay and grow.
Hence, now its not about having just a website but about having and operating your business online.The boom in the online travel industry- online reservations for hotels and airlines and online buying of books has already proved this and soon to follow is the retail industry as with the change in user behavior of the online buyer the trend of buying clothes, shoes, toys, etc. online is on the rising trend.