Taking a look at my desktop gave an idea I desperately need something—oh yes, it's time for cleaning up a great pile of applications I have installed during the year to enhance my content generation experience. I practice such "app cleaning" to identify the software and tools which are of the top priority for my current tasks and remove the ones I don't need. The ladies' wardrobe rule works perfectly here—if you haven't put something on for the whole year, don't be afraid to throw it away!
Before I discuss the apps that have survived the mess removal campaign, I'd like to mention that the choice is totally subjective and mostly satisfies my own requirements as an SEO and blogger. So here are my top five winners:
Content Strategy Generator for a Flood of Ideas
Whether you need content ideas for your own blog, or you mostly do guest blogging, you'd agree how hard it can be to get some fresh ideas, insights, and inspiration to start writing about anything. And here, I'd love to say a big thanks to the SEO Gadget team that created the Content Strategy Generator tool.

It looks very basic (hey, it's just a Google Docs spreadsheet!), but it just makes you brain flood with ideas for content, link bait, viral campaigns, etc. All you need is type in your keywords in the first column! Google and Bing news, Google Insights, trending tweets, the most popular and recent Diggs, YouTube top rated videos, blog posts, and more—isn't that awesome? And don't even try to persuade me that the properly customized Google Alerts would bring the same amount of data. Great work, SEO Gadget!
Everything Under One Roof with Evernote
I have been using Evernote for about two years, and it's already an app I can hardly work without. With Evernote, you can save everything you see, hear, and find on the Internet and then access this data via a variety of devices, since it works perfectly on Macs and PCs, iOS, and Android devices.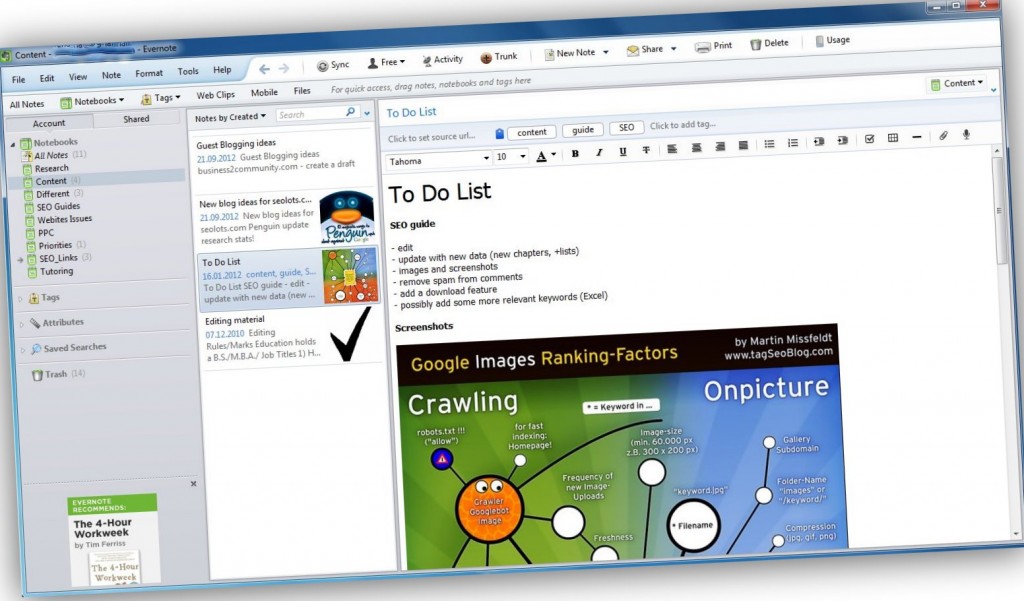 I've installed the Evernote Web clipper to easily "clip" the stuff I find interesting and useful for content marketing. Basically I use Evernote for:
Cooperation (I have an Evernote notebook shared for my team to communicate about the current issues)
Content ideas
Blog post and article drafts
Landing page layout variations
To-do lists
Personal stuff (ideas for presents and travelling, for instance)
If you haven't tried the tool yet, I'd recommend reading this post by Michael Hyatt on how to use Evernote for blogging.
Exploring Alternative Content Forms with Prezi
Sometimes we need to communicate the idea using the alternative ways, such as creating presentations, but old-fashioned PowerPoint slides aren't always the best fit. The cloud-based solution Prezi turns your presentations into an interactive and fun experience for the viewers. It features the zoomable canvas, which works greatly to explore ideas and connections between them. What I really like is that you can easily create a very sophisticated presentation and embed it in your blog, just like this:
Presentation On Presentations on Prezi
As of now, it's my number one online presentation tool.
Creating Media Buzz with Buffer
A cherished discovery of mine is Buffer app, a booming and loved-by-many tool to make social media life a breeze. It's a very simple way to engage with your Twitter, Facebook, and LinkedIn buddies throughout the day. All you have to do is simply fill your Buffer with posts for a couple of days in advance, thus ensuring consistent social media presence.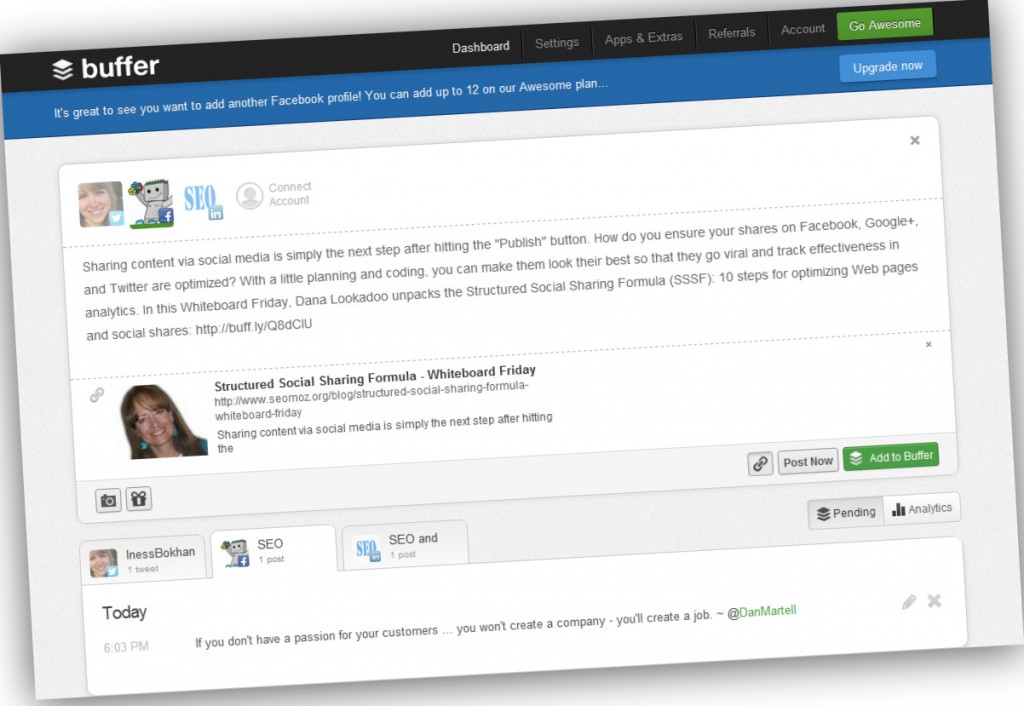 Buffer guys keep adding useful tweaks to their software. One of the recent ones is new analytics, which allows seeing all clicks, retweets, mentions, reach, and favorites. Thus, it's an amazing way to analyze the social response to your content.
Keeping Finger on the Pulse with Rank Tracker
LinkAssistant's Rank Tracker is one of my personal favorites to round up the whole content marketing routine. As many SEOs, I target certain keywords when writing my posts. Rank Tracker provides an excellent environment to monitor the benefit of my content over time.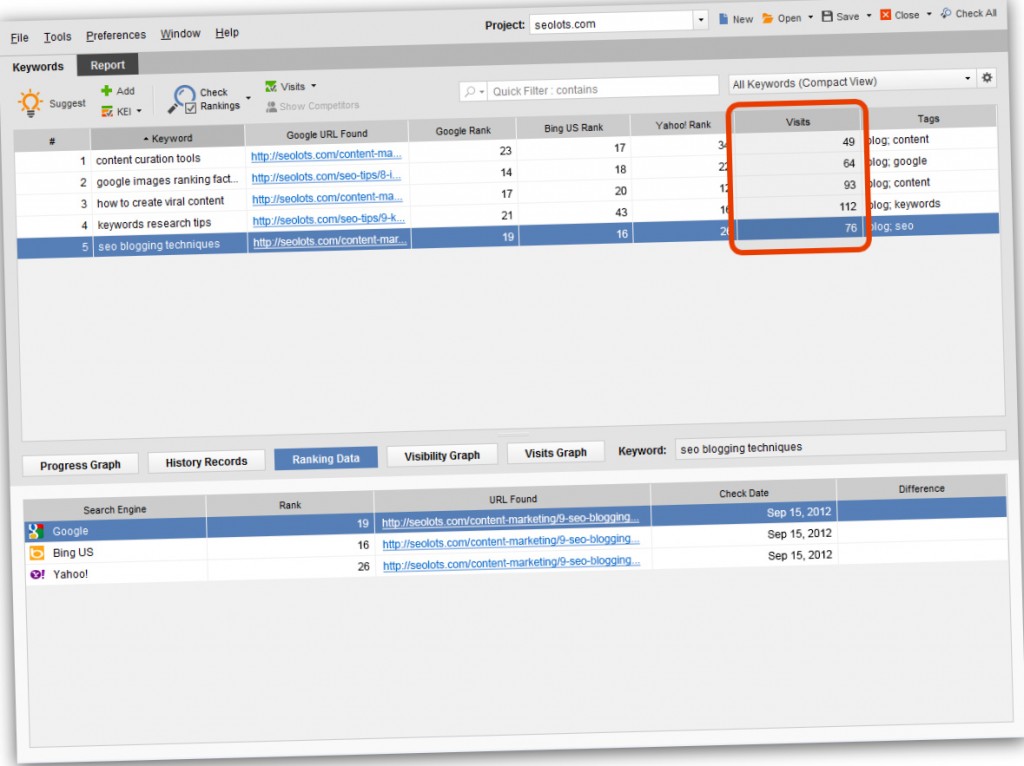 The tool lets me see how my posts rank for certain keywords and, since the tool is integrated with Google analytics, how many visitors exactly the keyword and post bring to me. It's an amazing way to have both traffic and rankings in one place, yet get an idea which "level of keywords" are worth going after.
I believe that these apps definitely help improve content marketing experience. The wealth of aspects to have in mind when marketing your content—brainstorming ideas, creating, sharing, tracking results—can easily become overwhelming. Having these apps guiding us to find the best pieces makes life a lot easier. Looks like my cleanup has been a success!
How about you? Do you think these apps can be helpful? Or do you know of any other tools and tips to deal with effective content marketing? Share your ideas in the comments!