The Wall Street Journal had a great piece on mobile marketing, "Advertisers to Consumer: We'll Text You." Do you have any text messaging advertising plans for your business in the near future?
Text messaging is a growing trend between users becoming more popular than actually calling a person, but more so interesting and great for marketers; people seem to be very receptive to text messaging. I think it is something psychologically gratifying, exciting, or "cool" that we have as this is "new" technology to get a text message to a cell phone. Text messaging has been around for a while, no doubt about that, but it is more popular then its ever been and as in anything that becomes very popular and mainstream, marketers find a way to get in there.

Companies such as Yahoo see great potential in the mobile space with text messaging. "…one of the most-active players in text-message advertising plans to announce a new trial partnership with Yahoo. Under the arrangement, 4INFO provides the technology for Yahoo to publish its content, such as news updates, horoscopes, sports scores and weather forecasts, via text messages that also contain a small ad. Consumers sign up online to receive the alerts.
Yahoo can sell the ads alone or as part of a broader online-mobile ad package or, alternatively, 4INFO can sell the ads through its mobile-ad network."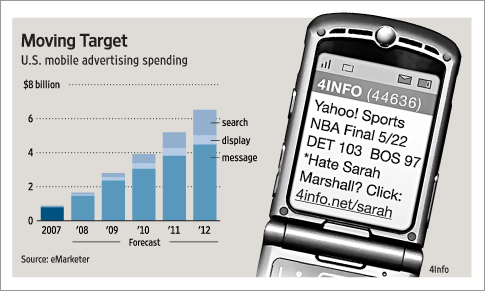 I think the most telling story about text messaging advertising is "Mobile-message advertising is expected to reach $1.5 billion by 2008, up 82% from last year, according to research firm eMarketer. Spending on mobile-message advertising now accounts for about 88% of the total $1.7 billion spent on mobile ads, which also includes search ads and display ads as well as mobile Web advertising."
Advertising through text messages isn't something new, but it is a rising trend that not only business already advertising in the mobile space should really look into but also any online business (or offline for that matter) who would like to interact more with consumers.