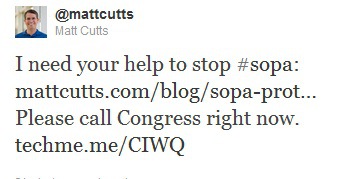 As I write this, the full House Judiciary committee is considering moving forward with the Stop Online Piracy Act (SOPA) bill. The SOPA bill, which has been has been encouraged by Hollywood lobbyists and lobbyists for other large content producers, would give the U.S. attorney general and copyright holders the ability to shut down "rogue websites." The bill has basically created a political war between the country's top technology companies and the U.S. entertainment industries.
Competing technology companies Google, Facebook, Yahoo, EBay, AOL, Twitter, LinkedIn, Mozilla, and Zynga all banded together in the fight against the SOPA bill. The companies, who claim the bill will have negative "real-world" effects and setback freedom of speech world-wide, sent a joint letter last evening criticizing the bill. In addition, the companies claim that the bill places an unfair burden on large technology firms to "police" and defend the internet from pirates. The letter pleaded with the lawmakers to carefully consider the potential unconsidered consequences of the bill:
"Unfortunately, the bill as written would expose law-abiding U.S. internet and technology companies to new uncertain liabilities, private rights of action and technology mandates that would require monitoring of websites."
In the letter, the technology companies also stated concern that the SOPA bill would stifle innovation, economic growth, and job creation.
Recently, a study was released by the International Intellectual Property Alliance that found content production (software, film, and music) contributed over $930 billion to the U.S. economy annually. The Motion Picture Association of America (MPAA) chairman, Christopher Dodd, supports the bill. He has publicly stated that he believes one quarter of all internet traffic is due to internet privacy and feels that the bill will result in additional jobs.
While everyone agrees that internet piracy is a serious problem and must be dealt with, most people associated with or employed by technology firms agree this bill is bad for the overall health of the internet.
[Sources Include: Open Letter to House Judiciary Committee]