Tax season – the most nail-biting time of the year – is upon us. With nationwide unemployment below 7% and trending lower, filing volumes are expected to increase to 150 million individual tax returns this year. To match the effort individuals and businesses spend each year doing their taxes and complying with tax laws, it would take more than 3 million full-time workers. No wonder many tax professionals take vacations in late April. All told, tax season – from late January through mid-April – is both big business and big competition for tax professionals and their ad campaigns.
Here are four tips to help digital marketers connect with tax customers at this high-pressure time.
1. Align Your Campaigns With E-Filing Peaks
Last year, 84% of taxpayers filed their taxes electronically, and tax professionals prepared 60% of the e-filed returns. The IRS receives the highest number of e-filed returns at both the start and end of the filing period. These peaks correspond to the volumes the Yahoo Bing Network sees in tax-related searches – with high volume in late January/early February as W2s come in and filing starts, and again in mid-April in the run-up to the filing deadline. It's important for digital marketers to align their campaigns with these two peaks and allocate enough budget ahead of the e-filing peaks.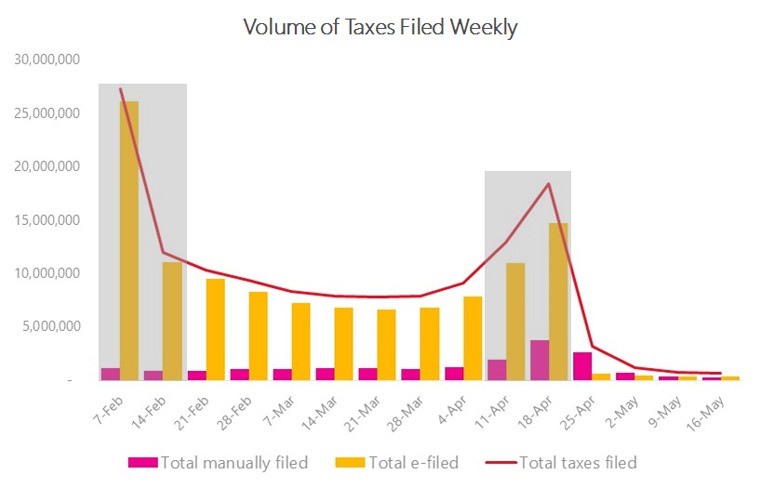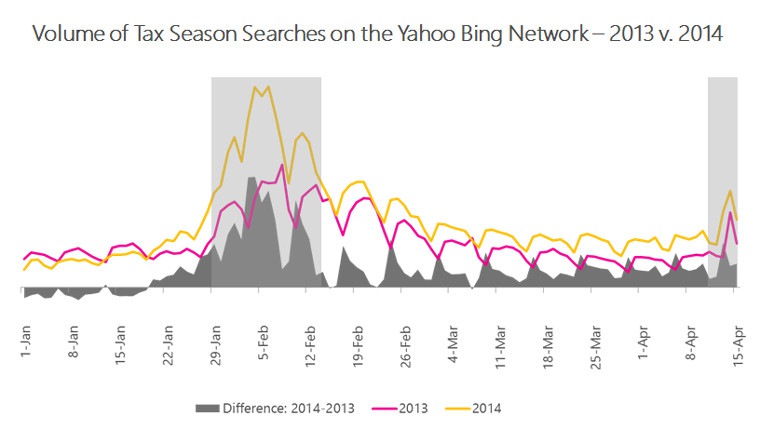 2. Take Advantage of "IRS" Searches (Because The IRS Doesn't Advertise!)
IRS-related searches, including "irs gov," "irs," "www irs gov," and "irs forms," made up 38% of 2014's top tax searches on the Yahoo Bing Network. These searches peak in late January and through the first half of February as people receive their W2s and begin filing tax returns. Throughout tax season, individuals perform more searches for IRS-related terms than for specific tax service providers. Because the IRS doesn't advertise, this presents a unique search advertising bidding opportunity.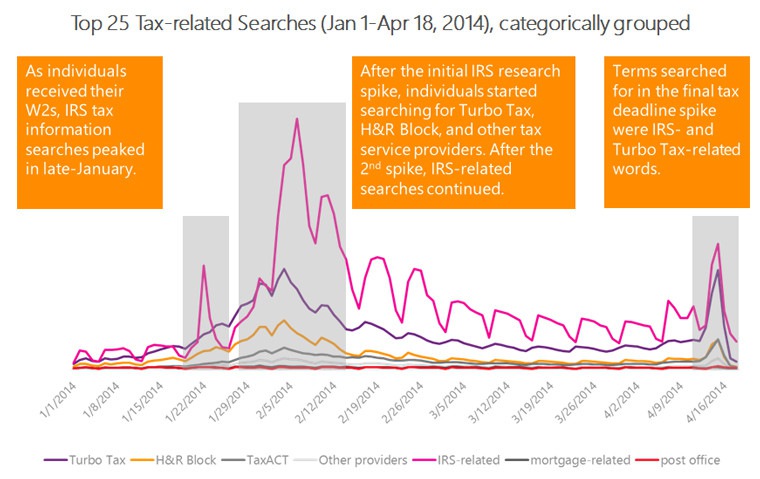 3. Use Ad Copy That Responds to Customer Concerns
Individual taxpayers want information on refunds, online tools, and the Affordable Care Act's (ACA) tax impacts. In 2014, "where my refund" and "irs where my refund" were in the top 10 tax-related searches, and the words "tax calculator" appeared in three out of the five top performing ad copy combinations. This year taxpayers will also need help navigating through a new world of ACA credits, exemptions, and penalties (aka "individual shared responsibility payments").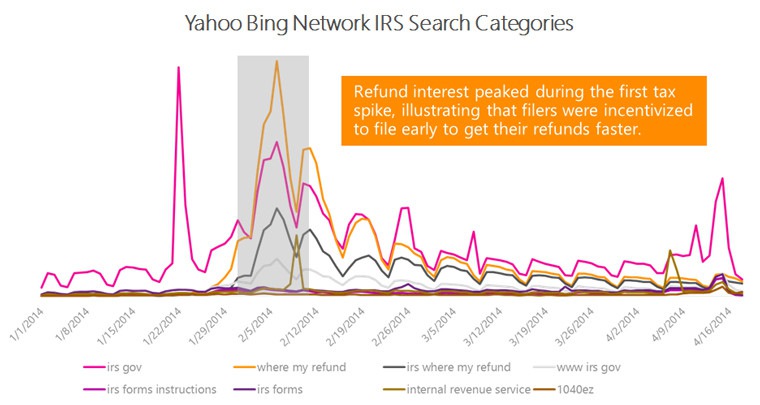 Consider the possible questions that these taxpayers will have and develop ad copy and landing pages to address them. By highlighting these concerns in your campaigns, digital marketers can help ads stand out from the crowd and drive higher click-through rates.
4. Capture Your Audience's Attention With Innovative Ad Formats
To make the most of your tax season campaign, take advantage of some of the tools offered by Bing Ads to give your ads greater impact. Numbers show that about 2.9 million people used the Yahoo Bing Network for some 7 million tax-related searches; an opportunity to reach 29% of your potential tax customers, and at a lower average cost-per-click than Google.
For marketers in this space, the opportunities are ready and waiting.
To highlight key information in your products or site, check out Sitelink extensions. These additional links in your ads take people to specific pages on your website and can boost click-through-rates by up to 22% over standard text ads.
To help drive foot traffic into your local office, use call extensions in conjunction with location extensions. Your phone numbers will be displayed as well as directions to help customers find your business. And don't forget to layer in location targeting to ensure optimal customer experience and the most relevant leads.
Test ad copy early, beginning in early January, and then select the terms that perform best. Remember to use dynamic insertions in your ads, which allow you to offer searchers more relevant text while using a single ad for multiple keywords. Additionally, employ a clear call to action, such as: "Contact us today for a quick consultation." During tax season, taxpayers are looking for help, not general information; make sure to highlight your expertise or tools.
Finally, for those offering tax-related software, Product Ads allow you to showcase your product online, including a relevant product image and product details.
The tax season doesn't have to be a taxing time for digital marketers. These four tips will help you craft your tax-related campaigns and prepare for better returns.
For more vertical and seasonal insights, check out our Tax Seasonal insights deck on the Bing Ads' Industry Insights portal.
Image Credits
Featured Image: Bacho via Shutterstock
All images created by author for Search Engine Journal