What if your writing could have the captivating influence of a keynote speaker? Writing is little more than presenting with words, after all. It could be that writers aren't learning from the speakers who captivate so well.
Earlier this month, I attended presentations by Chris Brogan, Mitch Joel, and Julien Smith when they came to town. If you aren't familiar with them, they frequently headline for blogging/media conferences so naturally I was just as interested in how they presented as in what they presented.
All I can say is that these guys are like the Johnny Appleseeds of ideas. They're like Bob Ross painting "happy little trees" (replace 'trees' with 'epiphanies' and give Bob an energy drink). They make it look easy and people can't criticize them because they're too busy being motivated and inspired. Is that what you're doing with your writing?
I want to examine how they presented. I'm not going to tell you how you should work with these details to change your writing style because you'll get exactly what you need with some thoughtful analysis and introspection. (And you're more likely to change if you believe you thought of it yourself) Let the brains start storming.
PowerPoint
Each of the speakers used PowerPoint. They didn't try for any groundbreaking presentation format because they were comfortable with PowerPoint. It was, however, obvious that the PowerPoint deck was a tool and not a centerpiece for the presentations because (1) the slides were extremely light on text, (2) used no bullet points, and (3) didn't use any sort of branded template, even though that would have been easy.
They rarely looked at their slides and never pointed to them. They kept the focus on themselves, as if to said, "I'm prepared. That PowerPoint is my slave. I am not slave to PowerPoint." Big difference.
If you looked at their slides, you'd find no coherently predictable path from one slide to the next. They weren't teaching a cooking show – they were teaching the most important, powerful points they had to make in front of our audience. Another big difference in format.
Images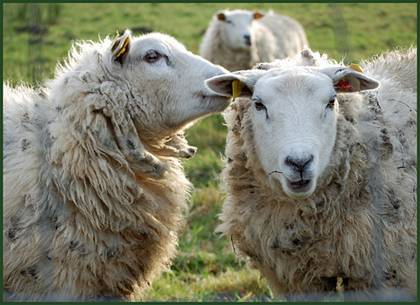 As previously mentioned, their slides were text-light and picture-heavy.
At least 80% of the slides in each deck was nothing but a full-sized picture; a representation – something like whispering sheep, a burning ship, or a lemonade stand.
The images helped both represent and guide the narrative. Not all images were a perfect fit for the topic or talking point, but each image was captivating. It felt like the pictures were picked before the script was written.
Personal Storytelling
I'd formulize their storytelling frequency as a ratio:
3:2:1 (3X Past Experience Stories : 2X Current Experience : 1X Future Plans)
They purposely only told the best stories.
Again, it felt like they picked their best stories up-front, then created the content around them, rather than making a point, then offering a supporting story.
Business Examples
They used plenty of case studies, but used them in a unique way. Their business examples were great examples and I hadn't heard most of them. They all flowed more like stories than case studies, making them all the more compelling. It's hard to treat the story of a homeless man who does his own A/B testing when panhandling as just another case study.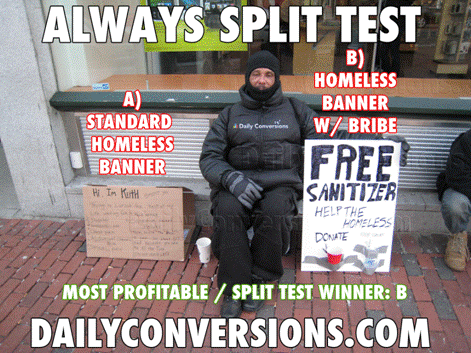 Bonus: Chris Brogan shared his drop location for many of the case studies he runs across that he wants to reference later: http://delicious.com/chrisbrogan/casestudy
Quotes
These speakers, like all keynoters, are quoted all the time. Part of the reason they're so "quotable" is that they quote a lot of other people.
To be more specific, they each quoted plenty of well-known media figures from memory (or at least we couldn't tell the difference). Their incessant name-dropping did well to lend to their credibility and more importantly, their connectedness.
Occasionally, they turned a quote into a slide, but this was rare, and reserved for something monumental or too long to recount.
Stats
I was most impressed with the speakers' use of statistics. Numbers are critical for almost any presentation because there are usually "number people" in the audience who need something to drool over.
When Chris, Joel, and Julien used stats, they hand-picked the very best stats – ones that started a buzz of instant chatter, regardless of the context. For example:
80 percent of first brand interactions occur in search results.
They gave most stats their own big, bold slide for emphasis. They didn't pack multiple figures on the same slide.
Memory
They didn't need the slides because they've presented so often, but it was still refreshing to see their lack of reliance on notes or the PowerPoint. They relied on their passion in the moment and took advantage of their ability to change direction and incorporate new material on the fly.
In addition to their general memorization of the pitch, they each had excellent short-term memory for people, places, conversations, and other things they had experienced during their brief time in our city. This made it easy for them to connect their messages to locals and their businesses. It earned trust and respect and probably some zealous advocates in those people they mentioned by name during their presentations. Chris Brogan demanded that we not be afraid to talk about other people just because we're trying to drive interest to our own projects. It could be the best thing we do for ourselves.
If you're at the end of the post and still wondering how it all applies to your writing and blogging, take another look. The way writers connect with readers is the same way that speakers connect with audiences. If you want to improve your writing, look to the speakers for some answers.