Hearing about how to predict earned media, which is ¨when the customer becomes the channel,¨ according to Forrester Research, was a packed room and featured experts from The Hershey Company and Visual Measures, among others. The session opened with Seraj Bharwani, the Chief Analytics Officer of Visual Measures explaining why we are so interested in measuring and predicting earned media. Not only does earned media provide optimum placement and earned lift, it also highlights what consumers want to watch.
Bharwani stated that earned media is on the rise and it now being measured in a different way: mainly through video. We used to measure earned media by how many likes a post got on Facebook, but many brands are now judging success by the video views, as many brands and agencies are choosing to focus on video in the digital space.
Bharwani then asked the panel for their point of view on the fact that there are basically two schools of thought:
Earned media is a random occurrence and no one can control it.
There is an art to making a video and it usually follows some time of formula: just add babies, celebs, talking animals, young women/short skirts, and then throw money at the following to make it go viral (which could include celebrity tweets, blogger party, schmooze the influences, spiff the fan base)
To delve into the discussion of those two lines of thinking, Kate Sirkin, the EVP, Global Research Director for Starcom MediaVest Group, said that it's important to think about earned media from a consumer perspective: What makes them feel emotional or have fun?
As marketers, we sometimes overlook this because earned media is so exciting: sometimes all it takes is a click from the user. However, there's an enormous benefit for marketers to have a bit of humility and to do what is best for the consumer.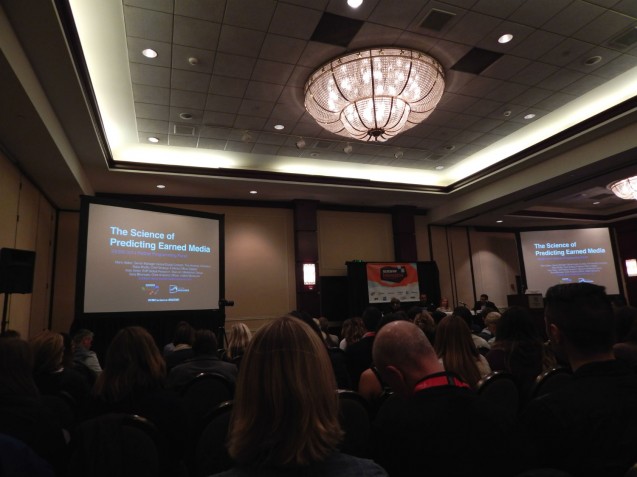 Marty Baker, the Senior Manager of Global Digital Content for The Hershey Company explained further by saying that it is important to put your content to the right people at the right time. He then went back to the consumer-first mindset:
¨Ask yourself, What would viewers choose to watch? And create that content.¨
When it comes down to it, marketers and content creators must understand consumers' desire to make a choice and invest in that.
Bharwani then went back to the question: Is earned media plannable? Sirkin said yes, claiming that you need to choose the right content, know what type of content (topic, emotional level) to create, plan associated media spending, outline your flight strategy, and decide on your analytics/management approach.
Baba Shetty, the Chief Strategy & Media Officer of Digitas then added that there should always be a planned strategies in the works, which can be based on spike in themes and trends, so it's a little bit planning and a little bit ¨in the moment.¨
Main Takeaways
¨Make a connection between number of eyeballs and sales.¨ -Marty Baker
¨Media should have all three strategies in the works: paid, owned, and shared.¨ -Kate Sirkin
All images taken by author.