This session was targeted mainly for salespeople who want to use social media as part of their sales strategy. It featured Jason Suen, Director of Global Customer Success at Hearsay Social and Patrizio Spagnoletto, Head of Digital at Farmers Insurance. Spagnoletto started the discussing by stating that he believes that marketing and sales should be omni-channel, which means that customers have the right to contact a company via whatever medium they want, and digital should support that.
He also stated that social is way more than just sales and that social can drive business when done in the right way. Spagnoletto reiterated throughout the session that he believes that social isn't about sales, it's about retention and loyalty through the vehicles that customers are now used to communicating. This is proven by the fact that social interaction breeds loyalty:
¨People who have heavy social engagement with a brand will have much higher retention rates.¨
This statement lead the discussion to how sales can be quantified through social media directly. Suen stated that this depends specifically on how sales are tracked through analytics and digital tracking platforms.
The conversation then shifted into how to personify yourself on social media when you are trying to sell something. Both Suen and Spagnoletto recommended talking about your life and your kids to build a relationship online and to personalize yourself. More specifically this is something small businesses can do that big corporations necessarily can't: Let people get to know you as a person.
But no matter what the size is of your company, you can build relationships that scale. For corporations that have a lot of legal red tape or hesitance on fully utilizing social media, Spagnoletto strongly advocated against using canned responses of any kind, stating that the risks associated in not participating genuinely (where everything is coached) is worse than not doing social at all.
Social Selling in Any Industry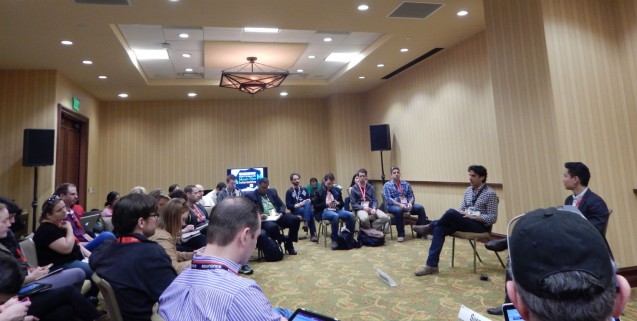 Both Suen and Spagnoletto recommended that individuals and companies maintaining a social presence need to parse out interests that are completely different, such as a healthcare company president who wants to talk about marketing AND diabetes, or an agency that does B2B and B2C marketing. Ideally this should be two separate social media presences (author note: I don't necessarily agree with this, as my love for healthy living topics, marketing, and tech all exist quite nicely on my Twitter feed, but this could make sense for large companies or websites that have several different verticals).
No matter the industry or specific strategy, the social industry has now shifted from defense to offense. Many companies are realizing that social is important for any sales, customer service, and marketing strategies.
Other Key Takeaways
Multiple channels does not make someone a good salesperson.
Corporate content should never be used to replace personal content (of the actual person who's social account is posting)
This isn't a media mix, it's a relationship mix.
When it comes to content you are about to publish, ask yourself, ¨Would I read it?¨
When reaching out to someone one on one, do email, not social (except maybe LinkedIn.)
All photos taken by author.