Media & The Personal Brand – ESPN, Grantland & 538, featuring ESPN's Bill Simmons and Nate Silver, had a full room early afternoon on Saturday of South by Southwest Interactive 2014. Simmons and Silver talked about building their own websites, Grantland and 538 (launching March 17th), respectively, that were created with ESPN and carried largely by their personal branding. Grantland focuses on sports with a pop culture twist, whereas 538 (which is also the number of votes in the electoral college) will have an analytical approach in five main verticals: sports, politics, lifestyle, economics, and science.
The Importanace of Collaborative Effort
When it comes to building a website, Simmons stated that, ¨building things with people is a lot more fun." and that the website becomes your passion and almost like a child. He stated, ¨building a website is like being a dad in an 80's sitcom.¨
Silver and Simmons also talked about how people treat bosses and website owners differently once they become the head of the pack. ¨For site founders, people respect what you have to say, almost too much,¨ Simmons stated. ¨30% of founder's ideas are bullshit, but when you become someone's boss, you only get 3% of feedback [on that bullshit] that it's shitty because people are afraid of you…the first 18 months or so of Grantland, the site didn't grow enough because people were afraid to tell me that ideas were crappy.¨
They then discussed the importance of encouraging employees to be open and honest, while also encouraging the employees themselves to make their own mistakes. ¨Let writers fail, you can't steer them too much or else they won't grow,¨ Simmons told the audience. ¨…you learn more from the plans that fail than the plans that succeed.¨
And hiring those employees for a new site is one of the most important things to do before launch (and even afterward). The smartest companies make a lot of money and hire the best people. Silver reminded the crowd that building a good team takes time and companies may be more successful at finding great employees if they find a position for amazing people, instead of finding people for a position they have open.
They also talked about the writing process and how Grantland values quality over quantity when it comes to posts. Simmons stated that some people, when they have more time to think about a piece (1 piece per day versus 4), they become different (sometimes better) writers and that if you write something really good, people ARE going to see it.
They also touched on why Grantland has hired relatively unknown writers. Simmons stated:
¨Take a chance on people who will kill themselves to get where they want to go instead of hiring people who are going to peak.¨
Building a Site Through Your Personal Brand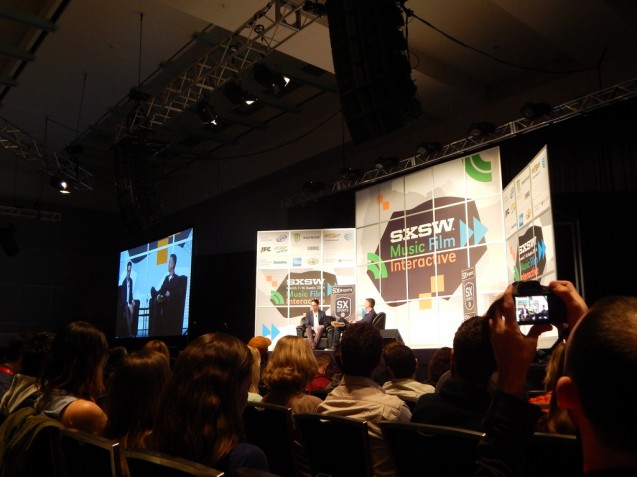 ESPN agreed to fund and launch Grantland and FiveThirtyEight because of the personal brand recognition both Silver and Simmons had. Silver and Simmons reiterated that personal branding is really important in the digital age: If you stop investing into people and building your brand, it won't be as profitable.
As a website owner and creator, there's always more that you could be doing. This is the downside to the personal franchise side. It's not always scalable. Silver said that,
This is why doing is more important than talking. The ratio is often askew.
Becoming Successful
Because Simmons and Silver were first initially known for their writing, they touched on advice for budding writers. Simmons said that people go back to school when they shouldn't, just because they don't know what else to do. It doesn't necessarily help you, it just puts you more in debt. They should experiment instead to figure out how to be successful.
Simmons ended the session with saying, ¨The thing with writing is that you just have to keep doing it.¨
All images taken by author.