Creativity in Innovation and Entrepreneurship was a discussion lead by Robert Safian, the Editor in Chief of Fast Company, and John Maeda, Design Partner at Kleiner Perkins Caufield & Byers and former president of the Rhode Island School of Design. The session centered around why Silicon Valley, entrepreneurs, and startups need to embrace creativity and design as part of their overall strategy to be successful.
Maeda kicked off the session by saying that most Silicon Valley people are interested in visual design, but there are so many more parts: industrial, physical, etc., and they need to realize that. However, these professionals aren't entirely clueless. When Maeda first started working with startups and technology companies, he honestly thought it would be harder to bring projects together than it really was, because the millennial and young professionals (ages 21 to 35):
¨The younger generation truly gets…that how it feels (the experience) matters just as much as the product itself.¨
Growing Design in Your Company
Maeda recommends surrounding you and your company with creative minds to come up with solutions. To solve design issues, just hang out with a great designer or bring on great designers to your company. This will help infuse the creative juices back into your workplace and culture.
Maeda also recommended cross-training and hiring people with multiple talents (or becoming one of those people yourself):
¨I'm a believer in mutants…people who can go across things.¨
Serving as a Leader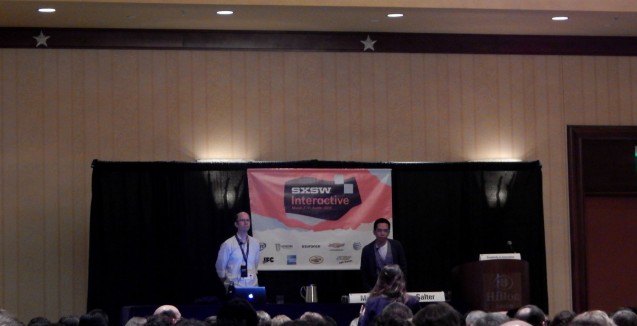 Another topic Safian and Maeda covered was the lack of leadership in the creative space, especially when they are the younger generation mentioned above. Maeda said he was a believer in leadership: who's in charge and how they lead. One of the challenges that creative leaders face is that creative people aren't joiners, they are individuals. They want to be themselves. However, Maeda stated:
¨People aren't all going to join you as a leader, but you are on the right path, they start to lean a little bit.¨
So how can leaders grow their relationships with their team? Maeda recommended that supervisors eat with their team on a regular basis, claiming that ¨eating the same DNA makes you the 'same person' in a sense¨"and creates closeness. He also recommended that personal touch (in the emotion and physical sense that is comforting, not weird) because creative people need that nurturing.
Another important aspect of a creative leader is fighting for the ¨weird¨ creative people who are outsiders and seem out of place to other types of people. Maeda noted that at the Rhode Island School of Design students told him they wanted to build a justified case for creativity in the world. Breed a sense of loyalty within your team and as a whole for the company to foster better company culture.
The Creative Process
Finally, the session touched on the creative process for individuals. Maeda had two great quotes about this topics, which wrap up the session nicely:
¨The key to being someone who is relevant is that you're always willing to give away your ideas, because you're betting on the fact that you will find new ones.¨

¨Confident people are confident in one thing– that they are willing to say where they aren't confident.¨
All images taken by author.