The President of website and magazine brand The Atlantic M Scott Havens spoke on how their brand and company has started to run itself like a startup and how magazines and other print media like newspapers can move into the digital space and still be successful.
Run the Business Like a Startup
Havens recommended that companies who want to be successful employing the startup mentality is to manage and invest in growth areas, challenge the status quo, and to focus on speed and efficiency.
Havens also stated that successful media platforms like The Atlantic do the following:
Know the audience
(Re)define the missions
Sharpen the position in market
Create ¨the story¨
Stretch and extend on new platform
Enhance with consistent design
When it comes to traditional journalism shifting to stay current in 2014, Havens said they must think digital first. By accepting that the future of media is digital and embracing data, a fast past, a holistic strategy and a decentralized hierarchy, The Atlantic has been able to continue to grow both their magazine and their website and event verticals as well.
Create a Sense of Urgency For New Products
Urgency creates both more demand for a product and services and helps motivate employees, Havens assets. For The Atlantic, they first focused on diversifying revenue streams by looking beyond circulation and advertising and then began to launch new sub-brands and products to show that they were at the forefront of the digital journalism movement.
Havens stressed the importance of the urgency of innovative marketing and the extension of new platforms that growing your brand past what has been ¨normal¨ is what will lead to success and increased profits. One example he gave was exploring adjacent fields: The Atlantic recently held a one day education event where adults paid $500 for a day of lectures and lessons by Harvard and other Ive League professors. It was a success and showed a demand for higher education programs. This worked well for The Atlantic because their target audience is usually educated and always looking to continue the education process.
Moving Past Print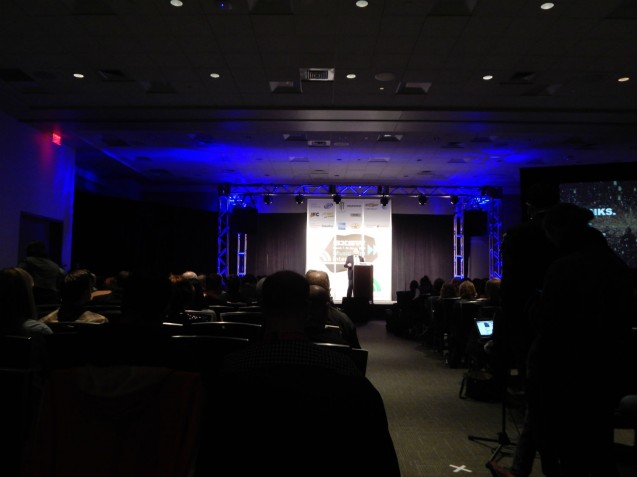 Havens stated that:
70% of magazines we (The Atlantic) ship out are thrown away, so it's terribly inefficient.
So his organization is looking to move past print and more into the digital and event space. He touched briefly on paywalls before saying that The Atlantic gives all their content away for free on their website, which actually drives magazine subscriptions because it's a different way to consume the content.
Journalism CAN be a great business. To move past print, Havens pointed out that magazines are starting to think of themselves as communities, and need think of readers as customers.
All images taken by author.