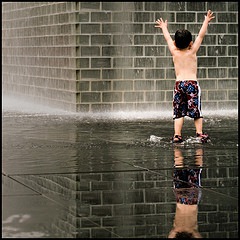 Successful viral marketing is art and in many cases pure luck. What makes the viral marketing campaign more likely to succeed is the properly created playful environment.
The "Play" element is usually effective because:
Motivation: We need NO motivation to play: we love playing. Play is an inherent instinct in us: since childhood we have been learning to live via playing.
Engagement: Play is an activity that we engage in for enjoyment. We don't need to be taught to play: we learn how to play by experimenting. A game produces Flow. When we play, we are deeply involved
Playful experience is not always a good idea: it should not stand in the customer's way when the customer clearly wants to perform an action or buy something but for viral marketing playfulness is always a good idea (especially when created properly).
How can you apply playfulness to viral marketing?
A playful experience starts when a user forgets about his primary task and engages in the process to enjoy yourself and / or explore the process. This can be anything. From a well-done online quiz to a great video. The user must enjoy the process more than the result and want to share it to the world.
! In other words, a playful element interrupts the user in his browsing to make him want to engage in the process and share it further on.
Below are some examples.
Playful user experience with video: changing the initial user intent
You may have come to GrokDotCom blog to read about daily marketing tip but once you land on this post and watch the video, you completely forget about your initial task. Before you know it, you tweet the link and share it with your friends via IM and email.
Playful user experience with a quiz: sharing is more fun than the result
The prime purpose of a personality quiz is supposed to be learning more about yourself. But what if we change the main purpose by applying playfulness? What if we turn the sharing part more fun and more important than actually learning the result? What if the process surpasses the expectation?
Users of TheOatmeal's quizzes are unlikely to really wonder how many little critters their rotting corpse could feed for a day or how long they could survive chained to a bunk bed with a velociraptor. Where the real fun starts is the sharing the funny result with friends and engaging them in the process!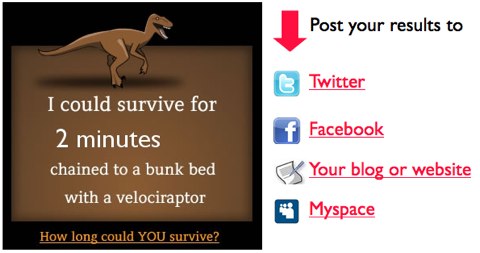 How can you learn to create playful environment?
As any link bait, playful one is hard to create. What you need is the profound understanding of what your target audience loves and eagerly responds to. Don't invest money in your first link bait until you experiment and watch enough.
Start with the experiment. There are web-based tools that will allow you to create playful environment for your readers for free:
ProProfs.com, a tool I have mentioned several times already, provides a wealth of utilities to test your users playful preferences, including: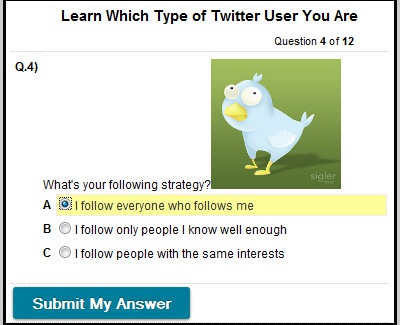 All tools provided by ProProfs are free and support various multimedia including images and video which could be a great help in creating a truly playful environment.
Further reading on creating playful user experience:
Engaging User Creativity: The Playful Experience: an awesome, thorough piece on playful user experience and how to apply it to branding, marketing, etc.
Understanding Playful User Experience through Digital Games (pdf): a deeper look at the playful experience classifying various pleasures, elements, uses, gratifications and experiences of play and offering an insight into each type in particular.
Post image by Todd Baker