Mobile devices have emerged as one of the major means for consumers to access, share, and manipulate information on the web – and it shows no signs of slowing down. As of March 2012, mobile traffic has already seen a 35% increase in under a year, as stated in a previous Chitika Insights study. The Pew Center for Research reports that smartphones now make up a majority (53%) of mobile devices in the U.S., presenting a huge opportunity for advertisers.
E-marketer has projected the aggregate budget for mobile advertising to be well over $4 billion by 2015. With the number of mobile connections estimated to reach 10 billion by 2016, this is an opportunity they cannot afford to miss. Most advertisers are taking this in stride; however, mobile advertising as a market is still dwarfed by online advertising, which is projected to reach over $60 billion by 2015.
In light of the growth of mobile, a recent Chitika Insights study focused on the click-through-rate (CTR) of both Android and iOS to illustrate the potential of each platform as the mobile industry continues to grow.
To quantify this study, the researchers over at Chitika Insights investigated a series of hundreds of millions of mobile ad impressions within the Chitika Network, covering one week of data taken between April 9 and April 15. Below you can see a graph highlighting the CTR differences between Android and iOS: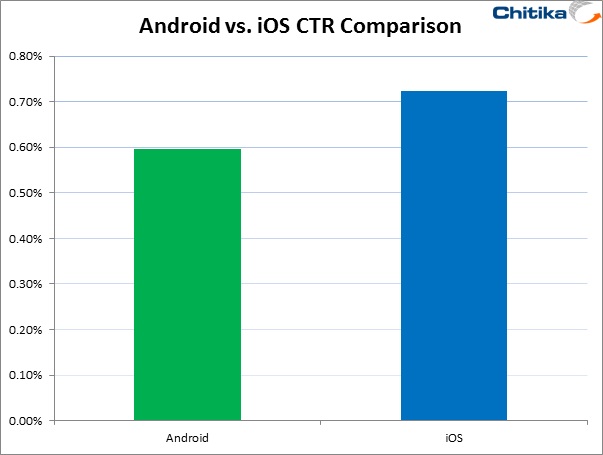 Interestingly, the above graph illustrates similar CTRs for Android (0.60%) and iOS (0.72%), albeit the latter has a slight edge. Breaking down the CTR of the iOS product suite reveals further insight: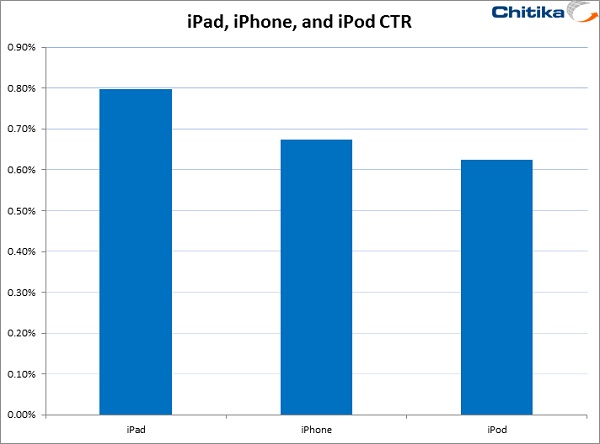 In terms of the iOS suite, iPad (0.80%) users come out as the clear "winners" in terms of CTR, while iPhone (0.67%) and iPod (0.62%) users claim second and third place, respectively.
While mobile advertising is still in the early stages, the growth of the industry and the potential for conversion and engagement of mobile users stands to show that mobile is this is a market segment which advertisers cannot afford to ignore. Focusing campaigns on these unique segments could prove invaluable as time passes on, and understanding the breakdown of devices within the mobile segment will maximize a marketer's chances of success.