Two of the biggest players in the video game console market, Nintendo and Sony, are competing hard to provide their customers with the best gaming experience by adding more and more features to their flagship consoles. As a result, video game console browsing has become one of the various Web browsing options available to consumers.
Chitika Insights decided to quantify this new trend in Internet access for their latest report. Our study examined the data from thousands of impressions on the Chitika network by gaming consoles from June 14 to June 20, 2012. A user agent analysis was conducted to come up with the following results: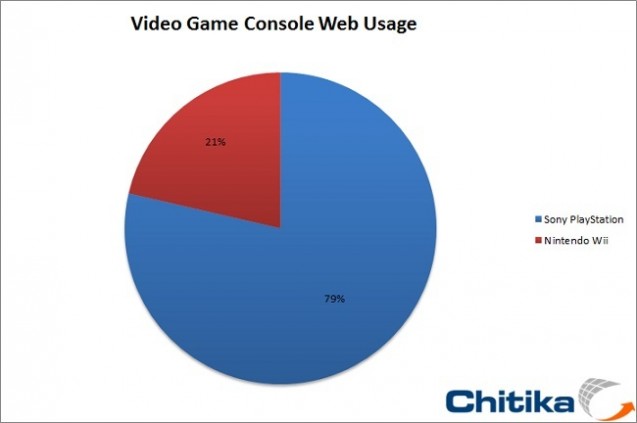 Sony PlayStation is clearly the leader in this market, commanding a 79% Web usage share, as compared to 21% for Nintendo Wii. This large disparity in Web usage behavior is a bit surprising, as Nintendo has more active consoles in the U.S by a wide margin. The difference is likely that the Sony PlayStation provides its users access to Web browsing features like Facebook integration, photo slide shows, and PlayStation network videos, many of which are not present on Nintendo Wii. These features may tempt PlayStation users to use their console for more Web browsing, as compared to Wii users. Additionally, Wii users must manually enter Web addresses and search queries by pointing the "Wii-mote" at their TV and selecting letters one at a time. This can get frustrating, and it could discourage users from utilizing the Wii to browse on a more regular basis.
While console-based browsing presently only represents a small share of overall Internet traffic, there is a concerted effort by manufacturers for the console to be a central point in the living room. Along with healthy historical sales numbers, video game consoles have the potential to develop into a more dominant point of access in the years to come. In this context, current Web browsing behavior on video game consoles can be an eye opener for advertisers and website publishers. Access over these platforms adds a completely new dimension to understanding user behavior, with Internet usage over these consoles becoming a more natural choice for younger consumers.