Alright Google has nothing to worry about here. Hitwise's latest report showing the social networking sites and forums such as Facebook, YouTube and Twitter got more visits than search engines is applicable only in the UK. According to Hitwise, during May 11.88% of UK Internet visits go to social networs while only 11.33% go to search engines.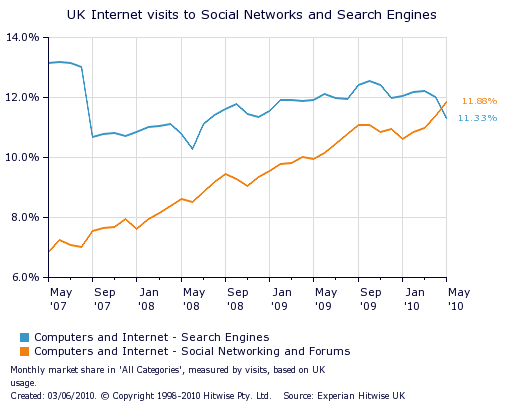 The difference may not be that big and it tells only of UK Internet visits, still knowing the fact that you're not the number most visited site in a particular region could lead Google to rethink its regional strategy in the UK.
Hitwise also found out that 55% of the overall Internet visits were for Facebook, while YouTube and Twitter follow in the second and third spots.
One consolation which Google may take into account though is the fact that Facebook has not yet dominated the UK social networking market, similar to how Google is dominating the search engine market in the UK.
Both www.google.co.uk and www.google.com accounts for 99% of all web searches done in the UK during May. Google UK was also the most visited website in the UK during the said period. Google UK got 9.29% of all visits while Facebook accounted for only 7.04%.