It just takes one post or tweet to tarnish your business reputation. One mistake by an otherwise savvy employee and a company can be labeled a social media fail, a dishonor so damaging that it's not only fodder for the front page and late-night talk shows, but a brand buster, too. Learn from these recent online offenders to help keep your company's character in good standing.
DON'T CENSOR CUSTOMER FEEDBACK
In 2012, Volkswagen wished their Facebook users a Happy New Year and asked, "…what would you like to see us do more of this year?" So Greenpeace, citing Volkswagen's anti-climate policies, encouraged its Facebook supporters to reply to the car maker's query. And comment they did, largely opposing Volkswagen's lobbying efforts against the environment. Not only did Volkswagen ignore the negative posts, but they also began deleting them. The censorship so angered the Greenpeace community that it became an international story AND is still going strong.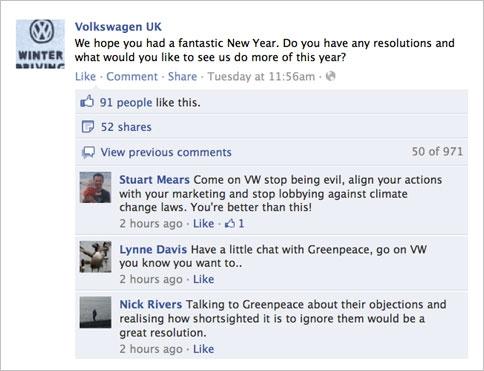 Want more information? You can watch Volkswagen's Social Media #Fail in living color right here: http://youtu.be/lQJYmIZiqho
CYBER-LASHING & LYING ONLINE WILL COME BACK TO BITE YOU
During August 2012, a heartfelt Tumblr post by Matt Fisher told the world wide web of Progressive Corp.'s actions after the death of his sister in a car accident. His sister was insured by Progressive, and the company refused to pay out her policy to her estate and in fact represented her killer in court, according to Fishers post.
The Fisher family decided to take the necessary legal steps to collect the owed monies, only $75,000, to help pay off her college loans. While the jury eventually ruled in favor of the Fisher family, the court of public opinion, fueled by Matt's posts, was even more resounding.
Progressive settled with the Fisher family for an undisclosed sum, and, if the viral vitriol is to be believed, lost significant business as a result not to mention their reputation when they were caught in an outright lie. To be very clear, Progressive stated that they did not serve as the attorney for the defendant in this case and that He was defended by his insurance company, Nationwide. But wait… Would you look at that! Some people are really, really good at fact-checking claims like the one Progressive made: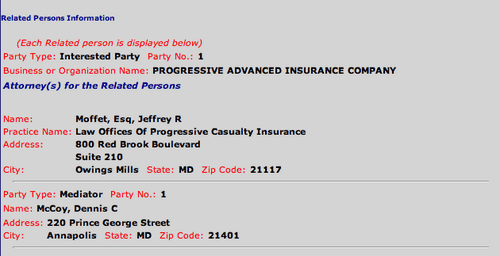 All you have to do now is look at Progressive's Facebook page to see how unpopular they have made themselves: The good news? The Family received their claim. The bad news? All it took was losing a trial, a media firestorm, and the loss of who knows how many customers, but word on the street is ten's of thousands! Read Matt Fishers tumbler here:
http://mattfisher.tumblr.com/post/29338478278/my-sister-paid-progressive-insurance-to-defend-her
DON'T TRY TO CAPITALIZE ON A CRISIS
When disaster strikes, many companies have been known to use a tragedy to target promotions. During Hurricane Sandy, an East Coast superstorm that caused death and widespread destruction, American Apparel sent out an email blast. Dubbed the "Hurricane Sandy Sale," residents of nine eastern states could receive 20% off their online purchases by entering "SANDYSALE" at checkout. Worse, the glib ad copy led with the insensitive headline, "In case you're bored during the storm." Recipients of the email took to Twitter in droves, harshly criticizing American Apparel. Even those companies that routinely, and successfully, mix social issues and humor in their advertising can miss the mark.

As the revolution in Egypt was unfolding, Kenneth Cole tweeted, "Millions are in an uproar in #Cairo. Rumor is they heard our new spring collection is now available online…" The retailer was lambasted in the press, in part because the Cairo hashtag was being used worldwide to keep abreast of legitimate breaking Egyptian news.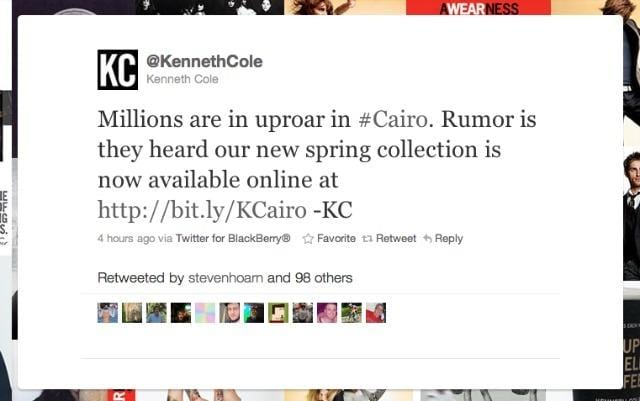 BE CAREFUL ABOUT OFFERING YOUR CONDOLENCES
Let's not forget Kmart's Twitter campaign which combined condolences for the Sandy Hook School Shooting along with a toy giveaway three hours after the tragedy happened. "Our thoughts and prayers are with the victims of this terrible tragedy," was accompanied by #PrayforNewtown, #CTShooting and #Fab15Toys. The Twitter backlash continued for days.

IMAGES SPEAK A THOUSAND WORDS
MeMe's are a great viral tool but be careful, they speak volumes and sometimes give the wrong message. Take Belvedere Vodka for example. They posted an ad on the brand's Facebook page — in which a man is grabbing a horrified/surprised woman, with the words "Unlike some people, Belvedere always goes down smoothly" — some noted it looked like a rape, or like it was making light of rape. Belvedere pulled the ad, apologized, and donated money to RAINN.
THINK TWICE BEFORE SHAMING YOUR CUSTOMERS
Red Medicine is a Beverly Hills restaurant serving a Vietnamese-inspired menu. And it's a popular dining spot, so much so that on a recent Saturday night during March 2013, Red Medicine's managing partner Noah Ellis had no open tables for many walk-in customers. But 20 percent of the reservations that evening never showed, a common occurrence in the restaurant business and one that can significantly impact an eatery's bottom line. So Ellis decided to call out those customers by name on Red Medicine's Twitter page.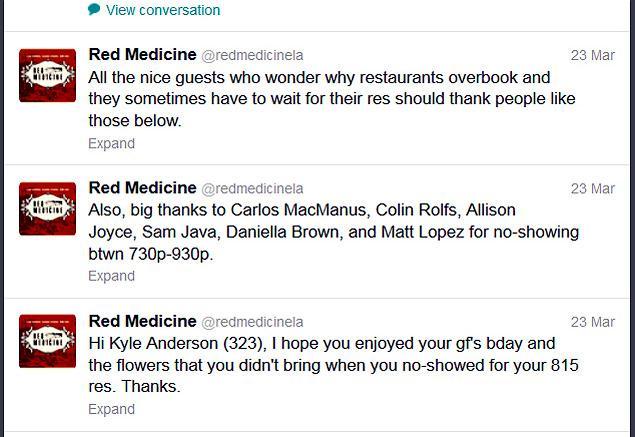 The response was swift, and varied. While an Esquire blogger and some industry peers praised the move, plenty took to Yelp to pan the restaurant. Ellis acknowledged on ABC News that he wanted to start a discussion. Time will tell, though, if his very public outing of no-shows will boost Red Medicine business. By the way is "Tweet Shaming" a new trend?
MY FAVORITE #FAIL
My favorite #Fail goes to "Britain's Got Talent" winner Susan Boyle. Such a simple mistake but an unforgettable one for an unfortunate hashtag campaign #susanalbumparty, which can be split up to read: "Su's Anal Bum Party." She may not be as famous as she was in 2009, but it took only one social media blooper to put her back in the headlines. Sorry, this is a G Rated post so no picture for Su's Anal Bum Party…
THE MORAL OF THIS STORY? THINK BEFORE YOU POST
Managing your social presence is imperative, whether you're an established brand or a budding entrepreneur. To minimize social media #fails, communicate in a compelling and genuine way, and acknowledge your customers' input promptly and graciously.
Before hitting the 'publish' button, every community manager or content strategist should ask themselves one simple question… "what could possibly go wrong with this"?
What's your favorite social media #fail?