Last week I spoke at PubCon South on the Analytics Strategy panel on the topic of social media. This is something I'm very passionate about and during my preparation for the presentation I uncovered some scary statistics.
According to a survey conducted by BazaarVoice in 2009, on average businesses have no idea what their ROI is on any type of social media activity: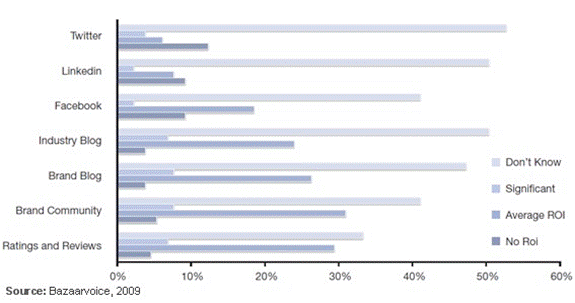 Here are a few of the lowlights highlights
53% of respondents are unsure about their return on Twitter
50% are unsure about the direct value of LinkedIn
50% are not sure how to measure the impact on business metrics from blogs
And yet, companies now-a-days have no problem investing thousands of dollars into social media marketing even if they have no idea if they'll profit from it. Why have companies gotten so lazy when it comes to marketing spend?
Part of the problem is they aren't properly analyzing their data. Social networks are giving us more and more insight into visitor and performance metrics, but most of us aren't properly setup to find actionable insights on the campaign's performance.
This series of posts will explain how to properly setup your social media strategy so that you can make better-informed decisions, understand your ROI and adjust your strategy according to the numbers.
Let's get started. Before you do anything else, you need to have a clear understanding of what your goal will be and how you will measure the success of your social media strategy. In other words, we need to define KPIs.
There are a couple of guidelines you should follow when definining KPIs:
Choose metrics that actually translate into business context (e.g. sales, new leads, customer satisfaction, customer interaction, etc.)
Define more than just attention metrics
(You want to look at more important metrics than just your fan/follower count)
Define KPIs that are actionable
(How does knowing what your retweet reach is help you adjust your Twitter strategy?)
Create specific KPIs for each social network and specific elements of your website
The most important guideline above is to define actionable KPIs. Obviously these types of KPIs are going to be unique to your business, but here are a few examples of what I would consider good actionable KPIs:
Number of people in a specific location who follow your company on Twitter
Reduction in sales cycles
Reduction in support costs
Increase in product reviews
Product improvement suggestions from [specific social network]
If you'd like more KPI ideas, I highly recommend you buy Jim Sterne's new book, "Social Media Metrics" where he has over 100 KPIs listed in the first few pages of the book.
Now that we have your KPIs established, we need to configure your analytics. I'll walk you through that process in part 2 of Creating a Social Media Analytics Action Plan.