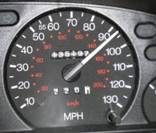 Google announced recently that site loading time now plays a part in their search ranking algorithm. It has also been openly said that over 200 elements are taken into consideration when determining a sites search engine ranking. In addition Google notes that site load time is going to be a very small portion of this algorithm. With all that said I simply don't understand why people are freaking out. This should not be the first time you are considering improving your site load time.
If Your Website Is Slow – Fix It!
Site load time is very important however you shouldn't be improving it for the search engines. If your website takes longer than a couple seconds to load, you're already in trouble. Web users have very short attention spans, they want what they want and they want it now! If one of these users' clicks on your website and it takes longer than a couple seconds you bet they are going to bounce quicker than a super "bouncy" ball!
There shouldn't be a webmaster that isn't aware of their site load times. Not only should they be doing user tests on their own site but they should have installed site analytics. With that said, if your site is slow you can expect your traffic bounce rate to be extremely high. Users don't have patience for slow website and will often click back within only a few short seconds. This is two ways to measure your sites loading time but if that's not enough Google even made a tool for you to use.
How Do You Measure Site Load Time?
Back in January I wrote an article about site loading time being a possible 2010 ranking element. (http://www.dkssystems.com/SEO-Site-Loading-Time.html) I write about how you can test your sites load times using Google webmaster tools. Using their "Site Performance" option will give you an insight on how long a particular page is taking to load. In addition Google gives you some specific tips on what to fix in order to increase the page loading performance.
In addition, Google suggests the following free tools to evaluate the speed of your website.
Fix Your Websites Performance For Your Users Not Google.
I can't tell you how much it annoys me knowing that people will only now start fixing their websites load time. You should be building a website that gives your users an enjoyable experience. If your website is super slow then this issue should have been addressed a long time ago. Its frustrating to hear people willing to fix their sites only after Google has released there latest ranking announcement.
Do Not Over Value Site Speed For SEO.
It's really unfortunate that people are going to completely redesign their websites and spend countless hours in their code over this issue. Now if you own one of the websites that takes 15 seconds to reach the homepage this should be something you're already working on. However, this is not who im talking about. I'm talking about the webmasters who sites load in less then three seconds but will spend endless amounts of time tweaking code just so they can get down half a second. At this point the difference between two seconds and one second will not make or break your search engine rankings. Links and content will always be the bread and butter of SEO and it's really disheartening to think people will waste so much time focusing on their site load time.