The integration of search and social is extremely significant and two SMX sessions addressed the subject in varied ways. The first of two was focused on top social tactics for the search marketer. Featuring Lisa Williams (Director of Digital Marketing Strategy, Search Discovery), Ric Dragon (CEO, Dragon Search), Lisa Buyer (CEO, The Buyer Group), and Jennifer Lopez (Director of Community, Moz), an emphasis on creating checklists was weaved throughout.
Top Social Tactics for the Search Marketer
Lisa Williams kicked off the panel will a recommendation for The Checklist Manifesto and proceeded to offer an array of checklists that can help keep online marketers accountable for completing checklists.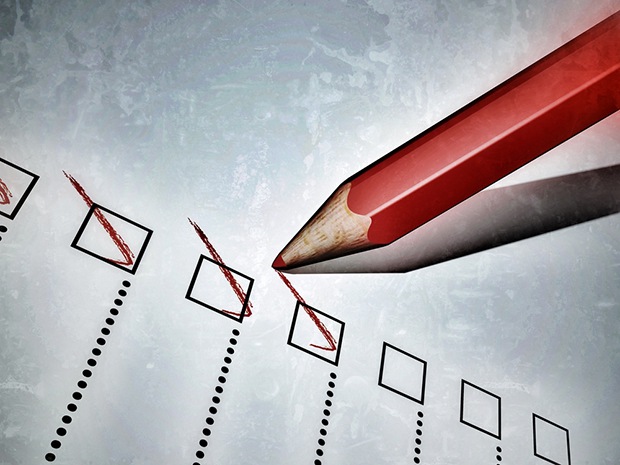 For example, one such list might be a channel integration checklist:
Inventory/audit
Personas
Top 15 questions
Content mapping
Define gaps
Channel segmentation grid
Ric Dragon followed a similar trend and noted that each company's approach to social varies based in vertical – if you're a big brand, you'll have different tools than small businesses.
One of Ric's lists covered five big approaches to social media:
Brand maintenance
Community
Influencers
Thought leadership
Big splash
He also emphasized finding out what customers really need and delivering to that need. "We're not in the business of selling hair brushes to bald men," Ric humorously said to drive the point home. "Figure out your game; figure out how content can really mean something for you and your audience."
Social Media and PR
Lisa Buyer focused primarily on social media and PR, offering some unique insight to the field. Lisa highlighted many lists focused on what's "in" and what's "out" in regard to the current state of PR, along with "dos" and "don't" for today's news releases.
In:
Mingle and pitch media in social
Sharing third party content
Visual storytelling
Google+ hangouts with media
Twitter chats
Out:
Dated newsroom
Press releases without images
Press releases for SEO
Sharing buttons not branded
Blogs without real authors
Do:
Create visual press releases with a headline
Exclusive news via Google circle
Social, paid and blog versions
Brands act like publishers
Don't:
Publish it and forget it
Text only
Same content on all channels
Forget to put media contact
When surveyed, 80% of responders conveyed it's important or "very important" for companies and organizations to have an online press room. Sprint and Toyota are two large companies getting it right.
An online newsroom checklist would include providing news coverage, integrating an RSS feed, and being mobile friendly. If all of these factors are put into motion, it can have a great impact on both search results and social media presence.
The checklist for measuring the success of search and social could observe:
Social network referrals
Conversion tracking
ROI
Lead generation
Building credibility
The Importance of OpenGraph
Jen Lopez kicked off her segment with, "What you think about from the search perspective is not the same as what you think about from the social perspective." She relayed this point, quite humorously, by showcasing several examples of how certain decent-seeming SERPs translate when shared across social media channels.
For example, Nutella has a lovely website, but when you share their page on Facebook, an image doesn't render. OpenGraph (OG) is the key to ensuring that all the pages of your website show exactly how intended, in the best possible way, with the best possible photos. Using OpenGraph, Nutella can designate exactly how the title, description content and imagery is presented when posted on Facebook.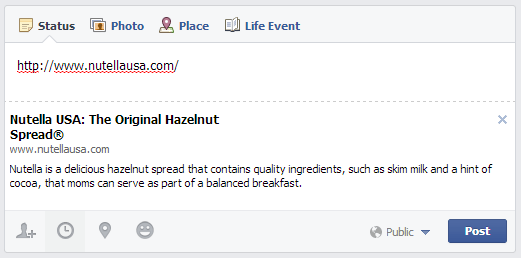 The Facebook Debugger is a useful tool to verify that your links are displaying correctly. The first time anyone shares a specific link, Facebook automatically grabs all the OG data, so if there was an error or some sort of bug, that could inadvertently resonate each time someone following shares the link. Going through the debugger debugs any issues and clears the cache to allow the link with corresponding data and image to show up properly.
For Twitter, you can set up Twitter cards. The code is similar to that of OG, and the Twitter Card Validator serves a similar purpose to the Facebook Debugger as it allows you to check and make sure everything looks right. Twitter also just rolled out analytics for Twitter cards which provides a variety of data about the links shared.
Social Meets Search: Where Are We Now? Where Are We Going?
The second search and social section featured Ruslan Belkin (Senior Director of Engineering, Search and Relevance, Twitter) and Duane Forrester (Senior Project Manager, Bing). This session complemented the former one nicely since it covered similar topics but presented it from the other side, from how the search engines and social networks themselves rank social content.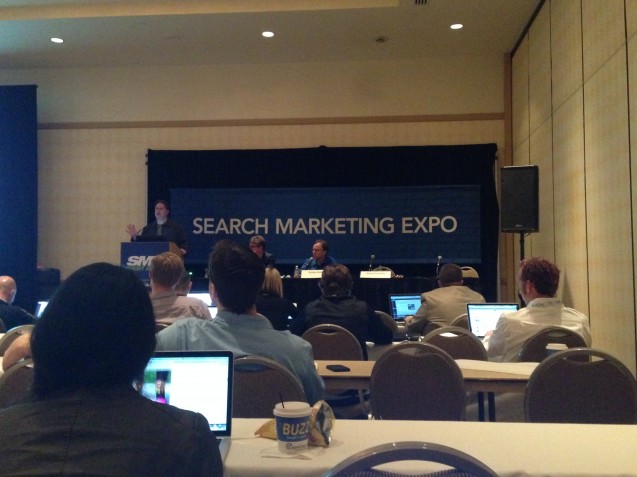 Bing indexes half a billion tweets from Twitter and over two billion status updates from Facebook every single day. That means, that in one week, more data is ingested into Bing than the number of webpages that existed in 2005.
Social matters to search because the integrated social signals influence the click actions of searchers; it's real-time – engines want fresh content, fast, and social meets that criteria; and social conveys signals of topical authority.
Social allows users to influence the people who in turn influence search engines. They're able to easily assess those without credible value, such as those that auto follow people to increase their numbers. Duane noted that, if you follow 100,000 people, you're probably not able to follow along many conversations, so while you may have all those folks following you back as well, it still discounts your value.
Bing also uses social signals to figure out what people want. He showed a search results page for Joan Rivers and showcased how they provide information, images, social media icons; things they know their users are interested in.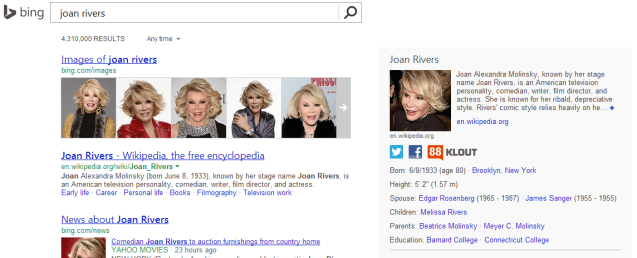 Today's integrations – you want in?
Twitter – be relevant, share a lot, grow your followers organically
Linkedin – keep your profile clean, current, and complete – be an expert
Klout – grow your ranking – follow their suggestions and take actions that make sense
Facebook – manage your page, share useful content, grow your following
What makes you relevant in each space can help you appear in social annotations. There is no single "tool" for inclusion. You have to be relevant. As with so many things, it's all about quality, not about quantity. If you try for shortcuts, you'll get found out. Build a legit social community and the search engines amplify your goodness for all to see.
"The way to get forward is to be authentic. We're looking for voices that are in demand."
Ruslan from Twitter discussed matters related to Twitter's search functionality. An interesting tidbit that I didn't realize is that everyone's search results are personalized, assuming they're logged in. Two people who search for the same thing on Twitter will likely get different results based on who they follow, their interested, with whom they converse, etc. Twitter knows that you follow and interact with people that you want to follow, so everything customized accordingly.
Twitter Discovery is a component they're always monitoring and looking to better. Content discovery and Twitter search has improved by 120% over the last couple years. They're able to pick up on trends based on peoples' tweeting habits, and they're able to make a lot of sense in terms of events (such as the recent Academy Awards and uber-popular #Oscars hashtag).
They plan to continue experimenting with ways to surface breaking news and events. Any time something big happens, people go to Twitter to search, and customizing each's intent allows the platform to ensure the "top tweet" provided to each user satisfies their desire for each particular search.
Thanks to all for the great insight!
First image from Shutterstock, screenshots and other photos taken by author 3/13/2014