Author's Note: I am not affiliated with Fashion Nova. All data citations come from SEMrush, Ahrefs, and Alexa. Screenshots and data are from January 29th, 2017, so by the time you are reading this, the rankings could be different.
It was a Friday when I received an email from our Director of Business Development. He wanted me to take a look at a site called FashionNova.com and figure out why they ranked #1 for the keyword "Fashion."
Wait, what? "#1 for Fashion?" I've never even heard of them. How can that be?
I looked them up to check it out and good lord — these guys are killing it right now.

Here are some other keywords FashionNova.com also ranks for:
#9 for Jeans (74,000 monthly searches)
#7 for Jumpsuits (49,000 monthly searches)
#6 for Denim Dress (33,000 monthly searches)
You might be thinking, "Well, what good is being ranked #6 through #9?" However, here is the list of retailers ahead of them for the keyword jeans: Forever21, Levi's, H&M, American Eagle, Hollister, Nordstrom, Macy's, and Buckle.
No big deal.
To put this into perspective, here is their current employee count from LinkedIn:

Here is Macy's:
50 employees versus 10K+? It's incredible this dark horse is able to rank so highly and compete with these huge retailers. I decided to dig deeper and figure out how they are "killing the game" right now in Google.
Here is what I found:
Link Profile Blind Resume
As someone who values backlinks tremendously as a ranking factor, I believe backlinks can cure "SEO cancer." Do you have terrible on-page optimization or a slow site? Backlinks will fix that!
That said, here are blind resumes of backlink profiles from the results of a 30,000+ monthly searched keyword phrase in Google:
Resume #1:

Resume #2:

Resume #3:

Resume #4:

Guess which one is Fashion Nova?
If you guessed Resume #2 you are correct! Here are the results for the resumes:
Resume #1: Sammydress.com
Resume #2: Fashionnova.com
Resume #3: US.Asos.com
Resume #4: Macys.com
This is just incredible. Their link profile is massively smaller than the others, yet they rank with them for the major keywords.
This is very perplexing to me. How are they competing with everyone so much bigger than them? One thing we know so far: backlinks are not the reason they are ranking high in Google's coveted real estate.
On-page Optimization
After looking at their backlink profile, I thought, "Well, they must have some killer on-page optimization." But, once I dug in, I found that their on-page isn't the best. It isn't content on any of the category pages, and they don't even have meta descriptions on them.
In the screenshot below, you can see Google just populates random text in the description.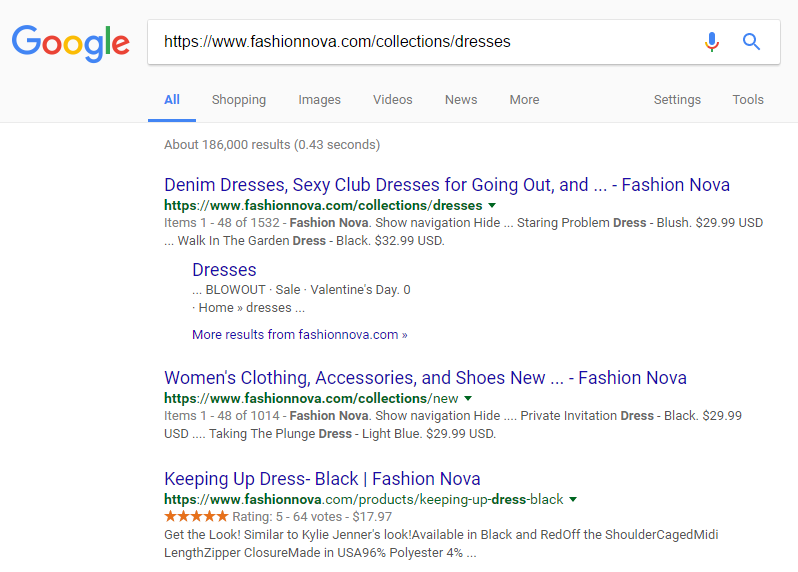 One thing they do really well is tons of reviews on their product pages. Tip: If you are an online merchant, please set up reviews on your products and have a strategy to get your customers to write reviews on the products.
You can see below that their products have a lot of good reviews. Google loves review content. Your customers are essentially doing SEO for you. This is a big reason Amazon does so well in search engines.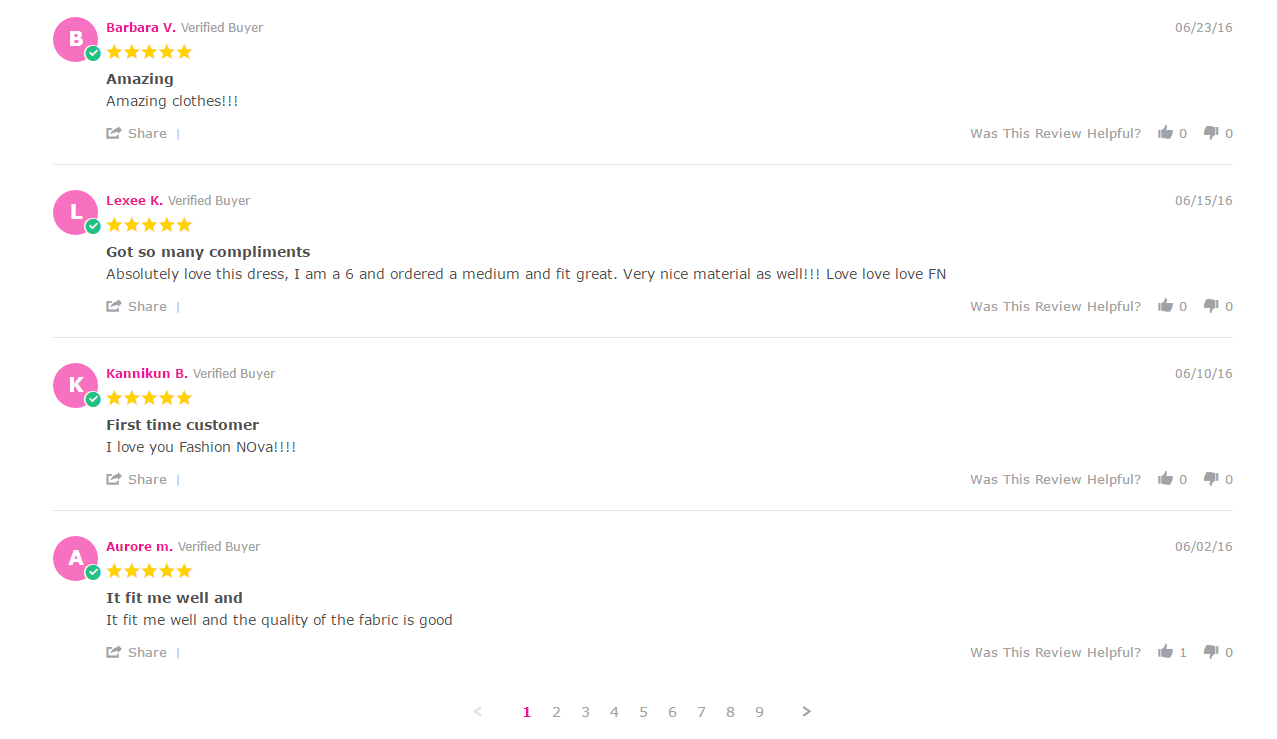 With all of that being said, I would be shocked if their on-page optimization is one of the main ways they are ranking so highly in Google. Time to move on to other things that could be working in their favor.
Social Media Following
Before you grab your pitchforks about how social media does not help Google rankings, hear me out! It is true that Google's former spam man, Matt Cutts, said Facebook and Twitter do not directly influence rankings.
But, here is the thing — I don't believe it. I am confident that social media signs do help SEO- but likely not in the way most SEOs envision it. Some tend to think of social media signals as backlinks: for example when someone tweets your blog. That might not help for SEO.
However, there are other benefits that could help SEO, such as a customer finding your products on Instagram and then searching for it on Google.
Google likes CTRs and usability, so I would imagine that if you have a legion of customers going from Instagram and searching for "Fashion Nova Denim Dress," Google will figure out that searchers really like that page and, maybe, it would also be a good fit for the keyword phrase "Denim Dress."
Speaking of Instagram, let's check out their profile and compare it to the other players:


Now we are getting somewhere here. Their social media game is on fire. I am not sure how many of their Instagram followers are fake but having 6.3 million is impressive. This could be the largest contributing factor on why this site is doing so well in search engines.
Comparing Sites in Alexa
With regards to Google giving preferential treatment to good usability, we should review comparable bounce rates as a factor. Here are the results from Alexa:



Of course, this is Alexa which is extrapolating indirect data and is known to be inaccurate, but it gives us a reasonable and relative comparison. According to this metric, people are engaging with FashionNova.com more than the other two sites. It has a lower bounce rate and more time on site.
If I had to bet on it, I would imagine this is another big factor on why Google is putting them at the top for major keywords.
Conclusion
This might be super frustrating to traditional SEOs. Heck, I am a little frustrated as well that they can just outrank everyone with no link profile and no real on-page optimization.
But we need to realize this may the future of search engine optimization, and we need to start optimizing for factors outside of on-page optimization and off-page optimization (backlinks). Social media and good usability factors seem to be the most likely reason FashionNova.com is currently at the top for major keyword rankings.
I hope you enjoyed this. Do you have any input to add? Please feel free send me a tweet.
Image Credits
Featured Image: Pixabay.com.
Screenshots by Ronald Dod. Taken January 2017.