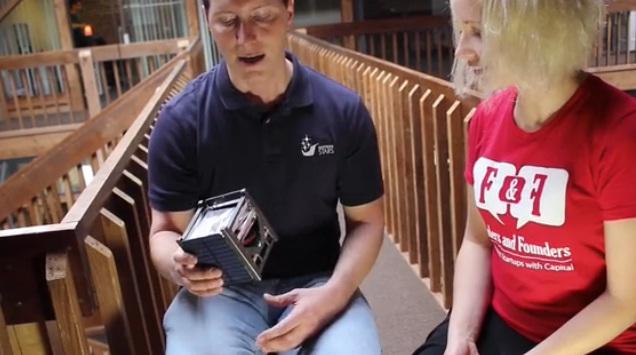 A Kickstarter campaign could help a user broadcast his or her 140-character tweet to the whole universe instead of just his or her followers. Founder Tim DeBenedictis has created the SkyCube to make this happen. However, they need to raise funds to get the satellite off the ground.
How SkyCube Works
The SkyCube basically allows users to write a tweet that will be sent to and from the satellite. For those who will invest and get the SkyCube app, they will receive photos of what the device was taking while in the orbit.
The satellite is expected to be in orbit for about three months. During that period, the SkyCube will take pictures of Earth using three VGA cameras. It will then deliver a 120-character message to smartphones that run the SkyCube app. The messages will be collected on Earth, will be transmitted to the satellite about once a day, and it will be stored in a memory and broadcast every ten seconds.
Other than the app, any users with a fairly modest amateur radio-type receiver might be able to pick up the messages sent by SkyCube directly.
Using SkyCube, Kickstarter investors will be able to broadcast their own message and request images of various parts of the planet depending on how much they will pledge. For $1, people could get one message from the space, while $10 could let them have ten messages and two images of their chosen area. Backers who will give $10,000 or more could earn a trip to Cape Canaveral and see a day of operation.
The Story Behind SkyCube
The idea of SkyCube was born after DeBenedictis and his friend attended the first Space Shuttle launch in July 2011. As the SkyCube founder revealed in an interview:
"It was like a religious experience… but it was also very sad because it was the last one of these missions."
After that, he decided to do something in an attempt to continue the spirit of the program.
SkyCube is just one of the many Kickstarter projects that will try to get people into the unknown. On the other hand, DeBenedictis is also known for his Sky Safari, a smartphone app that offers guide to the stars.
DeBenedictis is hoping that crowd sourcing will help them get enough funds for the liftoff and further investment. As of the moment, the team behind SkyCube was able to raise $10,000. However, that's just only one-eighth of their final goal of $82,500.
To learn more about SkyCube, watch DeBenedictis' video on YouTube.
Source: Tim DeBenedictis and SkyCube on Funders and Founders Interview | Kickstarter