[pullquote]"The most basic of all human needs is the need to understand and be understood. The best way to understand people is to listen to them." — Dr. Ralph Nichols[/pullquote]
In 2012, I made a New Year's resolution to become a better listener. Looking back, it's amusing, especially since measuring success is subjective (of course I would believe I met my goal!). Yet, the reasoning behind it was sound and relates directly to digital marketing, specifically online content.
When you become a better listener, you start to truly understand other people—from their perspectives. You understand their desires on a deeper level. This article is designed to help you learn how to effectively and empathetically listen to your audience so you can plan the creation of powerful content tailor made for their needs.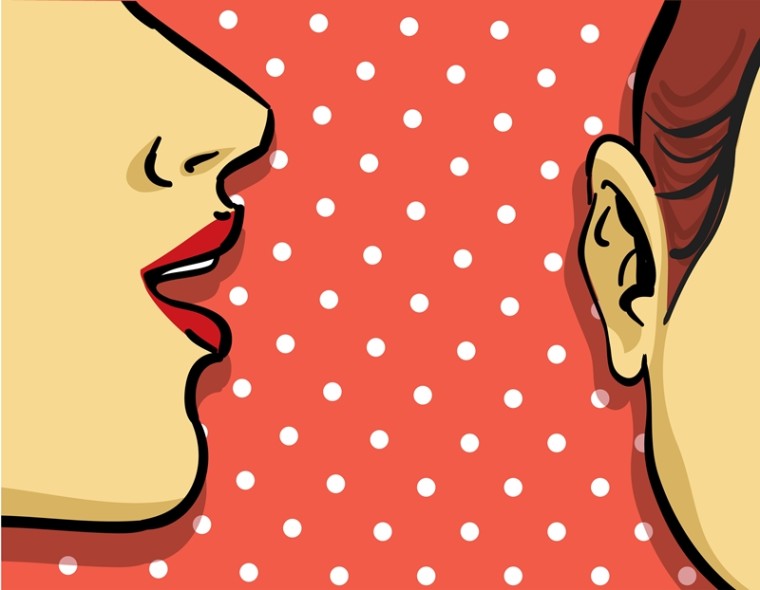 Content strategy has many definitions and interpretations. My favorite definition is from Kristina Halvorson in her book, Content Strategy for the Web. She defines content strategy as "planning for the creation, delivery, and governance of useful, usable content." The word to focus on is "planning".
Planning your content means knowing your audience.
Knowing your audience means listening to them.
Before any editorial calendar is made or even one page is written, you need to understand your target audience. Only then can you develop content that shows you understand them.
Below are steps to incorporate this listening principle into your content strategy and execution:
Step 1: Agree to Learn by Listening
To get a glimpse into what is important to your target audience, you have to start by listening to them. Plain and simple. When you actively listen, you find opportunities to learn what you might not have noticed before. Your content must show empathy and understanding of exactly what your prospects or customers want and/or need to hear. Otherwise, you risk writing about topics and answering questions your audience doesn't care about.
Show Some Empathy: Levels of Listening
There are five levels of listening: ignoring, pretend listening, selective listening, attentive listening and, empathic listening. It doesn't take a lengthy explanation to realize that the first three mentioned—ignoring, pretend listening, and selective listening—aren't ideal. While attentive listening isn't bad, you should engage in empathic listening, also known as empathetic listening, as it puts you in a position to see the world through other people's eyes.
This level of listening goes beyond simply hearing a person's situation and actually gets you to the place where you can imagine being in it. The purpose of empathetic listening is to understand someone's needs, wants, and feelings. You closely recognize what they are trying to communicate.
As a content writer and/or digital marketer, you must be an empathetic listener, but how do you go about it in a world where you may never meet your audience face to face?
Step 2: Use Listening Tools to Help You
There are ways you can go about empathetic listening to your potential readers, so that you can focus your content on them. (NOTE: I am not talking about Big Brother-type listening). Here are some recommended, non-intrusive approaches that will put you on the right track:
Social Media
A while back, I heard someone refer to social media as being the closest way we can read consumers' minds. That stuck with me, because there is a lot of truth behind it. We can discover firsthand what people are focused on and how they describe their situations. It also allows us to discover their feelings and opinions and in turn show empathy.
I reached out to Bryan Eisenberg, a well-known marketing keynote speaker and co-author of multiple New York Times bestselling books, to ask about his perspective. According to Bryan, "Social media can help you listen to what potential buyers in your sector are talking about."
Bryan also teaches businesses about the Johari Window, which is a self-disclosure model developed about 50 years ago by Joseph Luft and Harry Ingham. This model addresses the unknown and known information of human interaction. Within the Johari Window, there is a "blind" pane. This is the information known by your customer, but not you (or your business).
Reducing this blind pane is vital to connecting with your customers.
As Bryan explains it, "You identify what is known to the customer that must be revealed to the business. This is when you want to take advantage of social media listening, reviews and speaking to existing customers as well as prospects who decided not to convert."
Surveys
Surveys are tremendous listening tools. With a survey, you can draft questions you would love answered by your target market, but you should also allow room for comments and feedback. The goal is to hear from your prospects or customers and to engage in empathetic listening.
Give them ample opportunity to share their remarks and expound on their answers. Here is a great example. A national real estate corporation's marketing department was focusing on recruiting new real estate agents. Any time they signed an agent, they issued a survey to get more insight into why they chose this particular real estate corporation. The surveys helped identify the top five concerns of potential agents. After getting this insight and analysis, the real estate corporation was able to develop a content strategy that tackled these concerns head-on.
Customer Service
Your customer service department, or whoever handles the majority of support, has a great opportunity for empathetic listening. Find out how people are explaining their needs or asking their questions. What seems to interest them the most? What seems to trouble them? Are there areas where they have expressed a desire to learn more? How do they view your business? The answers to these questions can help you see things through the customers' eyes and eliminate some of your own biases.
Market Research Company
Market research is particularly useful for creating a content strategy. You can discover characteristics of your target market and what perceptions they have about the type of product or service your company provides. Market research companies employ many types of methods to gather their data, including focus groups and extensive interviews.
Ask Loyal Customers
Loyal customers will be one of your best resources in gaining insight into your target market. Use polls, send out emails, or pick up the phone and make calls in order to learn more about your customers. Listen to what they have to say about their desires or needs, even their concerns or fears. What do they want to know more about and how can your company help them improve their lives? Get an in-depth view of the emotional aspects of your audience, as well as a true understanding of what is on their minds.
Step 3: Apply What You Learned
Listening + Understanding = Great Content
Once you listen to your target audience, you should know what they care about or desire. When you analyze that information, you can start developing your content strategy. You should be able to answer such questions as, "What does your audience want or need?" "What do they expect?" "How can your business help them?" and "What are you trying to accomplish with your content?"
Understanding your audience is one part in the creation of your content strategy, but you still need to determine your business goals and how you will develop and deliver this content. Content Marketing Institute does a great job of getting into the nitty-gritty details of developing a content strategy, including the phases of creation and the difference between strategy, tactical implementations and products.
Step 4: Move from Strategy to Execution
By the time you reach this step, you should know who you are talking to, what subjects to approach and how to create content that speaks directly to your target audience. It's now time to start executing great content. Content execution is a whole different beast, so I'm only going to give some high level tips.
Create Personas
You need to put together a complete picture of the people you are targeting with your content. Apply what you learned when listening to your audience and start grouping the information together. You should be able to determine the interests, behaviors, and attitudes to get an idea of the "person" you will be creating content for. You might find you have more than one persona in your audience. That is common and it just means you need to develop content that speaks to each persona.
Determine Content Delivery
What type of content will you create and where will it be distributed? Will you use your blog or newsletter? What about email? You need to know when and how your content will be delivered and to whom.
Develop an Editorial Calendar
An editorial calendar is a must and there is a reason major publications do it. An editorial calendar will help you plan your content in advance, so everyone on your team knows what is expected. Include not only textual content, but also videos and images, if you have those in the works too.
Make Sure All Writers Empathize with your Readers
I have trained countless writers on the very act of empathizing with readers. If you are about to write a page of content, one of the worst things you can do is jump in and start typing before taking time to picture what it would be like to be that reader. I advise writers to close their eyes and imagine what would be going through their readers' minds. Because your content strategy should be based on what you learned during empathetic listening of your audience, this step shouldn't be too difficult. Here are some ways you can show empathy in your content—think of it as a checklist for you and your writing team:
Headline: Your headlines have to coincide with what you discovered about your target audience and encourage them to continue reading. According to the Advanced Marketing Institute, "reaching your customers in a deep and emotional way is a key to successful copywriting, and your headline is unquestionably the most important piece of copy you use to reach prospects." They have developed a free tool that measures the emotional marketing value of headlines. The Emotional Marketing Value Headline Analyzer is worth checking out if you are doing any type of SEO copywriting. Below is a snapshot of the tool and how it works.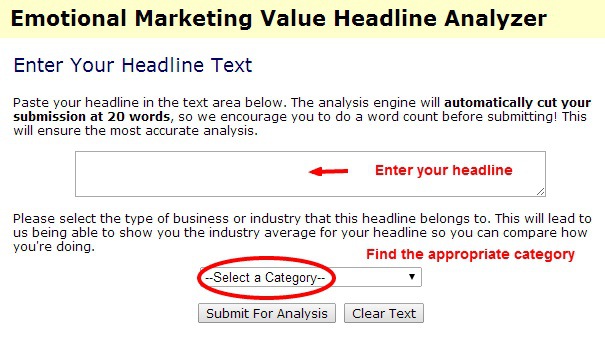 Screenshot taken 8/22/2014 of www.aminstitute.com.
Body Content: After successfully grabbing someone's attention with your headline, you only have a few seconds to keep their interest. Your first paragraph must effectively describe the benefits of reading the content, whether it is a description of a product or an informative piece. The rest of the body content should continue to explain those benefits in a simple and concrete way. Be interesting and memorable, while staying focused on the readers. Empathetic listening builds trust, and so should your content.
Style: You need to present your content in a way that is appropriate for your business and your audience. Style is a loosely used term, but it refers to the tone and diction (a.k.a. word choice). It's important that you know which style will capture your target audience. Listening goes a long way in determining style. When you know how people describe their needs and wants , you can choose language that makes sense for them. For example, your style might be casual and emotional or formal and logical based upon your audience and their needs.
An effective content strategy isn't just about what your company wants to say—it is also about what your audience wants to hear. Learning what your audience wants to hear requires listening to them. Empathetic listening will help you write about the topics that will engage readers, build trust, and convert them to customers.
Is anyone out there listening?
Image Credits
Featured Image: Lorelyn Media via Shutterstock
Post Image: lavitrei via Shutterstock