We at SEJ always encourage SEO knowledge exchange, therefore I was happy to come across the site which I am sharing today:
SEOnky is a promising SEO- and social-media-focused Q&A site which is a must to give a try to:
It is an SEO and social media knowledge exchange community which is always appreciated;
It is very easy to join: it supports OpenID login which means creating an account takes seconds.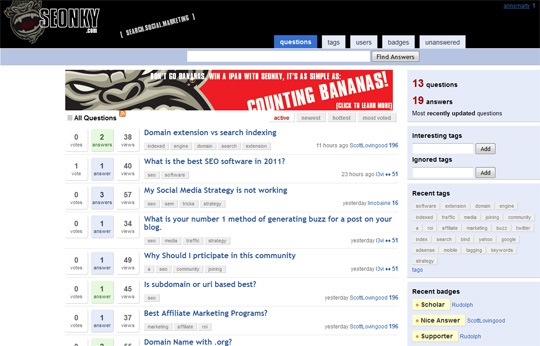 Navigation
Like a good Q&A platform, the site has various tools and sections that aid navigation:
You can randomly browse all "Unanswered" questions to help other users;
You can browse the forum by tags;
You can use a search feature to find exactly what you want;
You can browse through "Related" questions on each individual profile page.
Tracking Options
The site makes it clear that tracking is a very important part of a successful Q&A platform:
You can track any question by email and/or RSS;
You have various email notification settings to play with:
Email notifications are the bedrock of a successful question and answer community. These notifications allow community members to be notified of important events, such as:
When their questions have been answered
When one of their posts is commented on by another member
When other members post new questions, answers, or comments in their area of interest
Spam: SEOnky Solution
It is obvious that user-generated sites like this one always come across one important issues (actually two): spam and moderating. The SEOnky solution is to grant the community the right to fight any spam efforts inside.
Users are moderators. Moderation rights are gradually assigned to the site users based on the accumulated "karma" points. Interesting and useful questions, answers and comments attract upvotes which, consequently, increases the user's karma.
This model should both motivate the users to participate and create a spam-free environment.
Karma as well as a couple of other activity indicators are visible for public view – each profile has:
Karma number;
"Badges";
Accept rate (how many answers were accepted from this user):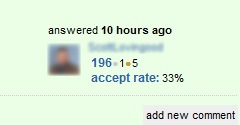 Contest!
Here's another fun part: a contest! SEOnky is giving you an opportunity to win a 16GB Wi-Fi iPad. Here's what you need to do to qualify:
Become a member of the site
Be in the top 20 User list to Ask, Answer, and Vote on real questions by August 20th
Refer anyone to SEOnky.com by Email, Facebook, Twitter, or Blog.
Good luck!