Over the summer, we celebrated our nation's independence by highlighting the top marketer blogs in the Eastern part of the United States. Now it's time to explore the most exciting marketer blogs located throughout the Western region of the U.S.
As noted back in July, the Content Marketing Institute reported 9 out of 10 marketers used content marketing in 2013. Between 2012 and 2013, marketers increased the number of tactics from 8 to 12. And, the use of social media for content marketing also jumped from 74% to 84%. Finally, in a separate study from Moz, content marketing was found to have the highest year-over-year demand increase.
As 2014 quickly winds down, we fully expect content marketing to continue its dominance in 2015.
So, to help all of us become better content marketers (and digital marketers in general), here are 10 top-notch marketer blogs located in the Western part of the U.S. This list was pulled together using subjective criteria, like voice, content strategy, and quality.
(Disclosure by Editor: SEJ does have relationships with some of the blogs mentioned, but this was not taken into consideration when author was choosing. As mentioned, it was based on quality of content and educational value.)
The following list is no particular order. Enjoy.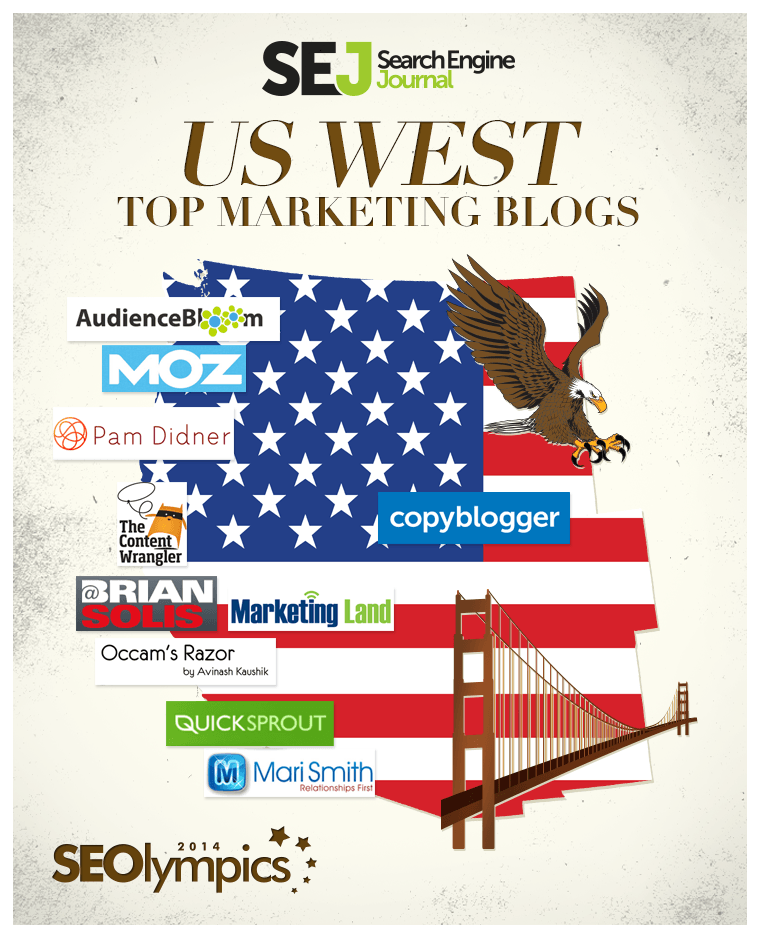 Long before the term became a commonplace, around 1998 to be exact, Brian Clark was building businesses through content marketing. The Boulder, Colorado, native launched Copyblogger in 2006 as a one-man operation. Today, Copyblogger has over 125,000 customers and Clark has been named one of Forbes's top social marketing talents in the world.
The Copyblogger blog posts five to six articles per week discussing effective, efficient, and timely ways to market your business online. For example, author Sonia Thompson used Beyoncé as inspiration to help you dominate your industry. The blog also discusses trends in social media, WordPress, case studies – like the amazing story of veteran-turned-podcaster John Lee Dumas.
When it comes to predicting emerging technology trends and the effects it has on businesses and marketing, there's no better source than Brian Solis. Mr. Soils, a Bay Area resident and futurist, has been operating his influential blog since 2005. While there aren't daily articles, as Mr. Soils is a busy being the principal analyst at the Altimeter Group, he still manages to share weekly or bi-weekly posts covering topics ranging from "Five Trends Shaping the Future of Work" to introducing marketers to Generation C.
When Mr. Soils isn't composing blog posts, he is a keynote speaker, author of books like What's the Future of Business (WTF), and contributor to publications like USA Today, Wired, Fast Company, VentureBeat, and the Harvard Business Review.
Born in London, England, Neil Patel moved with his family to Orange County before he set out to become one of the most well-known and influential entrepreneurs. Now based out of Seattle, Mr. Patel has launched Crazy Egg and KISSmetrics, which helped him become a regular contributor, or at least in referenced, in Entrepreneur, Inc., Forbes, Moz, TechCrunch, Business Insider, and SEJ. Most impressively, he's accomplished all of this before the age of 30.
On his blog, Mr. Patel shares the industry insights and tactics he's learned, as well as the latest marketing industry news. Articles like his "37 Point Checklist: How to Create Content That Will Increase Your Traffic by Tomorrow Morning" or "One Insanely Actionable Content Marketing Strategy That Will Generate You 74% More Search Traffic" are absolutely priceless.
Born in Ontario but after spending time in Scotland, Mari Smith called sunny San Diego home in 1999. Since 2007, Smith has become one of the leading social media experts in the industry. In fact, Forbes has named her as one of the Top Ten Social Media Power Influencers for four years in a row. Fast Company has gone as far to describe Smith as "A veritable engine of personal branding, a relationship marketing whiz, and the Pied Piper of the Online World."
Mari Smith's popular blog delivers tips and advice for marketers to boost their campaigns and engagement on platforms like Facebook, Twitter, LinkedIn and Pinterest. She also shares valuable content like the infographic for "9 Steps to Creating Engaging Content".
Avinash Kaushik has a stellar resume. He's the author of the bestselling books Web Analytics 2.0, Web Analytics: An Hour A Day, is the the Digital Marketing Evangelist for Google and is one the Board of Advisors for the University of California Irvine, University of Toronto, and Mind Your Group.
Since 2006, Mr. Kaushik has been operating his Digital Analytics blog, Occam's Razor, which has become a favorite for marketers and executives looking for innovative approaches to their campaigns. Because of the helpful data that Kaushik provides, his blog is another solid resource for marketer, particularly articles such as: "Magnificent Mobile Website & App Analytics: Reports, Metrics, How-to!"
Here's a blog that shouldn't need an introduction. After initially being founded as a SEO consulting company in 2004 by Rand Fishkin and his mother Gillain, Moz has become one of the essential resources for inbound marketers. Today, the Seattle and Portland-based software as a service company boosts an online community of more than one million globally based digital marketers and marketing related tools.
The Moz Blog, which features daily contributions by Mr. Fishkin and influential industry leaders, covers everything from hacks on creating and promoting the right content to outdated SEO concepts to the importance of mobile.
Since 2003, San Francisco resident Scott Abel has been running The Content Wrangler. The popular site has become a favorite destination for professionals who are looking for the latest strategies and tips involving content marketing – the site even now has the The Content Wrangler Community on LinkedIn. As for the Content Wrangler blog, you'll receive recent industry-related news, tips on upcoming conferences, book recommendations and articles like "7 Original Ways to Use Tumblr for Content Marketing." The site also offers training sessions and webinars.
When Mr. Abel isn't writing blog posts and managing the Content Wrangler communities, he's a presenter at conferences like LavaCon, a lecturer at the University of California Berkeley, and contributor to publications like EContent magazine.
8. Audience Bloom
This blog is run by Seattle-based content marketing and social media marketing firm Audience Bloom. The firm was founded in 2010 by Jayson DeMers with a focus on SEO. Along with COO Drew Hendricks, the small Audience Bloom team also provides daily content for professionals to use in their content marketing campaigns. Some recent examples of Audience Bloom's outstanding work are "The Future of Semantic Search and What It Means for Content Marketing" and "10 Engagement Strategies to Win Followers on Facebook and Twitter."
Because of the top-notch content Audience Bloom has created over the years, you've probably come across their authors or articles on publications like the Huffington Post, Business Insider, or Forbes. The blog was even included the blog in the "2012 Best of SEJ."
Portland resident Pam Didner has done an excellent job with focusing on global content marketing. For example, she's hosted a webinar on Engineering a Global Content Marketing Plan – which she also converted into a SlideShare presentation. Other topics in this area include the 4 P's of Global Content Marketing and how international brands, like Pantene, create different ads for different global markets.
On top of being chosen as one of BtoB's Top Digital Marketers in 2011 and 2012, she is also a contributor to the Content Marketing Institute and Huffington Post, and an author "Global Content Marketing,".
Marketing Land, and it's sister publication Search Engine Land, were founded by industry leaders Danny Sullivan and Chris Sherman. Since being launched in 2011, Marketing Land shares daily news stories covering everything from SEO, PPC, social media, analytics, link building, and industry trends.
Marketing Land not only has an excellent editorial staff, led by Editor-in-Chief Matt McGee, but the blog also features columns by industry experts. Some of the latest articles have covered the buzzing-social network Ello, "How To Create Hands-Off Display Campaigns That Deliver Results" and an infographic on the new-defunct Orkut.
Conclusion
There was our list of the best marketer blogs in the Western part of the United State? Did we get it right? Or did we miss a couple? If so, please share your favorite blogs in the comments.