I recently came across an interesting article in the Wall Street Journal that made me want to pack my bags and head for a historical experience, plentiful sunshine, and powdery beaches. The article discussed the city of Vigan, which is regarded as one of the region's best-preserved Spanish colonial towns. In fact, it's now a Unesco World Heritage site that was recently selected as one of the "New 7 Wonders Cities."
Thanks to a clever marketing campaign that includes the slogan "It's More Fun In The Philippines," there has been an increase on tourism to spectacular locations like Vigan from overseas travelers who may have never heard of the town previously.
This got me thinking. There has to be some talented content marketers in Philippines if they're able to keep attracting a growing number of foreign tourists. So, I decided to do a little digging and I also discovered some rather interesting facts.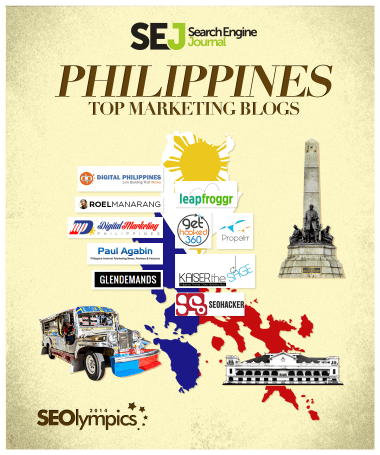 Out of a population of just over 100 million, there are almost 42 million internet users who spend roughly 21.5 hours per week online. Despite being one of the slowest countries in Southeast Asia for smartphone usage, 2015 could be a turning point. Thanks to cheaper brands (such as CherryMobile, StarMobile, MyPhone) smartphone penetration in the Philippines is expected to reach 50% this year. Overall, it appears the Filipino internet audience is the one of the fastest growing in Asia.
There's going to be a lot of potential for businesses to capitalize on with this emerging digital market – such as what the recent tourism marketing campaign as accomplished.
Because of this vital information and opportunity to tap into such a promising market, we at SEJ decided to see what kind of content is being discussed and shared in the Philippines. Following several hours of research, we compiled the following list of marketer blogs located in the Philippines based on subjective criteria like voice, content strategy, and quality.
If we forget to include a blog that you feel is worthy of this list, please feel free to add your suggestion in the comment section below.
Finally, the following list is no particular order. Enjoy.
Jason Acidre is a Manila-based SEO strategist who has contributed for the likes of Moz, Search Engine Land, Intuit, Bloomberg Businessweek, Technorati, and AdAge. Jason also co-founded the online marketing agency Xight Interactive in 2011 and worked as a search marketing consultant for Doubledot Media Ltd.
During his career Jason has worked with brands ranging from Affilorama, Traffic Travis, UPrinting, and SaleHoo. While Jason may not blog everyday, his personal marketing blog Kaiser The Sage is a great resource for marketers in the Philippines and abroad.
Recommended Blog Posts
Sean Si first gained experience with SEO while he was going through on the job training while employed by Ortigas. As an SEO trainee, Si learned some of the most essential SEO tasks, such as managing social media and commenting on the company blog. In April 2010, he founded Manilla-based SEO Hacker. The name was inspired by lifehacker.com and focused on providing readers informative SEO tips and tricks.
SEO Hacker became a professional agency after he landed his first major contract – which was for the biggest scuba diving live-aboard fleet in the Philippines. Today, SEO Hacker has over 10 employees who work for 20 brands, such as The Generics Pharmacy and easyCAD.
On top of being editor-in-chief, Si is also a public speaker and entrepreneur.
Recommended Blog Posts
LeapFrogger
LeapFrogger is a digital marketing agency headquartered in Quezon City, however the agency does have a global staff, along with strategic digital marketing partners, in Australia, Canada, China, India, Russia, the United Kingdom, and the United States of America. The agency was founded by Dennis Seymour in 2013 after being COO for Make Me Content.
With its small but talented team, LeapFrogger specializes in SEO, SEM, online reputation management, social media management and marketing, PPC management, local SEO, e-commerce SEO, and content creation for clients of all sizes.
Recommended Blog Posts
The Complete Beginner's Guide to Creating Your Own Digital Marketing Plan
What You Need To Know Before Outsourcing SEO to the Philippines
Your Comprehensive and Updating SEO / Digital Marketing Glossary
Digital Marketing Philippines was launched in 2013 by entrepreneur and internet marketing consultant Jomer Gregorio – who has also founded the start-up company CJG Digital Marketing in 2013. With clients coming from the USA, Canada, UK, Australia, Germany, Malaysia, Singapore, and New Zealand, Gregorio has been recognized by the International Center for Communication Studies as a certified leader of Marketing and Advertising Strategies in a Digital Media Environment during the 4th EdukCircle International Convention on Marketing and Advertising.
Based out of Makati City, Digital Marketing Philippines offers services ranging from SEO, PPC, Local SEO, Facebook paid management, landing page creation, and lead generation services.
Recommended Blog Posts
Paul Agabin is a digital marketing consultant, content director, entrepreneur, public speaker, and inbound marketing specialist residing in Pasig with offices in Makati. Agabin is currently the CEO and Founder of Wooka Interactive, an internet marketing company helping clients improve their online visibility. The company also owns and operates the freelance community Essays.ph.
Over the years Paul has worked with a variety of SME's and large corporations in Asia, North America, Australia, New Zealand, Canada, and U.K. Paul specializes in content marketing, inbound marketing, social media marketing, B2B blogging, and visual marketing.
Recommended Blog Posts
14 Geeky Things You Can Do with Facebook Graph Search in the Philippines
How to be a Social Media Influencer in the Philippines
8 Simple Psychological Spells to Attract More Leads in the Philippines
Founded in 2007, Get Hooked 360 is based out of Quezon City and is a full-service digital marketing agency that focuses on social media marketing, community building, mobile campaign development, digital customer service, and online advertising. As an affiliate with integrated marketing communications company LEAP Solutions, Get Hooked 360 is a one-stop destination for local and multinational brands looking to improve their marketing efforts.
The agency has worked with a variety of brands over the years ranging from Glucerna, BankO, AXO, Island Premium Paints, and One Asia Center.
Recommended Blog Posts
Gary Viray began his career as an open-source programmer, which lead him to graphical interfaces and UX. In 2004 Gary co-founded the Taguig-based Search Opt Media – which was recognized as the Best SEO Company in the Philippines, October 2011- May 2012 (topseos.ph).
More recently Gary launched Propelrr, an integrated digital marketing agency that specializes in digital strategy, social media, email marketing, SEO, analytics, UX design, and PPC. What makes Propelrr stand out, however, is that the agency helps brands grow by merging offline and online marketing efforts together.
A self-confessed data cruncher, Gary is also a Google Analytics Certified Individual and a Google Adwords Qualified Individual.
Recommended Blog Posts
Roel Manarang is an inspiring entrepreneur, marketer, and designer who began his career at the age of 12 by coding websites and providing graphic design services. After working as a data encoder and customer service representative, Roel found his calling as a sales and marketing consultant.
Roel has since gone on to become the founder of Enamtila, which is a company that helps business with online marketing, branding, and web development. In fact, the company has worked with 168 startups and entrepreneurs in 16 different countries. In 2013 Roel helped launch the Pampanga Chapter of SEO Organization Philippines as well.
Recommended Blog Posts
How to Succeed in Crowdfunding & Achieve 1090% Funding Goal
DigitalPhilippines.net is the blog by SEO specialist Venchito Tampon Jr. where he primarily discusses link building tactics – however he does also share his knowledge on social media, blogging, branding, and entrepreneurship. Venchito is also the co-founder of LinkCore Media – which he launched with Moosa Hemani in 2014. He's also the Link Building Manager at New Zealand-based Integrity Digital. Past clients for LinkCore have included GetResponse, Giving Assistants, Omnistar, and EFurnitureMart. The company has also earned links from Moz and Forbes.
Over the years the San Juan City, Manila-based DigitalPhilippines.net has been mentioned in several leading search marketing blogs like Cognitive SEO, Raven, Technorati, Search Engine Land, and even this very site.
Recommended Blog Posts
15 Link Building Tactics that Work in 2015
11 Outreach Best Practices That You Can Easily Apply To Your Blog
25 Creative Content Promotion Strategies
Glen Dimaandal began his SEO career in 2007 while employed as the Managing Editor for the QuickJump Network Corporation. He was also the SEO Specialist for Think Innovations, the SEO/SEM Manager for LWS Media, SEO and Content Manager for the Brady Corporation, and Senior SEO and Content Manager for Jenkins Internet Marketing LLC.
Today, Glen is the he sole author of GlenDemands.com, the founder and CEO Philippine-based digital marketing agency of GDI and Online Marketing Manager at Emerson. During his career Glen has worked with brands ranging from Google, Omnicom Group, Seton, and Emedco. He splits his time between Pasig City and Huntsville, Alabama.
Recommended Blog Posts
Finding and Auditing Thin Content to Improve SEO
Seven Power Tips on Closing SEO Deals
Six Simple Steps Towards Effective Branding
Conclusion
There was our list of the best marketer blogs coming out of the Philippines. Did we get it right? Or did we miss one or two that deserve recognition? If so, please share your favorite blogs in the comments.