SEOgadget.co.uk has announced a new keyword tool beta to make the keyword research process more actionable and (hopefully) enjoyable experience. According to the announcement, "Getting clear visibility on keyword search volume and opportunity data is painstaking and time intensive, but it's such an important part of the initial and ongoing process of SEO".
The tool combines keyword data from your Google Analytics account with local search volume (based on your geographic location via the adwords api) and search engine ranking. Allowing for 1000, 5000, or 10,000 keywords in a campaign, the tool aims to solve some of the laborious, copy and paste related operations associated with larger scale keyword research projects.
Aimed at SEO people, the tool allows you to create a keyword category to group keywords in almost any way you choose. In the example below, a stone merchants website has created a "products" category with "keyword markers" such as "flint", "pebble", "stone" and "gravel".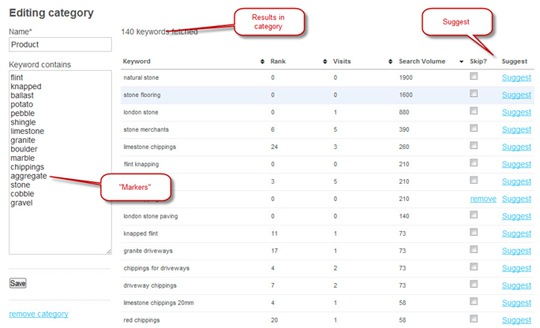 You could use the category editor to create all types of keyword groups all the way down the user journey from "intent" to "purchase". Site architects might be interested in creating categories to represent all content groups on their site. Think: gender ("shoes for men", "shoes for women"), colour ("red", "blue", "green"), or type ("boots", "shoes", "heels") and so on.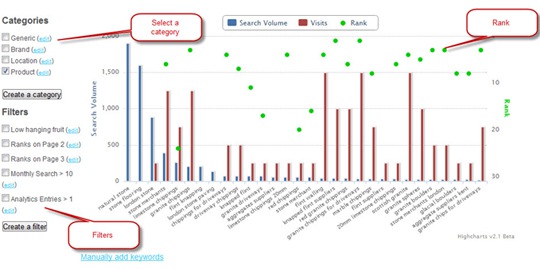 Data can be custom filtered, using rank, visits and search volume to find "low hanging fruit", "keywords that rank on page 2" or combinations of rank, visits and search volume.
If you'd like to export your data to make pivot charts and tables, that's easy. The data comes out of the tool in a CSV format with each keyword, search volume, category and rank in the data.
Learn more about the tool on the SEOgadget blog, check out the tool at tools.seogadget.co.uk. Search Engine Journal readers can signup with a 50% discount on their first month's subscription with SEJREADERS