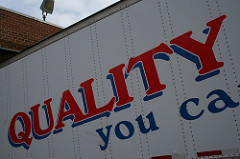 Let Us Focus On Quality Web Presence Rather Than Rankings
Since the time Google became synonymous to search , the search marketing Industry and SEOs got its own identity and importance. Everyone who had a website whether static or dynamic wanted to be on page one position one of Google. In order to achieve that the companies diverted their budgets from banner Ads. to SEO, and if their SEOs could not give them Page one rankings they opted to the PPC option and ensured their search engine presence.
But in early 2000 the web was still striving to revive from the effects of the dot com bubble burst and the search engines which themselves had simpler algorithms was the only place netizens could find what they wanted and the website owners also comparatively got the rankings and presence easily if their websites followed the ethical norms of the search engines as the competitiveness was comparatively less then.
Google itself was the first search engine which gave so much of information about SEO on their official blogs. This made the SEO process open and as the saying goes 'The early bird catches the worm' people who were quick enough in gaining this knowledge and adapting it became the Lords of the SEO world. Now after a decade, when the whole web, search and the online social scene has advanced and matured with technological enhancements in the hardware, software and the internet connectivity fields along with the number of websites and blogs increasing at an exponential rate on an hourly basis, it is time that we changed our approach towards the way we would like to gain overall quality web presence.
Yes, I would like to emphasize on the term 'Web Presence' rather than the term "SEO".Optimizing your site for search engines and getting a page one ranking is just one aspect of online presence. There is a plethora of options available for getting inbound traffic. The social media fever which is catching up like wild fire and is a great option of getting inbound traffic if managed in a systematic and a focused manner. Blogging (The most original form of social media) or for that matter guest blogging too is a qualitative way of reaching out and interacting with the people who are interested in your products, services, news, views and ideas. I think in fact this is a platform where the marketing and sales functions are getting converged.
Marketing is all about bringing the people to the product. If you share your opinion and viewpoint and participate in discussions and thereby sharing knowledge , I am sure people would like to regularly visit your blog or read what you write about. Instead of speaking about only SEO and rankings let us discuss about the other aspects of the website as whole and try to ensure web presence for websites and on the flipside I am sure the rankings on the search engines will also improve for those sites. It is all so interconnected.
Quality Content: If your website is having great information and content about your company, products, services, industry and the future trends related to your industry then your website surely gains the potential for getting linked by various resources on the web and good quality inbound links surely have a direct push on your PageRank giving a boost to the rankings in the search engines.
Image Optimization: Images speak louder than words. Add value to the content of your website by adding relevant images helping the user to appreciate what is written and the Alt Text and titles of the images will act as great content for the bots to make the images rank in the image search and also help as an on page optimization factor boosting the SERPs in a way. Use Info graphics to display milestones or other such data.
Local Search And Maps: Add your address and contact details on the maps and local search options of search engines and portals.
Videos: Upload videos on your site or any third party site like YouTube, Vimeo, etc. People love to watch videos rather than read. But categorize the videos in the right category and right titles in order to be found by the user.
Blogs: Blogs are the most original form of social media and the best way to ensure fresh content regularly and repeat visits by visitors who find the content useful.
Social Media Presence: Listen to what the buzz is and let a voice to you company online and thereby assure that you are heard. This media gives you an added identity and help you to interact with your potential and existing customers in a very open way.
Optimize For Search Engines Not For Google Alone: When you talk about SEO it is Search Engine Optimization and not Google optimization. Try to have search engine presence on Bing, Yahoo ( Of course now If You are On Bing You are On Yahoo too) and Ask.com
Marketing Budgets: If the marketing budgets are high try to have a right allocation by focusing on the right marketing mix as regards email marketing, affiliate advertising, press releases, local and other reputed web directories etc.
All these above aspects are applicable to all search engines across and as search engines keep on upgrading and updating their technologies. We as SEOs and online marketers should try to keep the website owners and clients informed and educated for having a right approach to online presence and convince them of concentrating on their website , blog and social media interaction and I am sure the rankings will surely be taken care of.
Though for some websites the efforts needed might be more than others but then it is a matter of time and as per my experience if rankings are achieved thus over a period of time the tendency for the ranking to get retained for a long period on high SERPs is more. As more than getting the website ranked high soon it is more important to see that it is retained at a high position in the long run.
The internet is a network of networks. Try to have quality web presence on all the aspects of the web and soon your website or reference shall be found on various platforms of the web thereby generating targeted traffic to your site. Just turn the tables for a while, stop thinking about search engines while optimizing sites think about putting your best foot forward on the web ( As Matt Cutts mentions in one of his SEO videos) and let your site have a reference or presence wherever possible, soon it will be the search engines who will find your website and rank it high and the footprints created thus get etched on the web helping the website in future in various ways.
Post image by David Boyle in DC