This is a sponsored post written by SEMrush. The opinions expressed in this article are the sponsor's own.
Of all the SERP features that Google has developed over the time, local packs and featured snippets are still the most popular targets for businesses. And if local pack is particularly important for companies that seek to attract clients looking for services within a specific location, featured snippets are an appealing element of the SERP for content platforms and websites with a web-wide audience.
Which Websites Should Target Featured Snippets?
Featured snippets are not a must-have for every website, since, in SEO, there are a number of other things that have higher priority.
Correct page indexation, crawlability, and fixing technical issues are what many SEO agencies start from when taking up a job for another site.
But if you're past the point where you need to fix broken links, and you're thinking about additional ways to get visibility in search results, getting into the featured snippet is a great way to do that.
Type #1: Websites that have their technical and on-page SEO under control
If you search for the same keyword on a mobile device and on a desktop, you will probably get different results. Some websites optimize specifically for mobile search, so mobile and desktop SERPs often look different.
The featured snippet is no exception: it occupies more space in mobile search results and attracts more attention.
If you target mobile devices, make sure that you always know who is in the featured snippets for your target keywords – you or your competitor. Whoever it is, they're getting a lot of user attention.
Type #2: Websites that want to attract mobile traffic
Some keyword categories trigger a lot of featured snippets.
For example, according to SEMrush Sensor, a SERP volatility tracking tool, up to 18 percent of keywords in the Travel category trigger a featured snippet.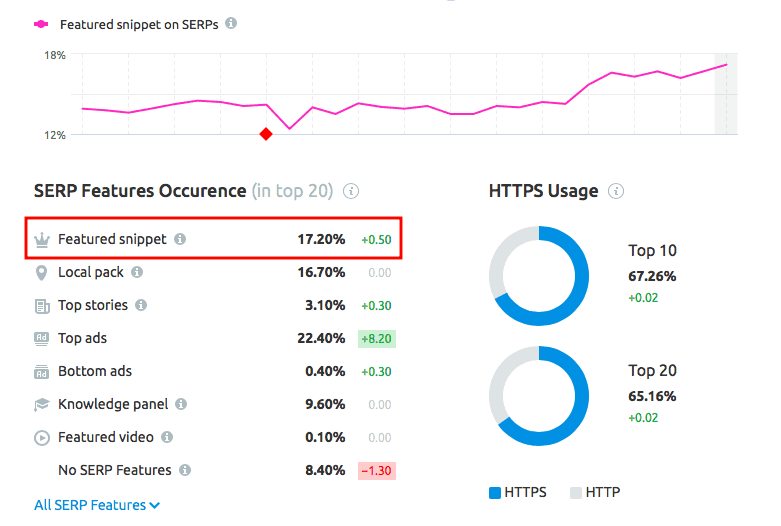 This category includes all kinds of keywords revolving around traveling topics: location names, traveling tips, travel companies etc.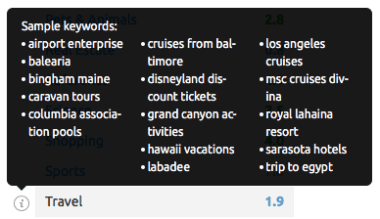 If your website ranks for keywords from a category rich in this SERP feature:
You'll have more opportunities to get into one.
It might be a reasonable step since your competitors are doing the same.
Type #3: Websites that rank for multiple keywords that trigger featured snippets
Your website can be successful in search even without getting into a single featured snippet. It is neither a must-have nor a silver bullet for promotion.
However, if you fall under any of these three categories, extra visibility would be an additional advantage.
How to Know What Snippets You Have Already Won
Before entering the battle for snippets, start by analyzing what your current situation is: how many of your target keywords trigger featured snippets and how many of them you have already won.
In the SEMrush Position Tracking tool, we have added the Featured Snippets tab to help you focus on monitoring your progress and finding new opportunities.
Here you can see how many of the keywords that you added to the tool at setup have triggered featured snippets and how many of them you have already won.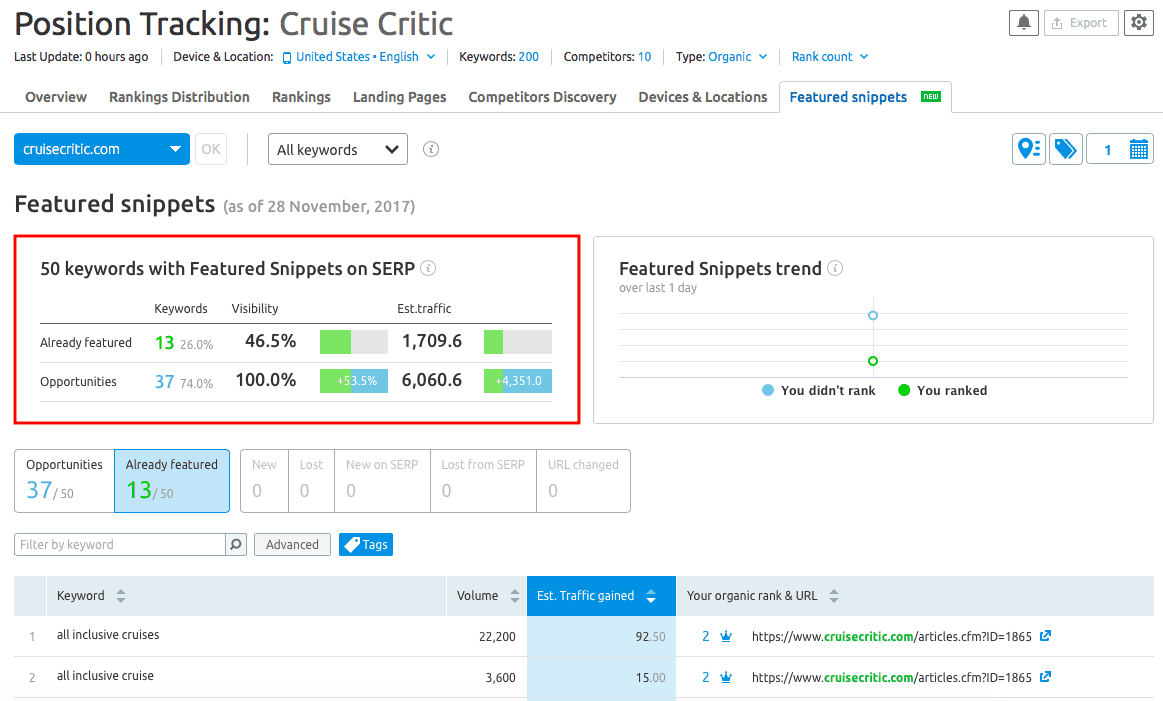 In the example above, we added 200 words to Position Tracking, and 50 of them trigger featured snippets. The website that we took as an example has already won 13 of them, and 37 others are occupied by its competitors.
How to Find Opportunities to Win More Featured Snippets
Switching from Already featured to Opportunities, you will see which of your target keywords trigger snippets in which you are not present. Here, you can see the volume of the keyword, that is, its visiting potential, your position on the SERP, and the landing page that won the snippet.

SERPs change constantly, and you can never predict which keywords will or won't have a snippet; however, if there has been a snippet on the SERP at a certain time, there is a good chance it will stay there.
The New & Lost panel helps you filter out the keywords that trigger Featured Snippets in a certain way.
New — shows you the snippets that you have won over the stated period of time, that is, some other page was featured in the snippet before, and now your landing page is featured.
Lost — shows you the snippets that you have lost over the stated period. Comparing your page to the URL that is currently featured in the snippet can give you ideas on how to win it back.
New on SERP — it's common for new featured snippets to appear on the SERP. SERPs are indeed volatile, so keep your eyes open to spot the opportunity to win one if your target keywords start triggering it.
Lost from SERP — shows you the keywords that stopped triggering featured snippets over the stated time period. If these were the snippets that you were aiming for, think of other ways to increase visibility, for instance with paid ads.
URL changed — shows you the snippets that used to lead to one of your pages, but now lead to another page which also resides on your domain. This is quite a rare situation, but it can be an indicator of keyword cannibalization.
What Should You Do to Get Your Site into the Mobile Featured Snippet?
When you find the opportunities to seize, follow the basic recommendations for winning featured snippets.
Usually, this includes:
Optimizing your URLs and search snippets.
Optimizing your content based on the industry best practices (e.g., word count, readability).
The usage of target keywords should correspond to what is common in the top of the SERP.
Add structured data items (e.g., numbered or bulleted lists, tables). This allows search engine bots to better understand the structure of your text.
These recommendations are universal and work for desktops and for mobile devices.
If you particularly target mobile devices, make sure that your viewers' user experience is equally positive on both desktop and mobile. Often, the content on the mobile site version differs from what can be seen on a desktop, and sometimes it makes total sense. Just make sure it is as informative and as valuable for the user as the full version.
---
Image Credits
Featured Image by SEMrush. Used with permission.
In-post Photos by SEMrush. Used with permission.